Asilomar
Conference Grounds
800 Asilomar Ave.
Pacific Grove, CA
(831) 372-8016
Visit Asilomar Conference Grounds
Conference Grounds
California State Parks contracts with ARAMARK Parks and Destinations to operate the hospitality business, conference groups, and overnight lodging at Asilomar State Beach.
107 acres
30 separate buildings
30,000 square feet of meeting space, event space, and banquet halls
Groups of up to 650 can be accommodated
Outdoor BBQ areas, large meadow
Lodging
Lodge guest rooms with private baths
Historic rooms with private baths
Common living rooms with fireplaces
Dining
Crocker Dining Hall
Phoebe's Cafe
Facilities
Hearst Social Hall
Merrill Hall
Scripps Lobby
Asilomar Business Center
Surf & Sand
Pool
Accessibility
Lodge, restrooms, parking, dining
Some paths, for other paths a 24-hour on-grounds shuttle service is available
Meeting and recreation facilities
Lift at pool
Picnic and campfire area
Regulations
No pets in buildings or kept in vehicles on grounds
Pets on leash may be walked through grounds
No smoking on Asilomar Grounds
Asilomar Conference Grounds
Asilomar was originally a YWCA leadership camp built in 1913. More than a dozen arts and crafts style buildings were designed by renowned architect Julia Morgan between 1913 and 1928. In later years John Carl Warnecke designed additional structures at Asilomar. In 1956 the State of California purchased the property, including it as part of Asilomar State Beach and Conference Center.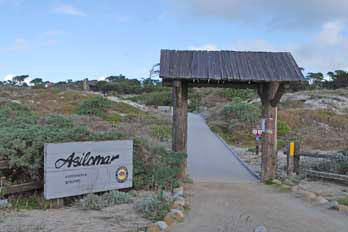 Today the conference grounds are used by a broad range of groups for everything from educational conferences and business retreats to weddings and reunions. Asilomar Conference Grounds' facilities can accommodate everyone from groups of 10 up to 650.
Conference Grounds
Asilomar's facilities offer organizations a relaxed, comfortable setting where they can hold meetings for small groups or large gatherings. Up-to-date audio visual equipment is available along with the assistance of experienced technicians. Accommodations and meals are available within walking distance of meeting rooms. Catering can be arranged.
Lodging at Asilomar Conference Grounds
Loding is available for large groups or individuals. The rooms at Asilomar are arranged in buildings featuring central living areas with fireplaces. All the rooms have private baths. The Historic Rooms are located in buildings designed by Julia Morgan. Asilomar Rooms are in more modern facilities, Some of the Asilomar Rooms come with patios or balconies and some with fireplaces.
Amenities and Guest Services
WiFi is available in all guest rooms. There is an outdoor heated swimming pool open to all guests. Asilomar provides daily maid service. None of the rooms has televisions or telephones.
Other services: Business center, laundry, park store, ATM
Room rates for leiusure guests (not associated with a group staying at Asilomar) include breakfast at the Crocker Dining Complex. Prices range from about $150 to $250 per night.
Asilomar Conference Grounds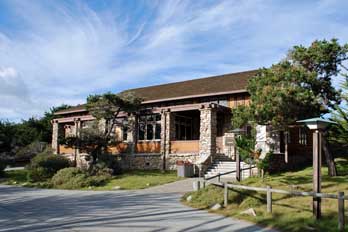 Tours and Recreation
Julia Morgan Architecture Tour - an hour long ranger-led tour (or take a self-guided tour) of the Julia Morgan buildings at Asilomar.
Forest Walk - an hour long ranger-led tour of the forest area around Asilomar.
Bird Watching - Stroll the dunes, grounds, and beach area for opportunities to sight dozens of birds. See the Birding at Asilomar.
Swimming - The swimming pool is open from dawn to dusk. Towels available for pool use.
Volleyball - Borrow a volleyball from the Park Store and head to the beach volleyball court.