RV Camping around Avila Beach
Avila Hot Springs
250 Avila Beach Drive, Avila Beach, CA
(805) 595-2359 Avila Hot Springs
Avila Hot Springs offers visitors RV and tent camping and cabins. The resort's facilities are open to the public, including a large fresh-water, heated swimming pool (complete with water slides), hot mineral soaking pools, a restaurant, bike rentals and massage.
RV Camping: Full hook-ups for RVs up to 28 feet, dry sites for any size RV, discounted swim/soak/shower passes.
Tent Camping: Picnic tables, fire pits, sites fit 1 tent, discounted swim/soak/shower passes.
Cabins: 1-bedroom, 1-bath with kitchen, sleeps up to 4, cable TV, provide your own cookware and utensils.
Rates: $$
Port San Luis RV Camping
RV camping is first come, first served at several ocean-front locations around Port San Luis. Camping is administered by the Port San Luis Harbor District. Most sites are dry camping, but a few have hook-ups. Camp hosts: (805) 903-3395.
Camping sites include the following locations:
Woodyard Turnout
Nobi Point Turnout
Babe Lane - 10 full hook-up sites
Overflow RV Camping
Coastal Gateway trailer boat parking area - only when not otherwise needed for vehicles with trailer boats.
Self-serve payment is made the iron ranger at the Woodyard turnout, Babe Lane, RV Overflow area, and next to space 32 (near the Harford Landing sign) in the Coastal Gateway area.
Rates: $$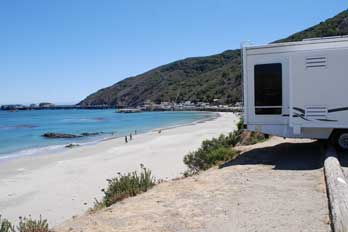 Avila/Pismo Beach KOA
7075 Ontario Road, San Luis Obispo, CA
(805) 595-7111 or to Reserve (800) 562-1244
Avila/Pismo Beach KOA
RV sites - 50 amp, up to 40', WiFi, cable TV
Amenities: Year-round pool, hot tub, bike rentals
Rates: $$
Oceano County Park Camping
San Luis Obispo County operates a campground at its Oceano Memorial Park. The park is located along Air Park Drive, just south of Pier Avenue, near the county airport.
They have 22 campsites. Each can accommodate between 4 and 6 people along with an RV (up to 40') or a couple of tents. All the sites have full hook-ups (water, sewer, and electricity). Showers are available at 75 cents for 3 minutes.
Fishing is allowed in Oceano Lagoon next to the campground. the park also has a picnic area, children's playground, and horseshoe pits.
Camping fees are $46 - $49 per night.
Reservations (805) 781-4900
Oceano Memorial Park
Oceano Dunes State SVRA Camping
Oceano Dunes State SVRA, immediately south of Pismo State Beach, allows camping on the beach within specified areas. Camping is allowed south of Post 2 on the beach and in the open dune area. Vault toilets and chemical toilets are provided, and water-delivery and holding-tank pump-out services are available on the beach. A dump station, located on Le Sage Drive, 0.1 miles North of Grand Avenue on Highway 1, is available to campers. Campsite reservation information can be obtained by calling 1-800-444-7275. Four-wheel vehicles are recommended to access the site.
Camping Regulations
Each vehicle entering park under its own power must have an individual reservation number. Vehicles on trailers do not need a reservation.
There is no space for parking additional vehicles.
Each reservation is limited to one vehicle and one towed vehicle.
Camping Fees: $10
Online Reservations at ReserveCalifornia:
Oceano Dunes State SVRA Campground
or call (800) 444-PARK (7275) between 8 AM and 6 PM
Pismo Beach RV Campgrounds
Coastal Dunes RV Park
1001 Pacific Blvd., Highway 1, Oceano, CA
(805) 781-4900 Coastal Dunes RV Park
Operated by San Luis Obispo County (formerly Sand & Surf RV Park) - located next to railroad tracks
232 campsites for RVs up to 40', pull-through sites have full hook-ups including cable TV, back-in sites have electric, water, and sewer hook-ups
Swimming pool, restrooms, showers, laundromats
Rates: $$
Pismo Coast Village RV Resort
165 South Dolliver Street, Pismo Beach, CA
(888) 782-3224 Pismo Coast Village RV Resort
Pool, arcade, laundry, miniature golf, bicycle rentals, 3 playgrounds, outdoor games, general store, satellite TV, full hook-ups
Rates: $$
Pismo Sands RV Park
2220 Cienaga Street, Oceano, CA
(805) 481-3225 Pismo Sands RV Park
133 paved sites, full hook-ups, 50 amp, WiFi, Satellite TV, heated pool and spa, laundry, bathrooms and showers, outdoor games, playground, gated entry, mini-mart
Rates: $$
Pacific Dunes RV Resort and Riding Stables
1205 Silver Spur Place, Oceano, CA
(805) 489-7787 or (888) 908-7787
Pacific Dunes RV Resort and Riding Stables
general store, full hook-ups restrooms and showers, basketball pool table, WiFi, horseback riding stable
1-hour trail rides through the dunes $50
Find the Best Camping in California

All along the San Luis Obispo coast
From San Diego to Humboldt
And everywhere else up and down the Golden State
Complete campground information, including fees, reservations, photos, facilities, and nearby recreation.
Books of Local Interest
◊ Chicago Park Web Design, © 2017 ◊

Every effort is made to provide accurate and up to date information, but we cannot be responsible for errors or for changes that may have occurred since publication. Always confirm information with the service provider and check for any recent changes that may have been made. Also, check with lifeguards that conditions at the beach are safe for your planned activities.
The information provided on this website is done so without warranty of any kind, either expressed or implied, including but not limited to, the implied warranties of merchantability and fitness for a particular purpose.