Caution: Check with rangers or lifeguards that conditions are safe for your planned activities.
Windsurfing and Kitesurfing at Cabrillo Beach
Consistent winds and the opportunity to windsurf in the relatively calm water behind the breakwater or the more boisterous seas on the ocean side make Cabrillo Beach a leading area for windsurfing. Winds are usually up to around 20 MPH by the afternoon, especially during the peak months from mid-spring through fall.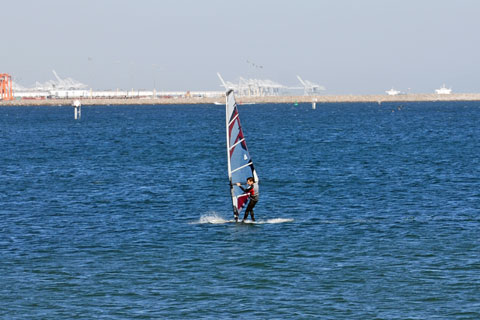 Those launching on the inside of the breakwater usually set up along the strand of beach that parallels the parking lot nearest to the fishing pier. Beginners like to get out in late morning when the winds are mild. More advanced windsurfers head out from the ocean side of the beach. Look for a flagged launch area near the lifeguard headquarters. Known locally as Hurricane Gulch, the ocean out from Cabrillo Beach attracts some of the top windsurfers in the area. Winds can be changeable close to shore, but once well out on the ocean windsurfers experience a strong, steady blow that sends them bouncing across the waves.
Kitesurfing
Because of strong winds, crowds, and the danger of rocks, Cabrillo Beach is considered best for advanced kitesurfers. Kitesurfers (also known as Kiteboarders) are restricted from launching from Cabrillo Beach on weekends and holidays between Memorial Day weekend and Labor Day weekend. On days when it is permitted to launch there, kitesurfers should launch and remain downwind of windsurfers until 300 yards out from the shore.
Windsurfing and Kitesurfing Rentals and Lessons
Captain Kirk's
525 North Harbor Boulevard, San Pedro, CA
Captain Kirk's
Stand-up paddleboards, windsurfing, kiteboarding
Sales, lessons, and rentals
Xstreamline
1861 N. Gaffey Street, San Pedro, CA
Xstreamline
Sales for Windsurfing, kayaking, stand-up paddling
Summer rentals at Cabrillo Beach or by arrangement from their store.
SUP and kayak lessons at Cabrillo Beach
Surfing Cabrillo Beach
The point break near Cabrillo Beach, known as Spunkies, can draw a good number of surfers on weekends, especially with swells rolling in from the southwest to northwest. Rocks are an obvious danger here.
Local Surf Shops
Vanguard Surf and Skate
5205 Pacific Coast Highway, Torrance, CA
Vanguard Surf and Skate
Surfboards, wetsuits, booties, gloves, and other accessories.
San Pedro Surf & Sport
2234 South Pacific Avenue, San Pedro, CA
San Pedro Surf & Sport
Surfboards (custom made and stock), apparel
Diving at Cabrillo Beach
Cabrillo Beach is a good beginner dive location. Parking is convenient for unloading gear and entry is usually easy off the sandy outer beach. Waves are usually mild. The ocean floor slopes away gradually, only reaching about 25 feet well out from shore. The Cabrillo Beach area is well known for its sand dollar bed a short distance off shore. Divers are asked not to disturb the living colonies.
Local Dive Shops
Pacific Wilderness
1719 South Pacific Avenue
San Pedro, CA
Pacific Wilderness
Sales, classes, rentals, repairs, dive club
Cabrillo Beach Bathhouse
The Cabrillo Beach Bathhouse was built in 1932 and used for the Olympic Games. The bathhouse provided services to beach visitors. It was used at a marine museum for many years before renovations in 2002. Today the historic building is used by the Los Angeles Recreation and Parks Department as a base for watersports and family programs. Attached to the bathhouse are restrooms and showers.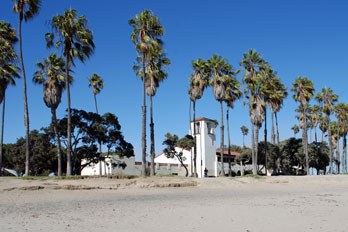 Activities vary during the seasons. Check their current list of activities: Cabrillo Beach Bathhouse
Hours: weekdays 9:00 AM to 6:00 PM, Saturdays 8:00 AM to 4:00 PM. Closed on Sundays and holidays.
(310) 548-7554
Cabrillo Marine Aquarium
Located next to Cabrillo Beach, the Cabrillo Marine Aquarium is a leader in marine science education, aquaculture research, and community recreation. The aquarium displays a vast array of Southern California marine life, with exhibits and information about kelp forests, rocky shores, mudflats, the open ocean, and sandy beaches. Other popular sections in the Aquarium are its Aquatic Nursery and its Exploration Center.
Aquarium Hours:
Tuesday through Friday - 12:00 Noon to 5:00 PM
Weekends - 10:00 AM to 5:00 PM
Closed Mondays, Thanksgiving, and Christmas
Cabrillo Marine Aquarium
Cabrillo Coastal Park
The Cabrillo Coastal Park is an extension of the aquarium, providing guests with access to a nearby salt marsh, cliffs with fossils, and tide pools at Point Fermin State Marine Park. The paths to these features are wheelchair accessible. The Marine Park extends from Cabrillo Beach to the foot of Point Fermin. Visitors to the tide pools there will likely see hermit crabs, limpets, sea urchins, mussels, barnacles, and sea anemones. Along the cliffs look for fossils of whiles and fish. All the natural features are protected and should not be disturbed.
At the foot of the cliffs is a military bunker constructed in 1916 for coastal defense. Some of the walls of the bunker may be unstable. Guided weekend tours of the tide pools are offered by the aquarium on some weekends.
Cabrillo Coastal Park
Kayaking along the Coast
A popular kayaking route is from Cabrillo Beach northwest along the coast to Royal Palms Beach. The 2.7 mile journey is easily complete in two hours under good conditions. Along the way kayakers pass the Point Fermin Lighthouse, tide pools, and dense kelp beds. The best time of year is usually summer or fall.
Kayak Rentals and Lessons
Xstreamline
1861 N. Gaffey Street, San Pedro, CA
Xstreamline
Summer kayak rentals at Cabrillo Beach or by arrangement from their store.
SUP and kayak lessons at Cabrillo Beach
Cabrillo Beach Fishing Pier
The Cabrillo Beach Fishing Pier stretches 1,200 feet in the harbor, just inside the breakwater. Anglers here are careful to limit eating their catches to a single meal every couple of weeks. White croakers should not be eaten at all. The concern is over concentrations of DDT and PCBs.
Pier hours are the same as for the beach, from 5:00 AM to 10:00 PM. Portable restrooms are nearby. Although there are no lights, fishermen will find cleaning stations and a number of benches. Visitors will enjoy a large covered seating area.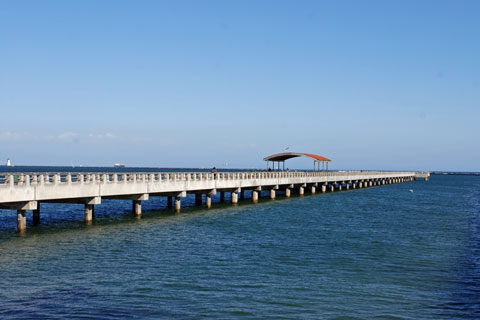 Cabrillo Beach Grunion Run
Cabrillo Beach is famous for its annual Grunion Run, an invasion of small, sardine-size fish that come ashore on the sandy beach during the night to lay their eggs. This usually takes place during spring and early summer after a full moon and high tide. Grunion may be taken by sportfishermen only by hand. No holes may be dug to trap them. Anyone 16 and older must have a fishing license.
The Cabrillo Marine Aquarium usually offers Grunion Run related activities during the season:
Cabrillo Marine Aquarium: Meet the Grunion
Also see California Department of Fish and Game - Grunion Run Expected Dates