Caution: Check with rangers or lifeguards that conditions are safe for your planned activities.
Carlsbad Beach Surfing
Spots along the Carlsbad coast like Warm Water Jetty, Tamarack Beach, Ponto Beach and Terramar Beach attract a strong number of surfers. South Carlsbad State Beach's exposed beach break goes both right and left. Surfing there is usually good all summer. Powerful rip currents are a concern all along the coast here.
The Warm Water Jetties are found north of Palomar Airport Road and south of Tamarack near the power plant. Warm water discharged from the power plant can raise water temperatures several degrees, making it especially popular for winter surfers. The area is best for experienced surfers who know how to deal with treacherous rip currents and rocks.
Surfing Lessons and Camps
Carlsbad Surf Lessons
Professional surf instruction in either private or group settings. Instructors are trained in first aid and CPR and are experienced, local surfers. Ages 4 years to 70. Surf Camps for boys and girls ages 5 and older. Sessions 2 - 5 days, 3 hours each morning. Instructor- student ratio 1:3. Sessions run from mid-June through mid-August.
Carlsbad Surf Lessons
Surfin Fire Surf Camps
Surfin Fire is located at South Ponto Beach and two other nearby beaches. They offer daily drop-in surf lessons for all ages. They have both private and group lessons, daily surf clinics and surf camps. Their surf camp teaches beach safety, ocean awareness, and the fundamentals of surfing. Week-long camps begin in early June and continue through August. They maintain a 4 to 1 student to instructor ratio.
Surfin Fire Surf Camps
Surfboard Rentals
Carlsbad Surf Lessons - Rentals
Surfboards, bodyboards, swim fins, wetsuits, and stand-up paddleboards, by the hour or day.
(760) 672-2770 - Carlsbad, CA
Carlsbad Surf Lessons
Raw Skin Surf Shack
Rent bikes, surfboards, swim fins, skim boards, wetsuits, beach chairs and umbrellas, beach toys.
2796 Carlsbad Blvd., Carlsbad, CA
Raw Skin Surf Shack
Asylum Surf
Surfboard, bodyboard, wetsuit, and swim fin rentals.
310 Mission Ave., Oceanside, CA
Asylum Surf Rentals
Progression Surf
Rentals of surfboards, wetsuits, body boards, swim fins, beach chairs and umbrellas, by the hour, day or week.
828 N. Coast Highway 101, Encinitas, CA
Progression Surf
Carlsbad Beach Fest
June TBA, 2016
The annual Carlsbad Beach Fest includes competitive sporting events along with fun activities for the entire family. The event takes place from Frazee Beach at Pine Avenue to Tamarack Beach, 8 AM to 3 PM. Beach Fest includes a focus on beach cleanup and clean oceans through education and outreach.
Past Beach Fest Events
Surf Contest - Tamarack Beach, divisions for all ages, men and women, shortboard and longboard
5K Beach Run and Walk and Free Kids' 1-mile Fun Run
1-Mile Ocean Swim
Paddleboard Races
Zumba Dance Fitness on the sand
Professional sand sculptures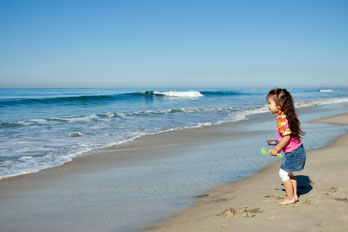 Volleyball
Tamarack Beach Volleyball Club
Tamarack Beach Volleyball Club offers complete coaching for beach volleyball athletes ages 10 to 18. Six-week summer sessions meet 4 days a week from 4:00 PM to 6:30 PM for training, games, and developing mental fortitude.
Tamarack Beach Volleyball Club
Wahine Beach Volleyball Club
Coaching instruction in beach volleyball for girls ages 8 to 18. From beginners to intermediate and advanced athletes. Focus on fundamental beach volleyball skills, team and individual leadership, game strategy, and jump training/physical conditioning. A special program for younger girls. Four-month sessions begin in March, September, and January. Meet at Carlsbad State Beach.
Wahine Beach Volleyball Club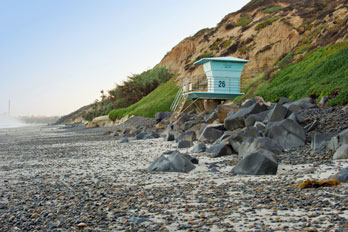 Carlsbad Junior Lifeguards - 2017
Registratioin for 2017 opens in March.
The Carlsbad Junior Lifeguard Program develops ocean and beach safety, lifesaving skills, and physical fitness. Participants enjoy beach games, surfing, and competitions. The program includes instruction in rescue techniques, marine biology and first aid.
Carlsbad Junior Lifeguards is open to individuals ages 9 to 16. First-time participants must complete a swim test, offered on dates in May and June at the Monroe Street Pool. The Junior Lifeguard Program has three sessions for 2017. Junior Lifeguards meet Monday through Friday at South Ponto State Beach. Sessions 2 and 3 have morning and afternoon programs, 8:00 AM to 11:30 AM and 12:00 PM to 3:30 PM.
2017 Junior Lifeguards Schedule
Session 1: June 26 - July 14, 2017
Session 2: July 17 - August 3, 2017
Session 3: August 7 - August 24, 2017
Carlsbad Junior Lifeguard Program
Strolling along the Seawall
A seawall promenade extends along much of the beach in Carlsbad, providing a great place for people to walk, cycle, or jog as they enjoy the view and the sea air. Parts of the trail run parallel with the Coast Highway at the bluff tops. Parts of the sea wall are adjacent to the sandy shoreline.
Bicycle Rentals
Fun Wheel Rentals, 300 North The Strand, Oceanside, CA
rentals of all kinds of cycles from beach cruisers to tandems, surreys to kids' bikes. Open every day from 9 AM to sunset.
Nearby
Events and Activities
Pedego Electric Bikes
Tours and Rentals
355 Carlsbad Village Dr.
Open 10 AM to 5 PM, closed Mondays
Rent by the hour, day, or week.
1½ - 3-hour tours available
Pedego Electric Bikes
Agua Hedionda Lagoon
Water ski slalom course, jet ski area, kayak area, nature preserve
Agua Hedionda Lagoon
Carlsbad Lagoon
Rent ski boats, jet skis, or kayaks, SUPs or aqua cycles and enjoy the Aqua Hedionda Lagoon
4215 Harrison St, Carlsbad, CA
Summer youth water sports camp
Carlsbad Lagoon
Batiquitos Lagoon
Game sanctuary and bird estuary
1.3-mile hiking trail on north shore
Batiquitos Lagoon Foundation led nature walks.
Club Pelican
Batiquitos Lagoon summer art and science camp, ages 7 to 12
Sponsored by the City of Carlsbad
9 AM to Noon at the Batiquitos Nature Center
Club Pelican
Carlsbad Triathlon
July 9, 2017
Tamarack State Beach, 7:30 AM
1K Ocean swim, 25K rolling bike course, 5K run
Carlsbad Triathlon
Legoland
Off Interstate 5 at Cannon Road in Carlsbad
Legoland