Crystal Cove Beach
Crystal Cove Beach extends 3.2 miles along the coast of Crystal Cove State Park. The beach attracts a wide variety of visitors for surfing, hiking and sightseeing, exploring the fascinating Historic District of vintage beach cottages, diving, kayaking, sunbathing, and tide pooling.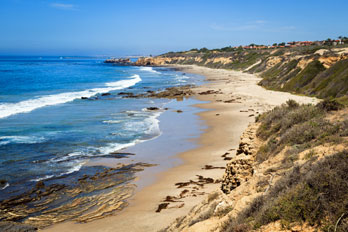 Crystal Cove Beach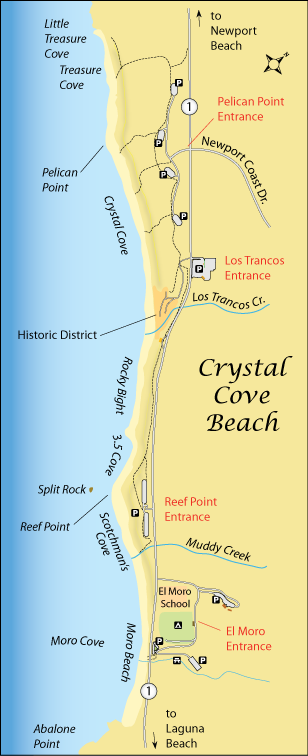 Entrances and Parking
Access to the beach off the Pacific Coast Highway is via four entrances, each with its own parking area: Pelican Point, Los Trancos, Reef Point, and El Moro. The El Moro entrance off the PCH begins at the El Moro School and leads to the visitor center parking lot and several lots around by the day-use area. The lower one is close to the beach with access via a trail through a tunnel under the highway.
The regular parking fee for day use is $15. There are Automated Pay Machines (APMs) at most parking lots - Las Trancos, Pelican Point and Reef Point, Morro Day Use and Moro campgrounds. The APMs accept cash, credit cards or debt cards.
From October 1 to March 31, Monday through Thursday only, hourly parking rates of $5 are available. Entrance fees are $20 on major holiday weekends such as the 4th of July. Restrooms, outdoor showers, and picnic tables are located near all of the parking areas.
The Best Places to Go on the Beach
Tide Pools
Pelican Point and Reef Point.
Swimming
Moro Beach, Muddy Creek (no, really), and in front of the Beachcomber Cafe in the Historic District near the mouth of Los Trancos Creek
Surfing
Pelican Point area: Treasure Cove and Little Treasure Cove
Reef Point: west of Split Rock
Moro Cove
Whale Watching
Bluff-top observation points at Pelican Point and Reef Point
Scuba Diving
Reef Point, Rocky Bight, and Pelican Point
Kayaking
Launch from Muddy Creek to Moro Cove, also from the south end of the Historic District to the north end of Treasure Cove
Crystal Cove Alliance
Crystal Cove Alliance is a nonprofit partner with Crystal Cove State Park. The Alliance's goals are to help preserve the culture, natural, and historic resources of Crystal Cove. They have been instrumental in helping to restore historic cottages. Learn more about the Crystal Cove Alliance's activities and how you can support their efforts.
Crystal Cove Alliance.
Crystal Cove History
Crystal Cove State Park was once part of the Irvine Ranch, started in 1876 by James Irvine. Used as a sheep ranch, it was passed down through his family. The Irvine Company leased the coastal area to film makers and vacationers.
The beach soon became a popular vacation stop along the Pacific Coast Highway. The Irvine Company leased land to tenants who built beach cottages. In 1979 the Irvine Company sold the land to the State of California. The cottages have been preserved and are listed in the National Register of Historical Places.
Crystal Cove State Park
Crystal Cove State Park extends inland from Moro Beach, encompassing 2,400 acres of wooded canyons and ridges in the San Joaquin Hills. Hiking trails and fire roads lead from the main parking areas around Moro Beach. Use of the trails and roads is open to hikers, horseback riders, and mountain bikers.
Picnic Areas
Picnic areas are found around every parking lot and along Moro Canyon. Because of fire danger, only compressed gas grills may be used, no charcoal or open flames. Ramadas protect many of the picnic sites from the sun.
Historic District
The Historic District is a cluster of 46 vintage beach homes built during the 1930s and 1940s. The Crystal Cove Alliance in partnership with the California State Parks have been working to restore the cottages and a restaurant. Twenty-one cottages are now available to the public as overnight rentals. To make a reservations, go to Reserve America - Crystal Cove Beach Cottages.
Hiking into the Backcountry
Seventeen miles of trails wind through the backcountry of Crystal Cove State Park. Most of the terrain is coastal sage scrub plant. One of the easier hikes is the Moro Canyon Trail which begins at the parking lot and follows Moro Creek up the canyon for about a mile. More ambitious hikers can easily figure out loop trails several miles in length. High on the ridges hikers are rewarded with amazing vistas of the coast.
Three backcountry environmental camps are available for overnight use. Hikes to the camps are about 3 miles uphill. The sites have picnic tables and pit toilets. There is no drinking water at the camps and fires are not allowed, except for the use of backpack stoves.
Crystal Cove Restaurants and Stores
Crystal Cove Store
The Crystal Cove Park Interpretive Store and Gallery is located in the Historic District. The small shop features paintings, photography, sculptures, jewelry, and vintage signs. They also carry t-shirts, sand toys, postcards and several books of local interest.
Beachcomber Cafe and Bootlegger Bar
The Beachcomber Cafe in the Historic District is a restored beachfront cottage. Breakfast, lunch, and dinner are served in a relaxed atmosphere with wonderful ocean views. Breakfast is served from 7 AM to 11:30 AM. Lunch runs until 4:30 PM and dinner until 9:30 PM. The Bootlegger Bar is open from 11 AM (10 AM on weekends) until 9:30 PM. Beachcomber Cafe
Beach Gear - Sales and Rentals
The Beachcomber also sells beach products and supplies beach rentals from 10 AM to 6 PM. Rentals include beach chairs and umbrellas.
Beachcomber at Crystal Cove
Ruby's Shake Shack
Ruby's Shake Shack is situated along the Pacific Coast Highway between Los Trancos entrance and the Reef Point entrance. Among customers' favorites are burgers, shakes, and fries along with hot dogs and sandwiches. Breakfast is served from 7 AM to 11 AM and lunch and dinner from 11 AM to 9 PM.
Ruby's Shake Shack
7703 E. Coast Highway
Crystal Cove Wildlife
As visitors move to different locations within the park they are apt to encounter a variety of different animals.
Among the birds that are often spotted at the park are house sparrows, mourning doves, wrens, hummingbirds, gulls, flycatchers, kingbirds, turkey vultures, and ravens.
Reptiles such as gopher snakes, Pacific rattlesnakes, tree frogs and salamanders are seen less often, but keen observers are sure to pick out the common western fence lizard sunning on the rocks. Bobcats are sometimes seen along the trails along with deer and coyotes.
Out at sea watch for dolphins, sea lions, seals, and during the migrations months, whales. The tide pools are filled with marine creatures from sea anemones to hermit crabs.