Caution: Check with rangers or lifeguards that conditions are safe for your planned activities.
Dillon Beach Activities
Visitors to Dillon Beach often come simply to enjoy the broad sandy shoreline. Some set up a beach chair and spend a few hours reading or watching their children play in the sand, others hike along the edge of the surf looking for shells or watching for whales and dolphins. Some play in the waves, but use extreme caution. The ocean can be treacherous. A wetsuit makes any extended time in the water more enjoyable.
One of the big attractions at Dillon Beach is that dogs are allowed to run free on the sand. Owners are expected to keep watch over the dogs and clean up after them. Even those who didn't bring a dog can't help but smile as the watch the joyful play of the dogs romping across the sand, splattering through the shallows, and making new friends.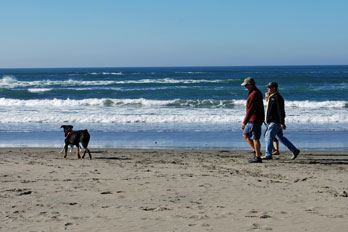 Surfing at Dillon Beach
A regular sandbar break that goes left and right draws surfers of all abilities to Dillon Beach. A sandy bottom, waves than can run for more than 100 yards, and no crowds all help make Dillon a good place to surf. Experienced surfers are aware of the rip currents in the area and the danger of sharks. Many surfers favor the waves in the early morning before westerly winds pick up. A nearby spot at the mouth of Tomales Bay known as Shark Pit is reputed to have epic waves.
Windsurfing and Kiteboarding
Dillon Beach produces strong winds for windsurfers. Many prefer to launch from Lawson's Landing where it is more protected. The best waves are out by the sandbars at the mouth of the bay. Others launch right off Dillon Beach. In any case, the strong currents make it a place for experts only.
Kiteboarders like both the waves and the wind at Dillon Beach. The wind is often blowing parallel to the beach or in toward it, making for safer conditions should anything go awry. Kiteboarders here usually opt for smaller kites.
Dillon Beach Tide Pools
Tide pools are found at the north end of the beach. Visitors spot limpets and mussels, sea stars, anemones, crabs.
Dillon Beach Clamming
Clamming is a favorite activity around Dillon Beach, especially down the coast at Lawson's Landing. Clamming is done at low tides. The best clam digging spots are accessed by boat, but shore-side clammers can have success too. Experienced clammers use a clam pipe, about a foot in diameter and 3 feet long, to jam into a hole where they are digging to keep the sides from collapsing.
There is a limit of 10 horseneck clams per license in your possession. Horseneck clams are often called Giant Clams around Dillon Beach. They are usually found 3-4 feet down in the mud and sand. Check Fish and Wildlife regulations before setting out.
California Fishing Regulations
Lawson's Landing
Boating
Boat Launch Services: Self-launched boat requires 4x4 to get across beach - $10 per day, $35 per week
Launch by tractor (in and out) - $20
Boat mooring per day - $15 (when available)
Boat Rentals: 15' Gregor aluminum boat, seats 5 - $82.50 per day
with 8HP outboard - $165 per day
Rental boats are limited to 2 trips to clamming beds per day.
Fishing
Among the fish sought after by anglers in the waters off Lawson's Landing are perch, lingcod, rockfish, salmon, sharks, and halibut. Many anglers choose to fish off the pier. When Dungeness crab seasons arrive, fishermen seek them from the pier and boats.
Nearby Attractions
Key Creek Fishing Access
Shoreline Highway (Highway 1)
Tomales, CA
A small park area along Key Creek, upstream from Tomales Bay
Miller Boat Launch
East side of Tomales Bay
Two-lane ramp and dock for boat launching
Overnight parking allowed for boaters
Marin County Parks - Miller Boat Launch
The Links at Bodega Harbour
21301 Heron Drive
Bodega Bay, CA
18-hole golf course
Rolling fairways, pot bunkers, multi-tiered greens
Final 3 holes near the edge of the Pacific
The Links at Bodega Harbour
Doran Regional Park
201 Doran Beach Rd.
Bodega Bay, CA
Beaches, birding, camping, fishing, trails, kayaking, picnicking
Open 7:00 AM to sunset
$7 per vehicle
Doran Regional Park
Westside Regional Park
2400 Westshore Drive
Bodega Bay. CA
Birding, camping, fishing, kayaking and canoeing, picnicking, boat ramp
Open 7:00 AM to sunset
$7 per vehicle
Westshore Regional Park