Caution: Check with rangers or lifeguards that conditions are safe for your planned activities.
Hang Gliding at Dockweiler Beach
Dockweiler Beach is home to the Dockweiler Beach Hang Glider Flight Training Park, an area designated for beginner and novice hang glider pilots. Hang gliders launch from a 30-foot high bluff on the southern half of the beach at Bluff Parking Lot.
The facility at Dockweiler Beach is operated by WindSports. The usually gentle winds at the site, coupled with a wide, sandy beach for landings, make it a good place for beginners to learn the basics of the sport.
WindSports offers solo flight beach lessons on Wednesdays through Sundays. Flights are usually about 100 yards in length. A 2-hour mini-beach lesson consists of 4 flights, while the full lesson lasts from 3 - 4 hours and consists of 7 flights. Students between 14 and 18 years of age will need a parent in attendance. WindSports offers more advanced flight instruction at other locations.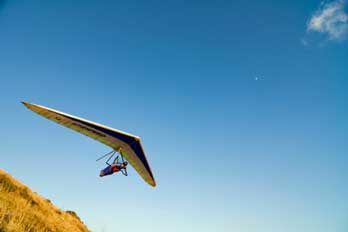 Surfing Dockweiler Beach
The Dockweiler Beach does not rank as one of the leading surfing spots along the LA shoreline. The beach breaking waves tend to be sloppy and unreliable. Beginners often migrate here, knowing it is a place they can practice away from the eyes of more experienced surfers. The paddle out is easy.
Kitesurfing and Windsurfing
Kitesurfing (kiteboarding) and windsurfing are allowed at Dockweiler Beach as long as the kite and wind surfers maintain a 100 foot margin from swimmers. Since Dockweiler is usually not very crowded, kitsurfers don't have much difficulty finding a clear section of beach where they can set up and launch. Afternoon winds can make for some exciting windsurfing.
Volleyball
Volleyball nets are located at several locations along Dockweiler Beach. The majority of courts are found near the main entrance. Others are set up at the south end of the beach by the Grant Avenue parking lot and at the north end of the beach between S. Marine Avenue and Culver Boulevard. They are free for public use. Sometimes courts may be reserved for tournaments or other special events.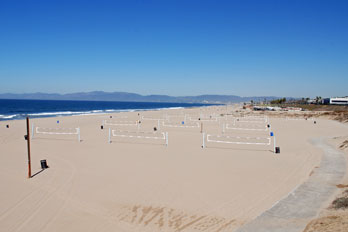 Beach Volleyball Camps
Sinjin Smith and Randy Stoklos' Beach Volleyball Camps offer a summer beach volleyball camp at Dockweiler Beach. Participants can join for one day, 5 days, 10 days, 20 days, or the entire summer. They also offer a Sand & Sea Beach Camp. Check their website for current dates and prices. They meet near Tower 58.
Beach Volleyball Camps
Dockweiler Youth Center
Located at the Bluff Parking area, the Dockweiler Youth Center overlooks the beach. The center has a main gathering room, a terrace, and a kitchen. It is used for youth and adult activities such as Zumba Fitness classes, shore fishing classes (see below), kids craft classes, During the summer they offer youth camps. To inquire about renting the Youth Center, call (310) 726-4128.
The Youth Center is open 7 days a week from 8:00 AM to 5:00 PM.
Dockweiler Youth Center
Keeping it Rio Summer Camp
The Los Angeles Samba Kids' camp focuses on Brazilian Performing Arts The camp is designed for children ages 7 to 15. At the camp children learn drumming, dance, and arts and crafts. The camp is held Monday through Friday, mid-June to early August, from 2:00 PM to 5:00 PM at the Dockweiler Youth Center.
Make It and Take It Kids' Crafts Class
Dockweiler Youth Center, Saturdays, 10 AM - 11:00 AM
Children ages 0 - 12 and accompanying adult learn to make a craft project for free.
More information: Dockweiler Youth Center Classes or (310) 726-4128
Shore Fishing Classes
The Los Angeles Department of Beaches & Harbors offers free introductory shore fishing classes at Dockweiler beach to people of all ages. Classes are on Saturdays from 9:00 AM to 10:30 PM. Those 12 and under must be accompanied by an adult. Poles and bait are provided at no cost. Those 16 and older must have a California fishing license. Among the fish usually caught along the Dockweiler shore are halibut, corbina, croaker, surfperch, and leopard sharks.
Call (310) 726-4128 to pre-register.
Dockweiler Youth Center Classes
Soccer on the Beach
Copa Cabana Beach Soccer sponsors a Beach Camp at Dockweiler Beach for ages 4 to 15. At the camp, youths develop basic skills, learn team strategies, and improve their general conditioning. Three age-group camps are offered: Copa Primo for 4-7 year olds, Copa Nationale for 8-11, and Copa Campeone for 12-15. Sessions run from 9 AM to 2 PM. Weekly camps run Monday through Friday from late June through early August.
Copa Cabana Beach Soccer Camp
Copa Cabana also puts on several beach soccer tournaments for all ages every year at Dockweiler Beach. The tournaments are usually scheduled for February and August.
Birding at Dockweiler Beach
Birders are rewarded with a good number of shorebirds along Dockweiler's coast. Among the birds that have been spotted there are Bonaparte's gulls, scoters, black oystercatchers, western grebes, snowy plovers, willets, least terns, burrowing owls, surfbirds, and sanderlings. Mesh fences have been put up to protect the endangered snowy plovers' nesting area.
Bird Walks with Los Angeles Audubon
Los Angeles Audubon leads walks on Dockweiler Beach from time to time, most often to observe the endangered snowy plovers. Walks include information on general beach ecology.
Los Angeles Audubon
Nearby Activities and Events
Automobile Driving Museum
610 Lairport Street, El Segundo, CA
Open Tuesdays - Sundays, 10 AM - 4 PM
130 classic, antique, and vintage automobiles
Rides in vintage cars on Sundays
Automobile Driving Museum
Old Town Music Hall
140 Richmond St., El Segundo, CA
Vintage silent and sound films, live concerts of jazz, ragtime, and popular music from the past.
Old Town Music Hall
Scooter's Jungle
606 Hawaii St., El Segundo, CA
Private family fun in a safe, clean environment
Jumpers, inflatable slides, games, tropical-themed facilities.
Scooter's Jungle
Clutter's Park
East Imperial Ave. at Sheldon St.
El Segundo, CA
A great place to watch the airplanes land and take off from LAX
Clutter's Park
El Segundo Youth Skate Park
405 E. Grand Ave., El Segundo, CA
Monday-Friday 11 AM to 9 PM
Saturday 2:30 PM to 10:30 PM
Sunday Noon to 5 PM
Hometown Fair and Carnival
May TBA, 2018
600 block of Main St.
El Segundo, CA
Carnival rides, bake-0ff, bike parade, music
Ballona Wetlands
Located corner of Lincoln and Jefferson, south of Marina del Rey
The Freshwater Marsh is open from dawn to dusk. Public trail around the perimeter.
Friends of the Ballona Wetlands, along with community partners, offers weekend tours.
Books of Local Interest
Ocean Safety
California State Parks and Recreation cautions that "large surf, cold water temperatures, backwash, sudden drop-offs, pounding shorebreak, and dangerous rip currents can turn what seem like safe activities such as playing near the surf line, wading, or climbing on rock outcroppings, deadly." Learn more about ocean safety at
CA State Parks: Ocean Safety
California's Best Beaches
◊ Chicago Park Web Design, © 2018 ◊

Every effort is made to provide accurate and up to date information, but we cannot be responsible for errors or for changes that may have occurred since publication. Always confirm information with the service provider and check for any recent changes that may have been made. Also, check with lifeguards that conditions at the beach are safe for your planned activities.
The information provided on this website is done so without warranty of any kind, either expressed or implied, including but not limited to, the implied warranties of merchantability and fitness for a particular purpose.