Dockweiler Beach RV Campground
Dockweiler State Beach's RV Park is one of the rare oceanside campgrounds in Los Angeles County. Although the sites are close together in parking lot fashion, their proximity to the ocean and the wide expanses of Dockweiler State Beach make them highly sought after sites. Many campers reserve their sites as soon as they become available. The ocean-front sites cost slightly more than the sites in rows 2 and 3.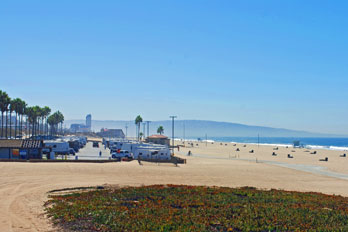 The Dockweiler RV Park is for RVs and trailers only. Tents are not allowed. Sections of the campground are designated for trailers or for RVs. During holiday weekends fees increase slightly for a span of 3 days prior to the holiday and 3 days after the holiday. During the 7-day long holiday periods, a minimum 3-day reservation is required. Rules about changing reservations become stricter during holiday periods.

Dockweiler Camping Fees and Reservations
Front row full hookups: $65
Middle row full hookups: $60
Back row full hookups: $55
More than 4 guests is $3 per person up to a maximum of 8 per site
Pets: $2 (maximum of 2 per site)
Dump station use: $10
Reservation fee: $10
Early check-in fee: $17
Holiday fee: $4 per day
Reservations
Phone Reservations: (800) 950-7275 or (310) 322-4951
Reservation service open 9:00 AM to 5:00 PM, Monday through Friday. Reservations must be made at least 2 days in advance, but no more than 90 days.1
Reservations may also be made on-line:
Dockweiler RV Park Reservations
1Various documents and websites for Los Angeles County Department of Beaches and Harbors state that reservations can be made no later than 7 days, 2 day or 24 hours in advance. The online reservation system says 24 hours. To play it safe, campers should make their reservations as early as possible.
Campground Rules and Regulations
(partial list)
Check-in 1:00 PM to 7:00 PM, check-out 12 Noon (early check-in $17)
No more than 5 spaces per person can be reserved at one time
Vehicles must be self-contained.
Size limit 37 feet (no exceptions)
Pets must be contained or restrained on a leash at all times. They may not be left unattended outdoors at any time. No animals are allowed on the beach.
A maximum of 8 people are allowed per campsite.
See the complete list of rules and regulations:
Dockweiler RV Park Rules and Regulations
Advice and Comments from Previous Campers
Showers are free; no coins required
Planes at LAX stop coming and going at 11:00 PM
Some found the sound of the planes soothing, other said bring earplugs.
Keep valuables inside trailer or RV
Find the Best Camping in California

All around the greater Los Angeles area
Beach camping from San Diego to Humboldt
And everywhere else up and down the Golden State
Complete campground information, including fees, reservations, photos, facilities, and nearby recreation.
Greater Area RV Campgrounds
Malibu Beach RV Park
25801 Pacific Coast Highway, Malibu, CA
(310) 456-6052 or (800) 622-6052
Malibu Beach RV Park
RV Sites: 142 sites, picnic tables, BBQ grills, 30/50 amp, full hook=-ups or water and electricity only
Tent Sites: 35 sites, picnic tables, dish washing area, BBQ grills
Amenities: Laundry, arcade room, game room, convenience store, restrooms with hot showers dump station, TV room, limited WiFi, lanai
Rates: $$
Walnut RV Park
19130 Nordhoff Street, Northridge, CA
(800) 868-2749 Walnut RV Park
24 miles from Malibu Pier and Surfrider Beach
RV Sites: Full hook-ups, 50 amp, cable TV for extended stay, WiFi
Amenities: Clubhouse with kitchen, meeting area, laundry, showers, swimming pool
Rates: $$
Balboa RV Park
7740 Balboa Blvd., Van Nuys, CA
(818) 785-0949 Balboa RV Park
21 miles from Surfrider Beach
RV Sites: Concrete patios, full hook-ups, cable TV, WiFi
Amenities: Restrooms, laundry, recreation hall
Rates: $$
Golden Shore RV Resort
101 Golden Shore, Long Beach, CA
(562) 435-4646 or (800) 668-3581
Golden Shore RV Resort
RV Sites: 80 sites with full hook-ups, 30/50 amp, picnic table
Amenities: Kitchen, laundry, picnic area, pool, spa, store,
Rates: $$
Rosewood Mobile Home and RV Park
14325 McNab Avenue, Bellflower, CA
(562) 867-3227
Rosewood Mobile Home and RV Park
Swimming pool, club house
Pyramid Lake RV Resort
45100 Copco Ave., Gorman, CA
(661) 248-0100 Pyramid Lake RV Resort
Resort Amenities: Club House, Swimming Pool, Hot Tub, Showers, Laundry, Miniature Golf, Playground, Cafe, Market, Cabins
RV Sites Full Hook-ups, 30/50 Amp, Cable TV, Picnic Table
Rates: $
Valencia Travel Resort
27946 Henry Mayo Dr. (Hwy. 126), Castaic, CA
(661) 257-3333 Valencia Travel Resort
381 RV Sites, 2 Heated Swimming Pools, Store, Spa, Kiddie Pool, Playground, , Laundry, Showers
Full Hook-ups, 30/50 Amp, Dump Station, Satellite TV
Acton/Los Angeles North KOA
7601 Soledad Canyon Rd., Acton, CA
(661) 268-1214 for information, or (800) 562-2172 for reservations
Acton/Los Angeles North KOA
WiFi, Pool, Volleyball, Playground, Store, Showers, Laundry
Full Hook-ups, 50 Amp, 60' max.
Lake Casitas, Lake Piru and Castaic Lake
Complete Information

For comprehensive information about Lake Casitas, Lake Piru, Lake Cachuma, and all of California's most popular lakes, see
Lake Casitas Campgrounds
Location: On the north shore by the marina
Phone: For Information (805) 649-2233, for Reservations (805) 649-1122
Lake Casitas Camping
Campground Facilities: Playgrounds, Showers, Restrooms
Campsites: All campsites come with Picnic Tables and Fire Rings
Lake Piru - Olive Grove Campground
Location: 40 miles east of Ventura, 0n the west shore of Lake Piru near the marina
Information and Reservations: (805) 521-1500
Lake Piru
Campground Facilities: Hot Showers, Piped Water, Restrooms, Dump Stations, WiFi
Campsite Amenities: All campsites come with Picnic Table, Fire Ring with Grill Top
Castaic Lake Campground
Location: Lower Lake or Lagoon
Reservations: (661) 257-4050 or Los Angeles County Reservation System
Campground Facilities: About 60 Sites, most for RVs (up to 35'), Some Tent Sites, Restrooms, Piped Water, Amphitheater with Summer Campfire Talks, Dump Station.
Campsite Amenities: No Hook-ups, BBQ, Table, Fire Ring
Notes: Maximum of 8 people per site and 2 vehicles (including boat trailers).
Rates: $