Camping at Gaviota State Park
The campsites at Gaviota State Park are located in a large circle close to the beach and nearly in the shadow of the railroad trestle.
Windy conditions can make it difficult for tent campers. Past visitors have reported times when tent poles have snapped in the heavy winds which can reach up to 50 miles per hour. Camping fees cover up to 8 people and include one vehicle and one legally towed vehicle or trailer. There is a fee for additional vehicles.
Camping Regulations
All vehicles must park on the pavement.
Dogs must be on leash and are not permitted on trails or beach.
Dogs must be in a vehicle or tent at night.
Games such as volleyball and horseshoes are not permitted in the campground or on the beach.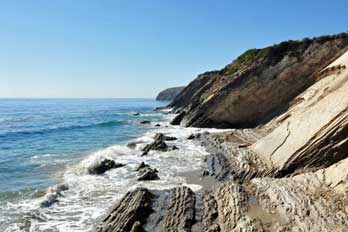 Suggestions and Comments from Previous Campers at Gaviota State Park
The few trains that pass are fairly quiet and do not disrupt sleep.
Watch out for skunks prowling at night.
Bring quarters for showers.
Best for RV camping, not tents
Outer perimeter sites have more protection from wind.
Camping at Jalama Beach County Park
Jalama Beach County Park has more than 100 campsites for RVs or tents and 7 cabins spread along the coast next to the beach. The popular campground has recently switched to a reservation system, making it much easier for campers to be sure a spot will be waiting for them when they arrive.
Campsite Facilities
Picnic table and BBQ pit
31 sites have electric hook-ups
Restrooms, hot showers (bring quarters), water
Dump stations
Reservations
The campsites shown in red on our map are first come, first served sites, but the rest can be reserved up to 6 months (beginning at midnight) in advance of your arrival date and all the way up to one day prior to your arrival date. There is a reservation fee.
Santa Barbara County Parks Reservations
Camping Fees
Basic Camping April 1 - September 30: $35
Basic Camping October 1 - March 31: $30
Premium Beachfront Sites (#53-#64) year-round: $50
Electric Hook-up Sites April 1 - September 30: $50
Electric Hook-up Sites October 1 - March 31: $45
Snowbird Program November 1 - April 15: $30
Additional Vehicle: $10
Campground Information
(805) 736-3504 Park Office
(805) 736-6316 Recorded Info
Jalama Beach County Park
Store and grill open at 8:00 AM
Dogs with current rabies vaccinations are permitted: $3 per day or $20 for an annual pass.
Group Camping Areas
Jalama Beach County Park has two group camping areas which may be reserved - Abalone Point and Starfish Cove. Abalone Point, which is right on the beach, can accommodate up to 20 people and 8 vehicles. Starfish Cove, located farther back in the campground, can accommodate up to 40 people and 8 vehicles. A two-night minimum is required on weekends and 3 nights on holiday weekends. The rate for the groups sites are $250 or $280 per night.
Cabins
Medium and large cabins sleep up to 6, while the Accessible cabin (Cormorant) sleeps up to 4. Most cabins have 1 queen bed, 1 bunk bed, and a sleeper couch. Cormorant has no bunk beds. During the peak season (April 1 - September 30) cabins rent for $240 per night. During non-peak season they rent for $190 per night.
Cabin Amenities:
Kitchen with cookware, utensils, electric stove top, microwave, coffee maker, and more
Bathroom with shower, sink, toilet, and toilet paper
Living room with sleeper sofa, satellite TV, Blu-Ray DVD player
Outdoors has BBQ, fire ring, front porch, chairs or bench, fire pit
No linens are provided. Bring sheets, pillows, blankets, and towels. There is no room for a trailer or RV by the cabins.
Suggestions and Comments from Previous Campers at Jalama Beach County Park
To save money, bring your own firewood. [But still obtain locally.]
No cell phone reception.
Protect food from raccoons, store food away at night.
Be sure to have a Jalama Burger.
Bring baby oil or sun tan lotion to wipe the tar off your feet.
It can get windy and cold at night.
Caifornia's Best Beaches
◊ Chicago Park Web Design, © 2018 ◊

Every effort is made to provide accurate and up to date information, but we cannot be responsible for errors or for changes that may have occurred since publication. Always confirm information with the service provider and check for any recent changes that may have been made. Also, check with lifeguards that conditions at the beach are safe for your planned activities.
The maps displayed above are for illustrative purposes only. California's Best Beaches website makes no warranties regarding the accuracy, completeness, reliability or suitability of any of its maps. The information provided on this website is done so without warranty of any kind, either expressed or implied, including but not limited to, the implied warranties of merchantability and fitness for a particular purpose.