Caution: Check with rangers or lifeguards that conditions are safe for your planned activities.
Goleta Beach Activities
Resting in the shadow of the Channel Islands and facing south, Goleta Beach enjoys quiet surf and gentle breezes most of the year. Visitors to Goleta Beach Park usually come prepared to spend the day, picnicking at one of the many picnic sites along the beach or enjoying a snack or meal at the beachfront snack bar or restaurant.
Games at Goleta Beach
Children have fun on the playground while older visitors often gather at the horseshoe pits or volleyball courts for an afternoon of friendly competition. For kite flyers or other activities that send objects skyward, keep to the area of beach east of the pier.
Surfing at Goleta Beach
The surf right at Goleta Beach is rarely of much interest to local surfers. Most head out to Campus Point, a south facing point on the UCSB campus. When the swell is correct, right breaking waves can give surfers a full minute ride. Most of the surfers there are college students.
Fishing from the Goleta Beach Pier
Goleta Beach Pier is ranked as one of the top fishing piers along the California coast. The 1,450-foot long pier juts out into the Santa Barbara Channel from Goleta Beach near the mouth of Atascadero Creek. More than 30 species of fish have been caught around the pier which is encrusted with mussels and is often surrounded by kelp beds. An underwater pipeline runs parallel to the pier along its west side, creating more habitat for fish.
Halibut fishermen head out to the far end of the pier while others scatter along its length, hoping to land jacksmelt, perch, bonito, corbina, rockfish, barracuda, and even salmon.
Restrooms are located nearby on shore. There are also fish cleaning stations and a launch sling for small boats. The pier is open 24 hours a day and has lights.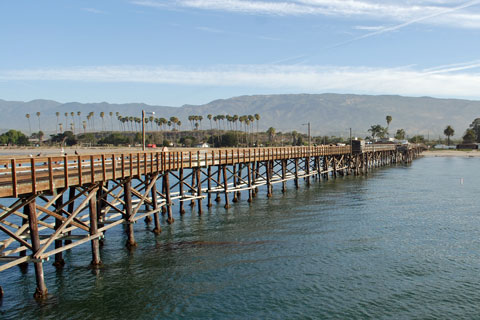 Goleta Pier Angler Center
For several years Boyd Grant served as Pier Host and spearheaded the Goleta Pier Angler Center, an information station for anyone fishing on the pier. The kiosk was staffed by the United Pier and Shore Anglers of California. In 2011 Santa Barbara County Parks decided to terminate Boyd's position as pier host, citing a variety of reasons.
Read about it in Ken Jones' article End of a Dream?
Boyd's website is still online and has some good information about fishing the Goleta Beach Pier: Goleta Pier Angler Center
Restaurants and Snack Bars
Beachside Bar & Cafe
The Beachside Bar & Cafe is located at the foot of the pier on Goleta Beach. They serve both lunch and dinner from a menu that includes a wide range of seafood, salads, soups, sandwiches, pasta, steak, pork and chicken.
Hours: Lunch 11:30 AM to 4:40 PM (11:00 AM opening on weekends)
Dinner service begins at 5:00 PM
Beachside Bar & Cafe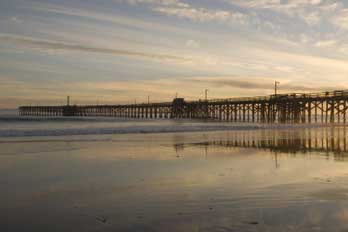 UC Santa Barbara Junior Lifeguards
Children between the ages of 9 and 17 can participate in the University of California Santa Barbara's Recreations Department's Junior Lifeguard Program offered every summer.
Participants learn about ocean safety and environmental education. During the 4-week long sessions they learn lifesaving skills, first aid, and CPR. They also develop their physical fitness and learn ocean recreation skills.
Among the recreational activities included in 2015 sessions are surfing, body boarding, water polo, kayaking, volleyball, swimming, beach games, and special events. Activities take place at Campus Point, Goleta Beach, and UCSB facilities.
UCSB Junior Lifeguards
Signups for returning participants begin March 1, 2016.
Tryouts
All new applicants for UCSB Junior Lifeguards must pass a tryout evaluation of each child's swimming skills before they can participate in the program. Tryouts are held on several dates from early April through early June at the UCSB Recreation Center.
Junior Lifeguard Sessions (2018 Dates TBA)
Monday - Friday, 8:30 AM to 1:30 PM
Session 1: June - July 2018
Session 2: July - August , 2018
2016 Cost: $360 per 4-week session or $585 for both sessions. Discounts for siblings.
Boat Launch
The Goleta Pier boat launch is available for public use on weekends and holidays. The park's resident ranger must be in attendance to facilitate the launch. Boat owners are allowed to drive out on the pier under the ranger's guidance to launch their boats. Boats may not exceed 8000 pounds or 22 feet in length. To make arrangements call (805) 967-1300 between the hours of 7:00 AM and 4:00 PM.
Launch Fee: $15.00 ($9.00 for seniors).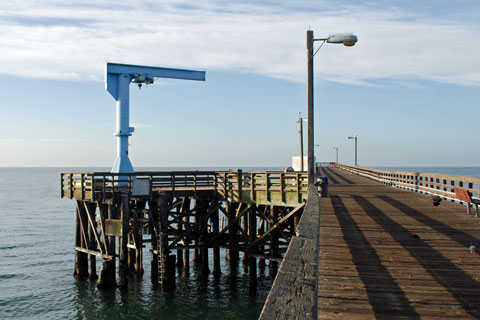 Nearby Activities and Events
Music at the Ranch Free Concert Series
Rancho La Patera & Stow House, Goleta, CA
Tuesday evenings in July and August, 2017
Live music at Stow House
Music at the Ranch
Goleta Butterfly Grove
7701 Hollister Ave., Goleta, CA
Adjacent to the Sperling Preserve on the Ellwood Mesa
View monarch butterflies mid-November to mid-February
Goleta Butterfly Grove
Santa Barbara Adventure Company
Kayaking tours around Santa Barbara Harbor, Refugio Beach, Fun Paddles along Santa Barbara shoreline and Sunset tours of the harbor.
Santa Barbara Adventure Company
Aquasports Kayaking Trips
Professionally guided and outfitted Channel Islands kayaking adventures
Explore island sea caves
No experience required
Aquasports Kayaking Trips
Cachuma Lake
Highway 154, 25 miles north of Santa Barbara
Boating, fishing, camping
Cachuma Lake