Caution: Check with rangers or lifeguards that conditions are safe for your planned activities.
William R. Hearst Memorial State Beach Activities
Hiking the Coast
San Simeon Point Trail, 1 mile
From Hearst Beach head northwest around the cove, staying on the sand until you have passed Old San Simeon. Then find a use-trail leading up onto the bluff and pick up the well worn trail that leads around to the tip of San Simeon Point.
Hearst Beach to Junge Ranch, 4.6 miles
While every hiker may not want to make the full 4.6 mile hike to Junge Ranch to the south of Hearst Beach, you can start out and turn around whenever you are ready. For the first 2½ miles hikers will be close to the ocean, walking mostly on sand, with occasional rock outcroppings. Beginning at the points near Pico Creek the trail climbs onto the bluffs and meanders along them for most of the rest of the hike, with occasional beach interludes.
Kayaking
The sheltered waters of San Simeon Bay are popular with kayakers. Launching from the beach they explore the bay, the nearby kelp beds, the coast, and point - all the while observing the varied marine wildlife. Kayaks often enjoy views of sea otters, dolphins, harbor seals, and sea lions.
Sea For Yourself Kayak Outfitters has been serving beach visitors at William R. Hearst Memorial State Beach for nine years. They provide convenient kayak rentals and guided tours of the bay and other locations. In addition, they rent wetsuits, bodyboards, stand-up paddleboards, and surfboards.
(805) 927-1787 local or (800) 717-5225 Toll Free (California Only)
Sea For Yourself Kayak Outfitters
Hearst Beach Kayak Rental Hours: Open mid-June to early September, 10:00 AM to at least 4:00 PM. Often from 10:30 AM to about 12:45 staff are leading tours and not available on the beach.
Off-season: Not always open on the beach. Call to arrange tours or rentals.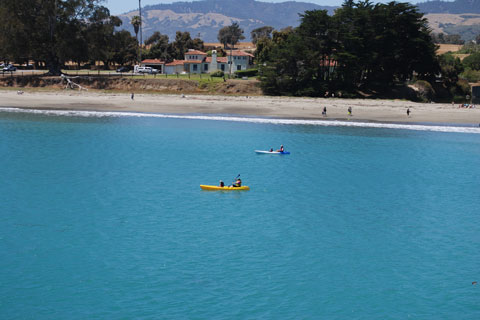 Fishing from San Simeon Pier
Fishing is allowed year-round from the pier and no license is required. The pier stands more than 20 feet above the water. Beneath is a sandy bottom. The outlet of nearby Arroyo del Puerto Creek attracts some fish, including steelhead. Fishing for surfperch in the surf zone is fairly rewarding here. Other fish caught here include white croaker, barred surfperch, and calico surfperch.
the pier has benches and fish cleaning stations. Nearby is a bait and tackle shop.
Scuba Diving
Divers generally find the water in San Simeon Bay too shallow and the visibility too poor to rate it as a great diving location. Gentle surf makes for easy entry for divers, but a boat makes reaching the better diving locations much easier. San Simeon Point has some of the best diving spots.
Surfing
Although big surf can roll into Hearst Beach if the conditions are right, generally the break is fairly mild, making it a popular spot for beginners to practice.
Coastal Discovery Center
At San Simeon Bay
The Coastal Discovery Center is an environmental and nature center operated by the Monterey Bay National Marine Sanctuary and California State Parks. The center is located adjacent to the main parking lot at Hearst Beach.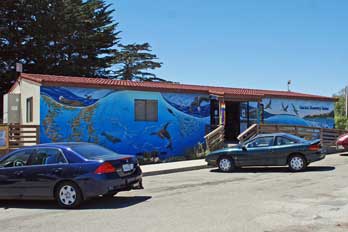 Hours and Admission
The Center is open Friday through Sunday and is staffed by docent volunteers. Summer hours are from 11:00 AM to 5:00 PM. During the winter they close at 4:00 PM.
Admission: Free
Focusing on the connections between land and sea, the Center provides interactive exhibits and educational programs about the Monterey Bay National Marine Sanctuary, California State Parks, and Old San Simeon. Visitors will find exhibits about watersheds, deep sea voyages, elephant seals, tide pools, and other wildlife.
Programs
The History of San Simeon Bay - from the earliest inhabitants to the Hearst family. Offered the first weekend of every month from 11:00 AM to 1:00 PM on the San Simeon Bay Pier.
Coastal Discovery Fair - Held every year on the third Saturday in July. Activities include creating artwork, visiting with live animals, operating a remote-controlled underwater robot, and meeting Sammy the Steelhead.
Lecture Series - 6:00 to 7:00 PM at the Rabobank Community Room, 1070 Main St., Cambria. Presentations by experts in various fields from marine wildlife to coastal climate. See website for current list of lectures: Central Coast Lecture Series
School Programs Wednesday and Fridays by appointment. Activities may include touring the Discovery Center, exploring the beach and intertidal zone, and viewing marine wildlife. Call (805) 927-2145.
Nearby Activities and Events
Hearst Castle
Highway 1, San Simeon, CA
Tour the famous Hearst Castle.
A variety of tours are offered.
Nitt Witt Ridge
Nitt Witt Ridge is the creation of Arthur Harold Beal who spent 50 years creating his own castle in Cambria using a hodge-podge of materials collected over the years. The current owners, Mike and Stacey O'Malley, will take you on a tour of the place for $10. By arrangement only.
Annual Sculpture By the Sea
April TBA, 2018
Sculptures in stone, metal, wood and clay
10 AM - 5 PM, Camp Ocean Pines, Cambria
Camp Ocean Pines
See Cambria California Events
Pinedorado Days
Labor Day weekend
Cambria
Saturday parade, fun activities, music, kiddie rides, and games.
Pinedorado Days
Outback Trail Rides
One mile south of Cambria on Highway 1
One to two hour trail rides (May - October).
Outback Trail Rides
Gene Cerise Country Coast Bike Ride
June 23, 2018
Select from among 3 different rides - Century 100 mile, 50 mile, 25 mile
Benefits the Cambria YMCA Teen Center.
Begins at Cambria Pinedorado Grounds and heads off along scenic coast and through rolling hills
Country Coast Classic Bike Ride