William R. Hearst Memorial State Beach
Location
750 Hearst Castle Road, San Simeon
San Luis Obispo County
Admission
Free
Hours: dawn to sunset
805-927-2020
Main Attractions
Sheltered swimming beach
Pier for fishing and boating
Sea Kayaking
Other Facilities
Restrooms
Picnic area
National Marine Sanctuary Coastal Discovery Center
Food services
Boat rentals and charters
Nearby Elephant Seal Trail
Nearby Vista Point
Camping at nearby San Simeon State Park
Hazards
Rip currents always possible
Caution: Check with rangers or lifeguards that conditions are safe for your planned activities.
Special Regulations
No alcohol on beach or in picnic areas
No collecting
Accessibility
Picnic area
Parking, restroom
Nearby Elephant Seal Trail
Nearby Beaches
Hearst San Simeon State Park Beach, 5 miles south
Cayucos State Beach, 25 miles south
Morro Rock, 30 miles south
Mill Creek Beach, 30 miles north
Webcams
William R. Hearst Memorial
State Beach
Protected from heavy surf by San Simeon Point, Hearst Beach is a popular destination for swimming, playing in the surf, and enjoying the warm sand. An 850-foot long pier attracts anglers, boaters, and sight-seers. The state beach extends south from the pier along the shore of San Simeon Bay for about a half mile.
The area was once William Hearst's private beach, and was donated to the county for a park in the 1950s. In 1970 became a state beach, and today it is part of San Simeon State Park.
Located directly across from the entrance to the Hearst Castle, the beach attracts a good number of tourists looking for a scenic place to relax and take a walk. Groves of eucalyptus trees stand along the shore and the Hearst Castle can be seen in the distance.
Into the Surf
The light waves make Hearst Beach a good place for beginning surfers, boogie boarders, and skim boarders. Sea kayaks are often launched here. San Simeon Bay provides a protected expanse of water for paddling.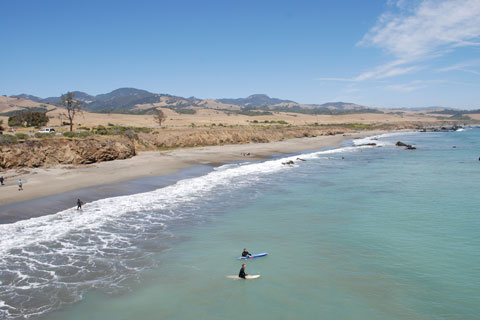 Wildlife
Stray elephant seals beach themselves on Hearst Beach. Signs caution visitors to give them space. Many more elephant seals can be seen 7 miles north at Piedras Blancas Elephant Seal Lookout. Out around the pier expect to see harbor seals and sea lions. Swimming in the cove you will likely spot sea otters and dolphins while farther out a passing gray whale.
Food and Supplies
Supplies are available within walking distance in the nearby community of Old San Simeon. Sebastian's General Store includes a fast food restaurant/deli with great sandwiches and burgers. It can get crowded almost any time of year.
Hearst Castle Tours
The only way for visitors to experience Hearst Castle is on one of the tours. A variety of tours are offered, including the Grand Rooms Museum Tour, Upstairs Suites Tour, Cottages and Kitchen Tour, and the Evening Museum Tour.
Information: Hearst Castle
Ocean Safety
California State Parks and Recreation cautions that "large surf, cold water temperatures, backwash, sudden drop-offs, pounding shorebreak, and dangerous rip currents can turn what seem like safe activities such as playing near the surf line, wading, or climbing on rock outcroppings, deadly." Learn more about ocean safety at
CA State Parks: Ocean Safety
California's Best Beaches
◊ Chicago Park Web Design, © 2018 ◊

Every effort is made to provide accurate and up to date information, but we cannot be responsible for errors or for changes that may have occurred since publication. Always confirm information with the service provider and check for any recent changes that may have been made. Also, check with lifeguards that conditions at the beach are safe for your planned activities.
The map displayed above is for illustrative purposes only. California's Best Beaches website makes no warranties regarding the accuracy, completeness, reliability or suitability of any of its maps. The information provided on this website is done so without warranty of any kind, either expressed or implied, including but not limited to, the implied warranties of merchantability and fitness for a particular purpose.