Caution: Check with rangers or lifeguards that conditions are safe for your planned activities.
Imperial Beach Surfing
Many surfers like the waves around the pier where they can display their skills to onlookers. Consistent waves there are best in the summer and winter. The more daring surfers at Imperial Beach gravitate to the south where huge waves break along the beach by the wetlands.
One of the hottest spot is at the mouth of the Tijuana River. Tijuana Sloughs is about a third of a mile offshore. It has a long history as one of the most challenging spots to surf in California. Water quality is a serious problem, especially the closer you are to the Mexican border.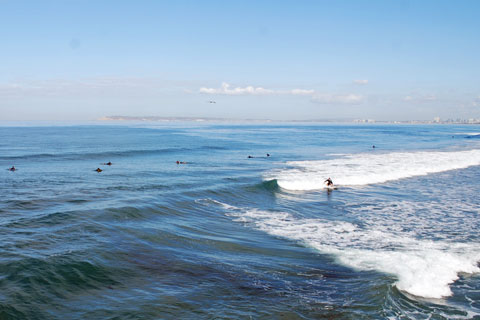 Surf Lessons and Camps
I.B. Surf School
The I.B. Surf School offers lessons from professional surfers such as Kristy Murphy and Cat Slatinsky. They work with everyone from beginners to advanced surfers, teaching ocean awareness, surf science, and beach conversation. They also offer stand-up paddleboard lessons.
I.B. Surf School
YMCA Camp Surf
The YMCA offers a range of summer camps for children and youths, including overnight camps and day camps. Mariners is designed for grades 3-6, Watermen for grades 7-8, Beachcombers for grades 10-11, and Soul Surfers grades 10-11. Camp sessions are usually one week for younger ages and one or two weeks for high school ages. The camp is located at the northern end of Imperial Beach on Silver Stand Boulevard.
YMCA of San Diego Camps
Surfboard Sales and Rentals
TNT Surf Shop
Sales of surfboards, wetsuits, accessories
206 Palm Avenue, Imperial Beach, CA
TNT Surf Shop
Surf Hut
Rentals and sales of surfboards and gear
710 Seacoast Dr., Suite D, Imperial Beach
Facebook: Surf Hut Imperial Beach
Sun & Sea Festival
The Imperial Beach Sun & Sea Festival began in 1960 as an annual community celebration that included a sand sculpting competition. When the very popular U.S. Open Sandcastle Competition ended in 2011, the Sun & Sea Festival was revived.
The annual festival is held in mid-July with a few events on Friday, included a Sandcastle Ball and all the major events scheduled for Saturday. The day begins with a pancake breakfast at Pier Plaza, followed by a parade. The Kids'n Kastles Sand-Building Competition begins in the early afternoon, while the masters competition runs from 9 AM to 2 PM. Judging begins at 2 PM and awards are announced from 4 PM to 5 PM at Pier Plaza. Also on Saturday is the Farmers' Market and International Food Fair.
Plans are already underway for the July 14, 2018 Sun & Sea Festival.
Imperial Beach Pier
The 1,500-foot wooden pier at Imperial Beach is especially popular with sightseers and anglers. Fishermen have been landing impressive catches from the pier since it opened in 1963. Among the fish likely caught here are halibut, bonito, surfperch, croaker, guitarfish, rays, and sharks. Water depth at the end of the pier is close to 20 feet.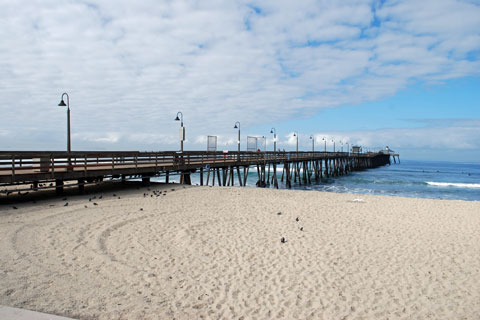 Pier Facilities
Restrooms are found about half-way out the pier. Other amenities include fish-cleaning stations, night lighting, benches, and a restaurant at the far end. The Tin Fish Restaurant offers appetizers, clam chowder, salads, sandwiches, burgers, tacos, and a varied of seafood dishes.
Imperial Beach Junior Lifeguards
Girls and boys ages 9 through 16 are invited to participate in Imperial Beach's Junior Lifeguards program.
Imperial Beach Junior Lifeguards
Junior Lifeguards develop of range of ocean related skills and information from experienced beach lifeguards. Participants learn about ocean and beach safety, first aid, CPR, and water rescue techniques while at the same time developing their physical fitness. Activities include body surfing and surfing.
Tryouts
All new participants in Junior Lifeguards must attend a tryout in order to participate. The tryout includes an underwater swim, treading water, and an age-appropriate timed distance swim. Dates and times for 2017 will be announced in the spring.
Junior Guard Captains
Imperial Beach Junior Lifeguard program offers participants ages 15-17 to become Junior Guard Captains. Captains assist the instructors in various ways through the day.
Sessions
Junior Lifeguards sessions run Monday through Friday from 9:30 AM to 2:30 PM (except no class on the 4th of July). The 5-week session usually runs from mid-June through mid-July. Participants meet at Pier Plaza, north of the Lifeguard Headquarters.
Nearby
Events and Activities
Dempsey Ocean Festival & Surf Contest
September TBA, 2017
Surf contest, kids' beach challenge, blues and BBQ
Kids' crafts activities, beer garden
Seacoast Dr. at Evergreen Ave.
Facebook: Dempsey Ocean Festival
Superfrog Triathlon
September TBA, 2018
Imperial Beach, 7 AM
Superfrog Triathlon
Outdoor Surfboard Museum
Commemorating Imperial Beach's surfing heritage
Located along Palm Ave. between 3rd Street and Seacoast Dr.
Surfboard Museum
Tijuana Estuary Visitor Center
3rd Street and Caspian Way
Open Wednesday - Sunday, 10 AM to 5 PM
Free
Displays about the estuary and its plants and animals
Tijuana Estuary Visitor Center
Border Field State Park
Located within the Tijuana River National Estuarine Research Reserve
Beach combing, hiking, horseback riding, and bird watching
Gate closed Monday - Friday and during the winter when it is too wet
Border Field State Park
Unleashed by Petco Surf Dog Competition
July TBA, 2018
Imperial Beach near Pier Plaza
Begins at 11 AM, awards at 2 PM
Unleashed by Petco Surf Dog Competition