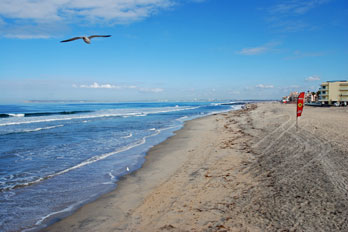 Imperial Beach
Imperial Beach is the southern-most beach in California, stretching 3½ miles north from the Mexican border. At the heart of the beach are the Imperial Beach Pier and Portwood Pier Plaza. The beach has a long history as one of the best surfing spots in California.
Sandcastle Competition
For 32 summers sandcastle builders converged on Imperial Beach for the U.S. Open Sandcastle Competition until the event was cancelled after 2011. Reasons cited for the decision included increasing costs and not enough volunteers.
In recent years, Imperial Beach's Sun & Sea Festival has provided a venue for sand sculptors. The family-oriented event is a rebirth of an early Imperial Beach festival which includes both children's and masters' sand sculpture competitions.
Portwood Pier Plaza
A colorful sculpture known as Surfhenge serves as the gateway to Portwood Pier Plaza. Located at the foot of the Imperial Beach Pier, the plaza includes restrooms, a dozen picnic tables, a tot lot, off-street parking, an entertainment stage, and a grass area. The park is open from 5 AM to 10 PM.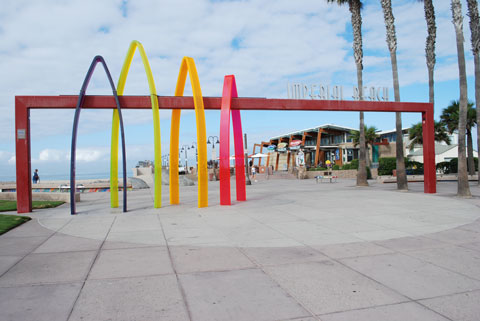 The Imperial Beach Certified Farmers' Market is located adjacent to Pier Plaza at the foot of the pier. They are open on Fridays from noon to 7:30 PM (6 PM in the winter).
The Spirit of Imperial Beach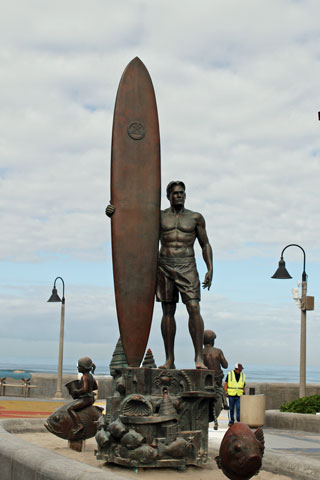 The 18-foot tall statue called The Spirit of Imperial Beach honors the surfing and sandcastle history at Imperial Beach. At the foot of the statue are two children building sand castles.
The bronze sculpture was designed by artist A. Wasil. It is located at the west end of Palm Avenue.
Dunes Park
Dunes Park is adjacent to the beach, several blocks north of the pier. The park features 10 picnic tables, restrooms, showers, water fountains, a play structure, a grass area, a basketball hoop, and off-street parking. The park is open from 7 AM to 10 PM.
Imperial Beach Pier
The wooden Imperial Beach Pier is especially popular with anglers. Restrooms are located half-way out the pier. At the end of the 1,500-foot pier is the Tin Fish Restaurant with a wrap-around view of the ocean. Read more about the pier on our BEACH ACTIVITIES page. The pier is open from 5 AM to 10 PM.
Tijuana Slough National Estuarine Research Reserve and Wildlife Refuge
The Tijuana Slough Refuge is a 1,072-acre wetland around the mouth of the Tijuana River, a part of the 2,800-acre Research Reserve. Within the slough are areas of open water, tidal salt marsh, beach dune, riparian, vernal pool, and sage scrub habitats.
Over 370 species of birds have been sighted in the area. Visitors to the slough enjoy native plant gardens, guided tours, interactive exhibits and a visitor center. The visitor center is at 301 Capian Way. Trail maps are available there. The visitor center is open from 10 AM to 5 PM, Wednesday through Sunday.
Nearby Restaurants and Shops
Cowabunga, 10 Evergreen Avenue - ice cream shop at the foot of the pier
Pretzels & Much More, 10 Evergreen Avenue
IB Forum Sports Bar & Grill, 1079 Seacoast Drive
SEA 180, 800 Seacoast Drive
Seacoast Grill, 710 Seacoast Drive
Babycakes, 875 Seacoast Drive - coffee house and bake shop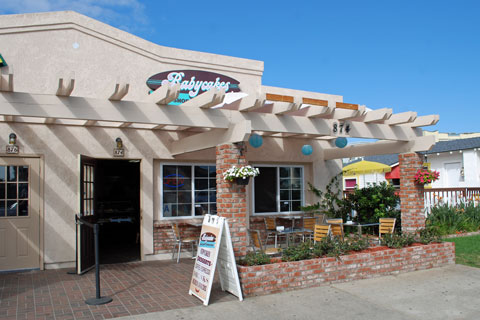 Babycakes
Surf and Dive Shops
Salt Water Magic, 226 Palm Avenue
Surf Hut, 710 Seacoast Drive
TNT Surf Shop, 206 Palm Avenue
Natural Selection Surfboards, 123 Elkwood Avenue
I.B. Divers, 641 9th Street