Caution: Check with rangers or lifeguards that conditions are safe for your planned activities.
Laguna Beach Surfing
Varied conditions at the beaches along the Laguna Beach coast keep surfers alert to find the best waves. Surfing is not allowed at a number of beaches during the summer. Lifeguards mark the areas open to surfing. Among the best surfing beaches are Agate Street Beach, Brooks Street Beach, Thalia Street Beach, Saint Anns Street Beach, and Rockpile Beach.
Reefs parallel the shore, creating a fairly consistent reef break with lefts and rights at most beaches.
Agate Street Beach
During the summer there are limited hours for surfing.
Brooks Street Beach
Brooks is known for long rides on left breaks, popular with intermediate surfers. The waves start breaking well out from shore.
Thalia Street Beach
Thalia is dedicated to surfing along most of its shore, with only a small area marking off for swimming. High tide is the best time here.
Rockpile Beach
Rockpile needs a high tide and big swells to get going. At lower tides and swells the exposed rocks make it too dangerous. It's best for experienced surfers who know how to avoid the rocks and can handle the dangerous rip currents here.
Surf Lessons and Surf Camps
Laguna Beach Surfing Lessons
Founded by pro-surfer Sean Louden, Laguna Beach Surfing Lessons offers lessons for everyone from beginners to experts. They provide all the equipment, including wetsuits, soft boards, and top instructors. They have 2-hour private or group lessons designed to match your age and skill level.
Laguna Beach Suring Lessons
Soul Surfing School
Soul Surfing School offers lessons, camps, surf clubs and trips. Private or group instruction for children and adults is available. All equipment is included in their 2-hour lessons. Soul Adventure Clubs for kids ages 8 - 14 are held during the summer. Surf Camps are designed for children and youths ages 12 to 19. Camp is offered in mid-July.
Soul Surfing School
Aqua Surf School
Aqua Surf School is open year-round from sunrise to sunset, offering lessons for children ages 4 and older through adults. Lessons are matched to the participant's ability. Wetsuits and soft boards are provided. Participants can choose from 1 hour, 1½ hour, and 2 hour lessons. They offer group or private lessons.
Aqua Surf School, Inc.
Surfboard and Stand-Up Paddleboard Rentals and Sales
CA Surf Shop
Rentals of stand-up paddleboards, hard and soft surfboards, body boards, booties, wetsuits, beach chairs and umbrellas. They also offer stand-up paddleboard lessons.
Sales of surfboards, stand-up paddleboards, skim and body boards, and more.
689 S. Coast Highway, Laguna Beach, CA
CA Surf Shop
Thalia Surf Shop
Sales of surfboards, fins, wetsuits, surfing DVDs, footwear, skateboards, clothing, and more.
915 S. Coast Highway, Laguna Beach, CA
Thalia Surf Shop
Laguna Beach Tide Pools
The Laguna Beach coast is blessed with some of the finest tide pools in California. A rich diversity of marine life can be found tucked among the rocks in the intertidal zone. All of the tide pools in Laguna Beach are part of a California State Marine Conservation Area. Visitors may not disturb or collect anything in the tide pools. That includes the collection of rocks and shells. Visitors are advised to tread lightly in the tide pools, avoiding stepping on any of the tiny, well-camouflaged creatures.
A number of beaches at Laguna Beach have excellent tide pools. Crescent Bay, Shaw's Cove, Picnic Beach, Rockpile Beach, Moss Point, and Treasure Island are among the best. At Crescent Bay some areas may be closed during high tides and periods of high waves. The beach at Moss Point is often completely covered by incoming tides.
Docents from the Laguna Ocean Foundation are often available at Shaw's Cove, Crescent Bay, Heisler Park, Wood's Cove, Goff Island, and Treasure Island tide pools when tides are below 2.5 feet. (See more about the Laguna Ocean Foundation - left.)
Some tide pools, such as those at Picnic Beach, are so densely packed with marine life that visitors are encouraged to stand only on the dry rocks while observing the marine life. The area north of the stairs is recommended. Look for hermit crabs, anemones, urchins, and perhaps even an octopus.
Bird Rock
Bird Rock is a bird sanctuary off-shore from Heisler Park near Main Beach. While the rock itself is off limits, during times of very low tides it is possible to work your way out toward the rock, exploring the tide pools. Visitors are advised to be mindful of incoming tide and not to approach too near the rock.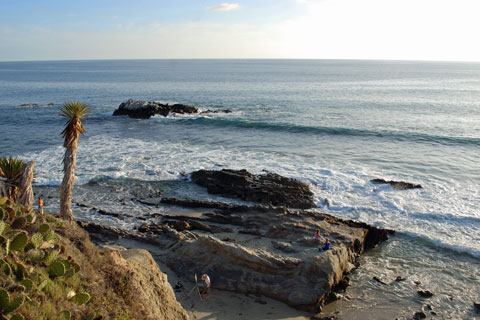 Bird Rock
Laguna Beach Diving
With reefs stretching parallel to the coast and rugged points jutting into the ocean, Laguna Beach attracts divers from around the area to its fascinating underwater world. A great number of the beaches along the Laguna Beach coast are excellent spots for diving.
The Best Diving Beaches
Crescent Bay - Easy entry and exit over sandy bottom with three great diving areas offshore: Seal Rock, Deadman's Reef, and areas in between.
Shaw's Cove - A popular spot for beginning divers to develop their skills. During times of high surf the area should be avoided. A great place to explore the reef structures.
Fisherman's Cove - Also known as Boat Canyon. A rocky entry is best made at high tide.
Diver's Cove - A sandy bottom makes for easy entry and exit.
Picnic Beach - A ramp leads down to the beach from Heisler Park. Reefs offshore make for interesting explorations.
Rockpile Beach - Best at high tides to avoid the rocky entry.
Cleo Street Beach - The wreck of a barge offshore attracts divers. Nigh diving is popular here.
Cress Street Beach - Interesting rock formations make this a popular diving spot.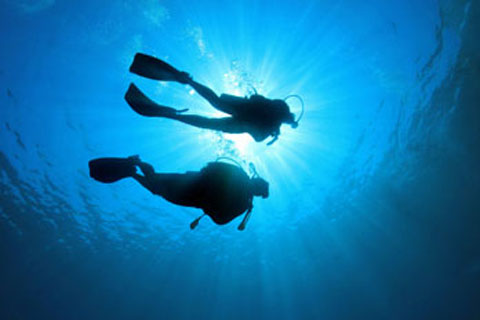 Local Dive Shops and Dive Clubs
Beach Cities Scuba - Laguna Sea Sports
925 N. Coast Highway, Laguna Beach, CA
Dive instruction, diving gear, dive clubs, boat dives
Beach Cities Scuba - Laguna Sea Sports
South Coast Divers
South Coast Divers welcomes new members. Their website is a wealth of knowledge about diving in the area.
South Coast Divers
Fishing in Laguna Beach
The entire coast of Laguna Beach is part of a marine protected area and no fishing is allowed.
Laguna Beach Junior Lifeguards
The Laguna Beach Junior Lifeguards program is available for children ages 8 to 15 from mid-June through early August. Two 3-week sessions are offered, each with a separate morning and afternoon session (except on Thursdays when sessions are combined for an all day activity.) The program offers education in ocean safety, rescue techniques, beach activities, physical fitness and marine safety operations in an environment that emphasizes courtesy, respect, and good sportsmanship.
Basic swimming skills are a prerequisite. Tryouts are held at various dates from March through early July at Laguna Beach High School & Community Pool.
City of Laguna Beach Community Services
Laguna Ocean Foundation
The Laguna Ocean Foundation is dedicated to sustainable ocean ecosystems along the Laguna Coast. They have a number of education programs both for school age children and for the general public. Over 200 volunteers serve as docents at local tide pools. They also have a shorebird monitoring program. Visit their website to learn how you can support their efforts: Laguna Ocean Foundation
Laguna Beach Kayaking
Laguna Beach offers an exciting coastline for kayakers to explore. Jagged points, rocky islands, hidden coves, and secluded beaches all await adventurous kayakers. Special places such as Seal Rock and Bird Island are favorite destinations for paddlers (keeping a respectful distance from the wildlife, of course). Encounters with whales, sea lions, and seals are not uncommon.
Launching from Crescent Cove kayakers enjoy paddling north to Emerald Bay and around the next point at Cameo Cove. Although getting your kayak down to Fisherman's Cove is a challenge, the protected launch site make it popular with kayakers when the surf is up.
La Vida Laguna has 2-hour guided tours of the Laguna Beach area using sit-atop tandem ocean kayaks.