Manresa State Beach Camping
Manresa State Beach camping is at Manresa Uplands, on a bluff above the beach. Camping is for walk-in, tents only. Campers may park at the lower lot for 20 minutes while they unload or load and then must move their vehicle to the upper lot. The sites are situated around central areas of lawn.
Reservations
In the summer spaces at Manresa State Beach fill up quickly as soon as each month's reservations become available 7 months in advance. Each new month's reservations are offered as a block on the first day of the month. Sites 11, 31, and 32 do not appear on Reserve America's website. They may not be available.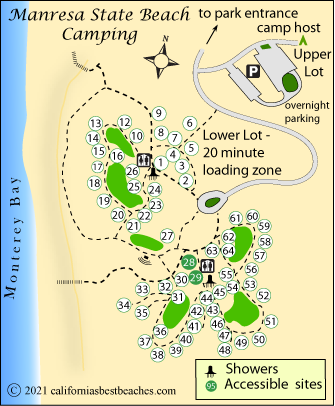 Advice from Previous Campers
Beach dew: Overnight dew settles on everything in your camp. Bring rags to wipe things down or cover chairs at night
Prevent Theft: Don't leave valuables in your car.
Showers: Bring quarters for showers.
Raccoons may visit your campsite at night looking for food. Be sure food is secure in the locker or in your vehicle.
Best campsites: Don't camp near the restrooms. Bring toilet paper in case they run out.
Transporting your Gear: Bring a little cart to haul your gear to your campsite.
California'a Best Beaches
◊ Chicago Park Web Design, © 2017 ◊

Every effort is made to provide accurate and up to date information, but we cannot be responsible for errors or for changes that may have occurred since publication. Always confirm information with the service provider and check for any recent changes that may have been made. Also, check with lifeguards that conditions at the beach are safe for your planned activities.
The map displayed above is for illustrative purposes only. California's Best Beaches website makes no warranties regarding the accuracy, completeness, reliability or suitability of any of its maps. The information provided on this website is done so without warranty of any kind, either expressed or implied, including but not limited to, the implied warranties of merchantability and fitness for a particular purpose.