Caution: Check with rangers or lifeguards that conditions are safe for your planned activities.
Enjoying a Day at Muir Beach
Tucked in a cove, Muir Beach is protected from most of the wind that blows in off the Pacific, making the beach a great place to sprawl on the sand. Those who venture into the water find a rocky bottom at first and then sand farther out, but the waves and rip tides can be treacherous and there are no lifeguards on duty. Low tide exposes some tide pools. Rock climbers find a few boulders nearby worthy of their attention.
Wildlife at Muir Beach
Muir Beach and Redwood Creek are home to salmon and steelhead trout, various amphibians, and a wide variety of shorebirds. Restoration of the Redwood Creek floodplain has improved habitat for fish and the threatened California red-legged frog.
Monarch Butterflies
In autumn Monarch Butterflies begin their migration along the California coast. Some of these butterflies seek shelter in a small grove of Monterey pines at Muir Beach. The best times of year to view the monarchs are during November and December when the greatest concentrations are usually there. Butterflies begin to arrive in mid-October and many usually remain through mid-February. Numbers of butterflies and arrivals and departures dates vary each year.
Whale Warching
The Muir Beach Overlook, a short drive north of Muir Beach, is an excellent place to watch the annual whale migration. Bring binoculars and a warm coat. Gray Whales are usually seen from December through May. Humpbacks begin arriving in May and continue through November. Blue Whales are most often seen from July through October. Watchers from the overlook are likely to spot dolphins and rarely an orca, or killer whale.
Nearby Surf Shops
Live Water Surf Shop,
3448 Shoreline Highway (Highway 1), Stinson Beach, CA
Surfboards and skateboards for sale, along with clothing, gear, and accessories.
Stinson Beach Surf + Kayak,
3605 Highway 1, Stinson Beach, CA
Rentals of surfboards, stand-up paddle boards, boogie boards, canoes, kayaks, wetsuits, bicycles, and more.
2 Mile Surf Shop,
22 Brighton Ave, Bolinas, CA
Rentals of surfboards, stand-up paddle boards, boogie boards, wetsuits, skim boards, and more
Surf Lesson rental packages with Bolinas Surf Lessons. Bolinas Surf Lessons also offers surf summer camps from mid-June through mid-August for ages 6 and older.
Horseback Riding across the
Marin Headlands
Many of the trails in the Marin Headlands are open for equestrian use. Miwok Livery Stables, located at the end of Tennessee Valley Road, offers trail rides and instruction for everyone from beginners to advanced riders. Private guided trail rides for one or two people ages 12 and older are available. Trail rides last from 1 to 1½ hours. Summer camps are offered for children from ages 7 and older.
Muir Beach Fishing
Fishing at Muir Beach can be rewarding. Live anchovies are popular bait. Casting into deep pools off the rocks and slightly away from the kelp beds produces the best results. Rockfish are usually found near the bottom. Surf fishing usually produces perch, but now and then a halibut is landed. Halibut favor the sandy bottom near the main beach.
Hiking around Muir Beach
and the Marin Headlands
Trails lead out in four directions from Muir Beach, giving hikers a number of great choices of routes by combining the various connecting trails into scenic loops or out-and-back adventures. Hikers can decide between open landscapes with ocean views or forested valleys. Whichever direction, expect uphill climbs from 400 to 1000 feet.
Tennessee Cove, 3.7 miles one way
The Coastal Trail departs from the south side of the bridge at Muir Beach and climbs about 400 feet onto the hillside overlooking the Pacific. Hikers enjoy great vistas of the coast from the onset. At 1½ miles is Pirates Cove. Although a rugged use-trail leads down to the cove, it is not recommended.
About 3 miles from Muir Beach the Coastal Trail intersects the Tennessee Valley Trail. Restrooms are located there. Another 0.7 miles of trail lead to the beach at Tennessee Cove.
Green Gulch Loop, 5.4 miles
The Green Gulch Loop begins at the south end of the bridge in Muir Beach and heads up Green Gulch to Ka'asi Road. Pass through the gate to the non-profit Green Gulch Farm Zen Center, being sure to close it behind you. Continue up the valley on a road through the farm to a parking lot, watching for the trail to the right. From there the trail climbs 900 feet to the top of Coyote Ridge (2.5 miles from Muir Beach. On clear days hikers enjoy spectacular views as far south as San Francisco.
On the ridge the trail intersects Coyote Ridge Trail which leads to the right a short distance before meeting Middle Green Gulch Trail. Follow that trail down to rejoin the original route at the farm. An alternate return route is to stay on Coyote Ridge Trail to Coastal Fire Road and take it to the main Coastal Trail and back to Muir Beach. The alternate trail is a mile shorter than the Middle Green Gulch Trail.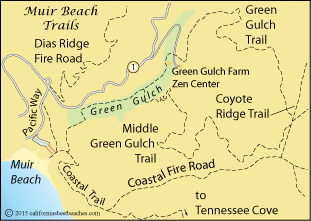 Dias Ridge Fire Road, 3.1 miles one way
The Dias Ridge Fire Road is a multi-use trail open to hiking, mountain biking, and horseback riding. The 3.1-mile trail connects Muir Beach with the Panoramic Highway. From Muir Beach it is a 700 foot gain in elevation up to the Panoramic Highway. Some mountain bikers like to be dropped off at the upper end and make the descent to the beach, but most agree it is better done as a climb.
Views from the upper end of the trail include San Francisco, Angel Island, and Richardson Bay. It is possible to make a loop by turning onto Franks Valley trail and descending it to Muir Beach.
Nearby Activities and Events
Coyote Ridge Trail Run
October 13, 2018
50K, marathon, 10 miles, and 7 miles
Starts from 8:00 - 8:40 AM
Starts at Muir Beach
Coyote Ridge Trail Run
Muir Woods National Monument
1 Muir Woods Road,
Mill Valley, CA
Off Highway 1
6 miles of trails through redwood forest
$7 admission for those 16 and older, children free
Muir Woods
Olema Valley
North of Stinson Beach on Highway 1, stretching from Bolinas Lagoon to Tomales Bay
Rolling grasslands and forest, San Andreas Fault rift
Olema Valley
Slide Ranch
A non-profit working farm, open to the public from dawn to dusk for hiking, picnicking, and tide pooling.
Programs: Family programs, school and community programs, summer camp.
Connects Bay Area children to sustainable farming and healthy eating, and inspires environmental stewardship through programs and camps on their coastal farm.
Location: Highway 1, between Muir Beach and Stinson Beach
Slide Ranch
Audubon Canyon Ranch & Martin Griffin Preserve
Non-profit environmental conservation and education organization
Preserve is open from spring through mid-December to those who are curious about the natural world.
Guided or self-guided tours.
Audubon Canyon Ranch