New Brighton State Beach
Location
New Brighton/Park Ave exit off Highway 101, Aptos,
Santa Cruz County
Admission
Day Use $10
Hours: 8:00 AM to sunset
(831) 464-6330
Main Attractions
Quiet, sheltered cove for playing in surf
Beach connects with miles of beaches to the south
Bluff Campgrounds
Fishing, Kayaking
Other Facilities
Restrooms on the bluff
Port-a-potties on the beach
Campfire Center
Picnic Ramada
Visitor center
Special Regulations
Pets on leash, allowed on beach
No alcohol on beach or in picnic areas
No collecting
Fires on beach in provided fire rings
No climbing cliffs
Hazards
Rip currents always possible
Cliff along west edge of campground
Caution: Check with rangers or lifeguards that conditions are safe for your planned activities.
Accessibility
Beach wheelchairs available.
Accessible picnic tables, restrooms, and campsites.
Nearby Beaches
Seacliff State Beach, 1 mile south
Rio Del Mar Beach, 2 miles south
La Selva Beach, 5 miles south
Manresa State Beach, 6 miles south
Webcams
New Brighton State Beach
New Brighton Beach was once known as China Beach, named after a 19th century Chinese fishing settlement there. The sheltered cove is a favorite with families and others who prefer gentle waves and a less-crowded beach. The campgrounds, which offer sites for both RVs and tents, are a popular summer destination. Reservations are strongly recommended.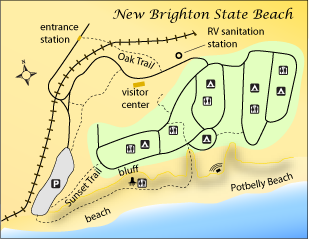 Into the Surf
The light waves make New Brighton a great place to play in the surf, to skimboard, swim, and kayak. Of course, rip currents are always a danger on any California beach.
Wildlife
During the winter look for migrating whales off shore. Bottlenose dolphins, sea lions and sea otters are often seen nearby.
Food and Supplies
Bring all your supplies and food with you because there is nothing available within easy walking distance at the beach or in the immediate beach neighborhood. A little over a mile to the northwest on Park Avenue is the village of Capitola where you will find restaurants and shops with virtually everything you could want for your beach outing.
The Farm Bakery Cafe, only a short distance away at 6790 Soquel Ave. in Aptos, opens at 7:00 AM and offers breakfast, lunch and dinner. Their farm burger is a popular item.
Farm Bakery Cafe
Carpo's Restaurant is just across Highway 101 at 2400 Porter St. in Soquel. It's a great place for lunch or dinner.
Carpo's Restaurant
Find Starbucks on 41st Ave. in Santa Cruz or off Aptos Street just beyond Aptos Village.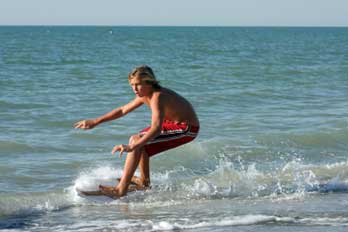 Capitola Beach Company
131 Monterey Ave., Capitola, CA
(831) 462-5222
Capitola Beach Company
Rentals: Body boards, surf boards, SUP boards, wetsuits, beach chairs, beach umbrellas.
Lessons: Surfing and stand-up paddleboards
Ocean Safety
California State Parks and Recreation cautions that "large surf, cold water temperatures, backwash, sudden drop-offs, pounding shorebreak, and dangerous rip currents can turn what seem like safe activities such as playing near the surf line, wading, or climbing on rock outcroppings, deadly." Learn more about ocean safety at
CA State Parks: Ocean Safety