New Brighton State Beach Camping
New Brighton camping is on the wooded bluff overlooking the beach. Trails connect the campground to the beach. Campsites vary in the amount of space and privacy they offer. Most visitors conclude that the premium sites along the edge of the bluff are worth the extra price.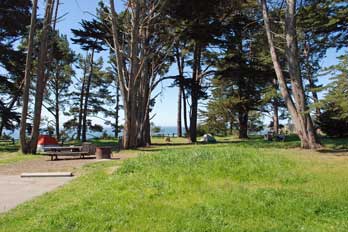 Reservations
Spaces at New Brighton fill up quickly as soon as each month's reservations become available 7 months in advance. Each new month's reservations are offered as a block on the first day of the month. Group sites are only available for use between March 1 and November 30.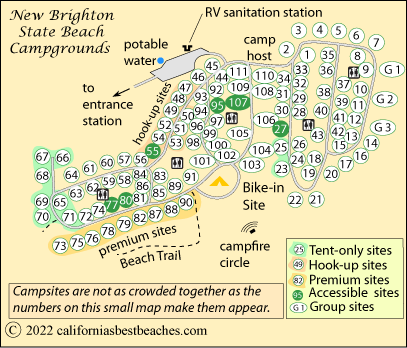 Advice from Previous Campers
Raccoons may visit your campsite at night looking for food. Be sure food is secure in the locker or in your vehicle.
Best campsites (other than premium): Numbers 1-3, 7, 14, 31, 35, 57, 59, 69, 70 (tent), 91, 92, 96. Sites 67 and 68 make a good 2 family combination.
Limited shade sites: 16-19, 23-26, 28, 29, 32, 33, 67, 68. They suggest you bring a shade tent.
Quiet Hours: Follow the rules regarding quiet hours.
Accessible sites: Don't accidentally reserve an accessible site if you don't have a handicapped placard in your vehicle.
Showers: Bring quarters for showers.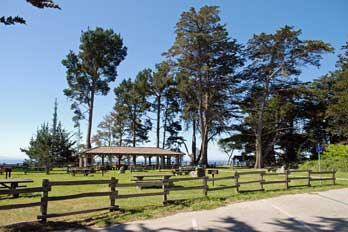 California's Best Beaches
◊ Chicago Park Web Design ◊

Every effort is made to provide accurate and up to date information, but we cannot be responsible for errors or for changes that may have occurred since publication. Always confirm information with the service provider and check for any recent changes that may have been made. Also, check with lifeguards that conditions at the beach are safe for your planned activities.
The map displayed above is for illustrative purposes only. California's Best Beaches website makes no warranties regarding the accuracy, completeness, reliability or suitability of any of its maps. The information provided on this website is done so without warranty of any kind, either expressed or implied, including but not limited to, the implied warranties of merchantability and fitness for a particular purpose.