Caution: Check with rangers or lifeguards that conditions are safe for your planned activities.
Surfing Ocean Beach
Consistent waves along the main Ocean Beach draw all levels of surfers. The jetties create right and lefts over a sandy bottom with some rocks. Conditions are usually best with swells from the west or northwest and winds from the east. Dangerous rip tides along the beach warrant caution. Separate areas are designated for surfing and swimming.
Other surfing spots along the Ocean Beach include Dog Beach, Avalanche, and along Sunset Cliffs. Sunset Cliffs, characterized by pocket beaches and rugged cliffs, is considered best for experienced surfers. Rocks and rip tides are serious hazards.
2018 Revolt Summer Surf Series 11.0
TBA, 2018
Over 100 surfers competed in this annual event at Ocean Beach, while thousands lined the shore to watch. International surfers represented distant places such as Japan, South America, and South Africa. Competition included Pro Am, Junior, and Grom divisions along with stand-up paddleboards.
TBA, 2018
Competition returns at Ocean Beach Pier. Check for details at 2018 Revolt Summer Surf Series
Urban-Surf-4-Kids Surf Camp
On Saturday June 17, 2017 at Dog Beach, SoCal Surf Dogs will team up with the UrbanSurf4kids for a Surf Camp day at the beach. Other SurFurs are encouraged to come out to help make this day a memorable one for the children. Activities begin at 9 AM and include surfing, volleyball, and - of course - dog surfing.
UrbanSurf4kids provides water based activities for foster/orphan children while teaching them the value of giving back to their community. Surf Camp activities usually include volleyball and beach games along with opportunities to learn surfing and boogie boarding.
Urban-Surf-4-Kids Surf Camp
SoCal Surf Dogs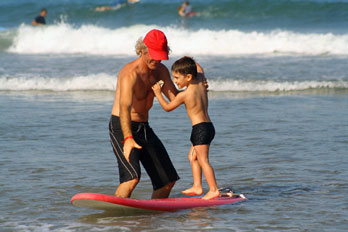 First Surfing Lesson
Ocean Beach Surf Lessons and Camps
San Diego Surf Camp
Accredited instructors at San Diego Surf Lessons provide 1½ hour instruction in group, semi-private, or individual settings. Lessons are available 7 days a week from at 9 AM through 3 PM. Day camps for ages 6-17 are offered with CPR/Red Cross certified instructors. Week-long surf camps begin in mid-June and continue through late August.
San Diego Surf Camp
Ocean Experience Surf School
Surfing, kayaking and stand-up paddleboarding lessons, camps, and clinics. Three-hour lessons for ages 6 years and older - from beginners to advanced surfers. Private or group lessons available. Surf camps run from 9 AM to 3:300 PM at Ocean Beach. Week-long sessions begin in mid-June and continue through mid-August.
Ocean Experience Surf School
Pacific Surf School
Pacific Surf School meets at Ocean Beach where they offer year-round surf lessons, surf camps, day camps, overnight camps, stand-up paddleboard lessons and kit surfing lessons. Private, semi-private, and group lessons are available along with weekend clinics. All instructors are certified in CPR and Red Cross first aid. Classes are limited to 1:4 ratio of instructor to students. Day camps run 5 days in the summer, offering morning, afternoon, or all day sessions.
Pacific Surf School
Surfboard, Paddleboard, and Bike Rentals
Ocean Beach Surf & Skate
Rentals of surfboards, body boards, wetsuits, kayaks, stand-up paddleboards, skim boards, and bicycle. Also surfing lessons and camps.
4940 Newport Avenue, San Diego, CA
Ocean Beach Surf & Skate
Pacific Surf School Rentals
Surfboard rentals, also stand-up paddleboards, body boards, skim boards, and wetsuits.
5037 Newport Avenue, San Diego, CA
Pacific Surf School Rentals
Ocean Beach Surf School Rentals
Rentals of soft surfboards, stand-up paddleboards, and wetsuits
5023 Newport Avenue, San Diego, CA
Ocean Beach Surf School Rentals
O. B. EBikes
Rentals of both traditional bikes and electric bikes. Beach cruiser, hybrid mountain bikes, BMX, tandem bikes, and Mopeds.
4967 Newport Avenue #10, San Diego, CA
O. B. EBikes
Ocean Beach Bike Paths
The Ocean Beach Bike Path begins at Dog Beach along the San Diego River Overflow. The paved path heads east along the south side of the river taking riders all the way to the 805. Connections take cycler cross the river the north bank and the Old Sea World route. From there other trails lead around Mission Bay.
Although the ride along Sunset Cliffs Drive requires cyclers to negotiate surface streets, it is among the most popular riding destinations in Ocean Beach, providing breathtaking views of the ocean and the rugged shoreline in southern Ocean Beach.
Another favorite ride is south on Cabrillo Memorial Drive to the Cabrillo National Monument at the tip of Point Loma. A short distance past Point Loma Nazarene University riders pick up a dedicated bike lane. The ride is about 7 miles one-way from Dog Beach.
Ocean Beach Tide Pools
Tide pool explorers will find an abundance of pools to investigate along the Ocean Beach coast in San Diego. The most accessible site in located under the pier at the south end of Ocean Beach. Careful inspection will reveal hermit crabs, sea anemones, chitons, and shore crabs.
Sure-footed adventurers can find their way down to the tide pools at various locations along Sunset Cliffs Drive.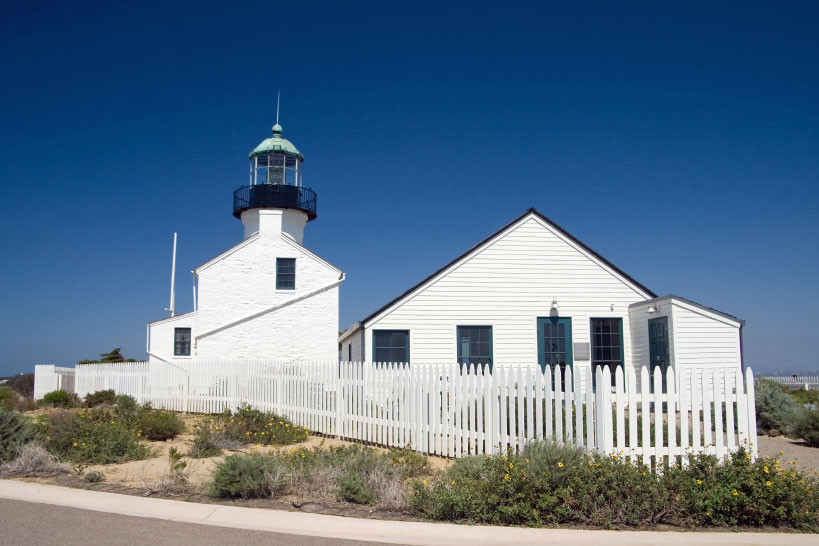 Lighthouse at Cabrillo National Monument
Cabrillo National Monument
Point Loma Tide Pools
At the southern end of Point Loma at the Cabrillo National Monument are some of the best tide pools in the area. The 1-mile coastal trail begins at parking lots 1 or 2 off Gatchell Road and leads to the tide pools. A road leading to the tide pools may be closed for short times in the summer when the parking areas are full.
During low tides the intertidal zones at the Monument reveal their sensitive ecosystems. All of the features of the tide pools are protected and should not be disturbed in any way. Ranger-led hikes are available during most low tide periods.
Other points of interest in the monument include the Old Point Loma Lighthouse and the visitor center. The Monument is also a good place for whale watching during migration months in the winter.
Reach the Monument by following Cabrillo Memorial Drive south out of Ocean Beach. There is an entrance fee of $5 per vehicle or $3 per walk-in or bicycle.
Cabrillo National Monument
Ocean Beach Volleyball
Ocean Beach volleyball courts are concentrated at the north end of the beach next to the park. The courts get busy, especially on weekends.
VAVi Beach Volleyball
VAVi Sport and Social Club brings adults together in a variety of settings, including beach volleyball leagues at Ocean Beach. Their coed leagues are divided into three levels: social, intermediate, and competitive. They have two weekly beach volleyball games followed by playoff tournaments, along with some post-game socializing. New leagues are organizing all the time.
VAVi Sport and Social Club Beach Volleyball
California Beach Volleyball Association
Tournaments at Ocean Beach
The CBVA holds regular volleyball tournaments at Ocean Beach throughout the year. Competition includes women and men of various levels. Check their schedule for upcoming events.
California Beach Volleyball Association
Fishing off the Ocean Beach Municipal Pier
Anglers have great success fishing along the Ocean Beach Municipal Pier. The pier is open from 4 AM until 2 AM and is equipped with lights, benches, and fish cleaning stations. A bait and tackle shop is positioned half way out the pier. There are also restrooms and a cafe.
The farthest end of the pier extends into the semi-permanent Point Loma kelp bed, which is both a blessing and a curse. The kelp provides habitat for many species of fish, but anglers' lines often become tangled in the kelp. Commonly caught fish off the end of the pier include perch, kelp bass, bonito, sand bass, mackerel, and halibut. Closer to shore fishermen are more likely to hook guitarfish, bat rays, jacksmelt, croakers, surfperch, and white seabass.
San Diego Junior Lifeguards
Girls and boys ages 9 through 17 are invited to participate in San Diego's Junior Lifeguards, while those ages 7 and 8 can join the JGrommets.
San Diego Junior Lifeguards and JGrommets
Junior Lifeguards develop of range of ocean related skills and information under the guidance of professional lifeguards. Participants learn about ocean and beach safety, first aid, CPR, and water rescue techniques while at the same time developing their physical fitness. Activities include body surfing, surfing, stand-up paddleboarding, kayaking, beach games, and competition events.
JGrommets can participate in a week-long introduction to ocean awareness. Activities include ocean safety, open water swimming and other ocean activities.
Tryouts
All new participants in Junior Lifeguards and JGrommets must attend a tryout in order to participate. JGrommets must be able to swim 50 yards. Junior Lifeguards have more rigorous tryout requirements. Tryout dates are offered at various locations April through June.
2017 Junior Lifeguard Sessions
Junior Lifeguards choose either morning or afternoon sessions. Classes meet Monday through Friday at various locations around the Ocean Bay and La Jolla areas. (no class July 4)
Session 1 June 19 to July 14, 8:30 AM to noon or 1 PM to 4:30 PM.
Session 2 July 24 to August 18, 8:30 AM to noon or 1 PM to 4:30 PM.
(Times have not been confirmed.)
2017 JGrommets Session
Session: July 17 to July 21, 9:00 AM to noon or 1 PM to 4:00 PM.
(Times have not been confirmed.)
<
Nearby
Events and Activities
OB Street Fair & Chili Cook-off
June 23, 2018
More than 70,000 visitors enjoy food, art, entertainment and more.
Wonderland Children's Area
Chili Cook-off from 10 AM to 2 PM
OB Street Fair & Chili Cook-off
OB Kite Festival
May TBA, 2018
Kiwanis sponsors the annual Kite Festival at Dusty Rhodes Park
Prizes for best decorated kites by age categories.
Kite flying demonstrations.
OB Kite Festival
SeaWorld San Diego
500 Sea World Drive
Mission Bay, San Diego, CA
Rides, shows, exhibits, animals, interactions with animals, dining and shopping
SeaWorld San Diego
San Diego Zoo
2920 Zoo Drive in Balboa Park
San Diego, CA
One of the world's greatest zoos. Animals from giant pandas to anacondas, giraffes to gorillas, elephants to snow leopards.
Open every day
San Diego Zoo
Mission Bay Aquatic Center
Santa Clara Place, Mission Bay
Instructional waterfront facility
Wakeboarding, kayaking, surfing, paddleboarding, windsurfing, sailing, and more
Lessons, rentals, classes, events
Operated by UCSD Associated Students and Campus Recreation of UCSD
Mission Bay Aquatic Center
San Diego Bayfair
Sept. TBA, 2018
World Series of Powerboat Racing
1404 Vacation Rd.
San Diego, CA
10 hours of nonstop racing - Stock Hydros, H1 Unlimited, AX Hydroplanes, Grand Prix West, and more
San Diego Bayfair
San Diego Brazilian Day Festival
September TBA, 2018
11 AM to 7 PM at Pacific Beach
Free family friendly festival with street fair, vendors, food, kids zone, carnival parade with floats, music.
San Diego Brazilian Day Festival
Pacific Beach
Concerts on the Green
Sundays, July - August, 2017
4 PM to 6:30 PM at Kate O. Sessions Memorial Park
Free concerts, bring your own chairs and blankets.
Pacific Beach Concerts on the Green