Garrapata State Park
Five miles south of Point Lobos is Garrapata State Park, featuring scenic Soberanes Point and Garrapata Beach.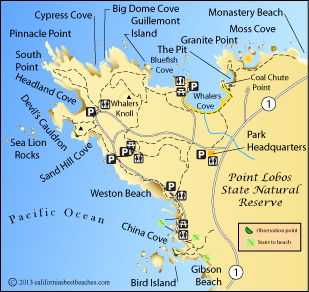 Point Lobos State Natural Reserve
Point Lobos State Natural Reserve is an extravagant combination of rugged headlands, hidden coves, meadows, cypress and pine trees, and diverse wildlife just minutes south of Monterey. With over 200 different species of animals and 300 species of plants in one of the most spectacular settings on the west coast, Point Lobos is held up as California's premier coastal parkland.
Point Lobos State Natural Reserve consists of about 400 acres. In addition there are about 750 underwater acres which are part of the Monterey Bay National Marine Sanctuary.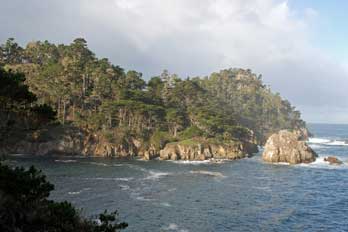 Visiting Point Lobos
The park is open year-round. During peak times in summer months it can be so crowded that cars are held in a que until space becomes available. Parking is limited. Trails are numerous, winding across the meadows, up the slopes, and along the coast. In some places you can take stairs down to beaches. Swimming is permitted in some locations. Three picnic areas are spread across the reserve.
The Point Lobos Foundation
The Point Lobos Foundation was organized in 1978 as a charitable non-profit association to support interpretive and educational programs at Point Lobos State Natural Reserve. Their volunteers maintain interpretive collections, provide a research library, and publish materials about all aspects of the Reserve. For more about their wonderful work at Point Lobos, and for comprehensive information about Point Lobos Reserve, visit the Point Lobos Foundation website.
A Brief History
In the 1850s Chinese fishermen settled on Point Lobos, taking advantage of the abundant abalone along the coast. A cannery was built at Whalers Cove and was in operation until late in the 1920s.
Point Lobos was first used as a whaling station in the 1860s when Portuguese whalers set up a small community near Whalers Cove. For several decades whales were killed along the coast and brought to the cove for processing.
Coal was discovered in the nearby hills in the 1870s and carted to Coal Chute Point in Whalers Cove where it was sent down a chute to waiting steamships. The operation closed in the late 1890s. Granite taken from a quarry at Whalers Cove was used to build the United States Mint in San Francisco and other important structures. Gravel was harvested from The Pit, a cove near Coal Chute Point.
Point Lobos Wildlife
Marine Mammals
Orcas - The Big Sur pod of killer whales can be seen off the coast year round. Transient pods appear most often in spring and summer.
Sea Otters - Sighted year round in the kelp beds along the coast, the sea otters have been steadily expanding their numbers since they became a protected species.
Pacific Gray Whales - Seen often during migration months from December to April.
Humpback Whales - Watch for their breaching and spinning displays offshore.
Dolphins - Travel in large schools, sometimes looking like whitecaps as they leap and plunge in search of prey.
Harbor Seals - They favor the shorelines at Headland Cove, Bird Island, Blue Fish Cove, Moss Cove, and Whaler's Cove.
Sea Lions - Congregations of sea lions are seen from August to June all around Point Lobos.
Birds
Black-crowned Night Heron - Nests on islands around Bird Island and Guillemont Island from spring to summer.
Red-tailed Hawk - Common in California, watch for them overhead, hunting the Point Lobos Reserve
Brown Pelican - Find them most often at Bird Island.
Cormorant - Spot them flying in formation over the water, floating in large groups, or resting on the rocks offshore.
Great Blue Heron - Find them around Coal Chute Point and at Blue Fish Cove.
Many more birds, of course, are seen around Point Lobos, including egrets, quail, sparrows, killdeer, gulls, pigeons, Anna's Hummingbird, vultures, nuthatches, and chickadees.
Land Mammals
While walking the trails through the meadows and forests of Point Lobos, you may encounter some of the land mammals that live in the area. Black-tailed Deer are a common sight, as are squirrels and rabbits. More secretive residents include bobcats, raccoons, coyotes, foxes, and skunks. Mountain lions are rare visitors to Point Lobos.
Flora
Among the most prominent trees in the Reserve are Monterey Cypress, Monterey Pine, and California Live Oak. Sticky Monkey-flowers bloom year-round, while the wild lilacs flower in winter. Close to the water the seaside daisy blooms from spring into fall.