Caution: Check with rangers or lifeguards that conditions are safe for your planned activities.
Easy Self-guided Trails
Kule Loklo
Trailhead: Bear Valley Visitor Center
Tour a replica of a Coast Miwok village on this 0.8-mile round trip walk.
Woodpecker Trail
Trailhead: Bear Valley Visitor Center
Learn about the flora and fauna of the area on this 1-mile loop trail as it passes through fields and trees. The trail has some steep sections.
Pierce Point Ranch
Trailhead: North end of Pierce Point Road
A short, self-guided trail leads visitors through the historic Pierce Point Ranch. the dairy ranch was established in 1858.
Morgan Horse Ranch
Trailhead: Bear Valley Visitor Center
A half-mile trail guides visitors through the working Morgan Horse Ranch. The horses are used by the park rangers to patrol backcountry trails. Exhibits include corrals and demonstrations. Handicapped parking is available.
Earthquake Trail
Trailhead: Bear Valley Visitor Center
The 0.6 mile loop trail has informative exhibits about the 1906 earthquake and the San Andreas Fault. The fault runs under Point Reyes. The trail is wheelchair accessible.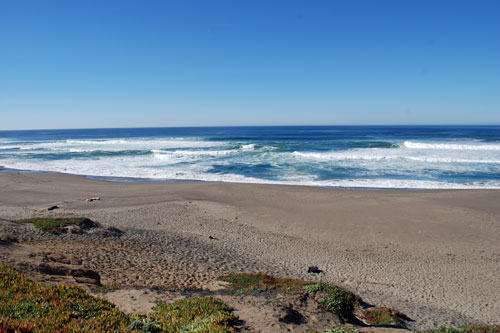 Point Reyes Beach
Beach, Water, & Trail Activities
Beach Fires
Fires are allowed on beaches below the high tide line. Fire builders must first obtain a free permit from a visitor center on the day they will be building the fire. Reasonable amounts of driftwood may be used on ocean facing beaches. Fires must be extinguished by 11:00 PM. Read complete information at Beach Fires.
Bicycle Riding
Mountain biking is allowed on many of the National Seashore trails. Pick up a free map at a visitor center. The map will show which trails are open to cycling. Rent a bicycle at Point Reyes Outdoors.
Kayaking
Fifteen-mile-long Tomales Bay is the most popular kayaking spot at the National Seashore. Kayaking is also permitted on Drakes Estero and Limantour Estero from July 1 through February 28. Experienced ocean kayakers venture out onto the waters in Drakes Bay from Chimney Rock to Limantour Beach. Check at the visitor center for information about sections of the park that are closed to kayaking.
Kayak Tours, and Lessons
Blue Water Kayaking - kayak tours.
Point Reyes Outdoors - kayak tours and lessons.
Horseback Riding
Horses are permitted on most of the trails and beaches in the National Seashore. Riders should be cautious of the danger of stinging nettles and yellow jackets along the trails. Horses are not allowed on Drakes Beach and interpretive trails. Check with a visitor center for a complete list of equestrian guidelines.
Five Brooks Ranch
Three miles south of Olema on Highway 1
(415) 663-1570
Five Brooks Ranch
Guided trail rides over mountains, meadows, and beaches.
Wildcat Beach Ride, 6 hours, a minimum of 5 riders required.
Surfing at Point Reyes
Because of heavy surf and dangerous currents, Point Reyes is usually only surfed by the most experienced surfers. A popular beach for advanced surfers is along Point Reyes Beach where waves break left and right over a sandy bottom. At Drakes Beach experienced surfers sometime find good waves at the sides of the mouth of Drakes Estero. Hazards there include strong currents and frequent great white sharks. These are not places for beginners or intermediates.
Point Reyes National Seashore Wildlife
Whales
Point Reyes is one of the best spots along the California coast to observe the annual winter migration of gray whales. The most popular spots are around Chimney Rock and the Lighthouse. The best time of year to see whales are Mid-January and mid-March. For mothers and calves close to shore come in early May. During popular whale watching times, park at Drakes Beach and take the shuttle bus to the Lighthouse ($7).
Elephant Seals
Elephant seals began returning to Point Reyes in the 1970s and have been increasing their numbers ever since. From December through March visitors can watch the elephant seals from the Elephant Seal Overlook near Chimney Rock. For the latest information on elephant seals at Point Reyes, see Seasonal Updates for Elephant Seals.
Tule Elk
The tule elk herd at Tomales Point is one of the largest populations in California. The herd numbers over 400 elk. The best place to observe them is in the Tule Elk Reserve at Tomales Point.
Birds
Nearly 500 species of birds have been observed in the park's 70,000 acres. The birds are found throughout the park's varied habitats, including coastal scrub, estuaries, grasslands, and forests. Among the best places for birding in the park are Bear Valley, Bolinas Lagoon, Five Brooks Pond, Limantour, and Estero Trail.
Coho Salmon and Steelhead Trout
As soon as the winter rains arrive salmon and trout begin to migrate up the streams to spawn.
Visitor Centers
Three visitor centers are located in the National Seashore - Bear Valley, Lighthouse, and Kenneth C. Patrick (at Drakes Beach). Hours vary by season.
Lighthouse Visitor Center and Point Reyes Lighthouse
Located at the tip of Point Reyes, the visitor center is only open Friday through Monday in the winter. Days and hours for 2015 have yet to be determined. The visitor center has exhibits about the lighthouse as well as maritime history and marine wildlife.
The Point Reyes Lighthouse is about a tenth of a mile from the visitor center, down about 300 steps. The interior of the lighthouse is open Fridays through Mondays from 2:30 PM to 4:00 PM, except during times of high winds.
Kenneth C. Patrick Visitor Center at Drakes Beach
The Patrick Visitor Center's exhibits tell the story of maritime exploration in the 16h century. They also have displays about marine environments and fossils. Suspended from the ceiling is a minke whale skeleton. The visitor center is handicap accessible. They have restrooms and outdoor showers available 24 hours a day. Nearvy is a picnic area with BBQ grills. Also on site is Drakes Beach Cafe. Hours and days of operation vary by season.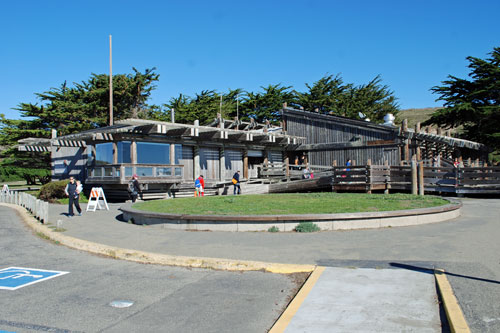 Kenneth C. Patrick Visitor Center
Bear Valley Visitor Center
The Bear Valley Visitor Center in the Olema Valley is the hub of park activities. Exhibits provide information about the ecosystems and cultural heritage of the National Seashore. Displays include a seismograph and touch table. Audio-visual programs are shown in the auditorium. Books and maps of the park are available in the store. The center is handicap accessible and has restrooms open 24-hours a day. Nearby is a picnic area with BBQ grills. Numerous trails lead out from the Bear Valley Visitor Center. While hours vary during the season, the center is open daily except on Christmas.
Point Reyes Events
Sand Sculpture Contest
August 26, 2018
Drakes Beach
9:00 AM- 3:00 PM
Age and group-size categories
Point Reyes Sand Sculpture Contest
Brown Bag Science Lectures
Many Thursdays at noon, free, 45 minutes
Red Barn Classroom near Bear Valley Visitor Center
Topics such as climate change, living with mountain lions, and tule elk
Point Reyes Science Lectures
Christmas Bird Count for Kids
January 7, 2018
Pt. Reyes Bear Valley Visitor Center
Families with children ages 3-18 invited to join in the annual bird count
Advanced registration required
Christmas Bird Count
Night of Nights
July 12, every year
Morse code radio station KPH comes to life, visitors welcome
3:00 PM to midnight at the ex-RCA coast radio station
17400 Sir Francis Drake Boulevard in Point Reyes National Seashore
Night of Nights
Big Time Festival
July 21, 2018
Kule Loklo Miwok Village near Bear Valley Visitor Center
10:00 AM - 4:00 PM
Traditional Native American trade festival
Demonstrations, dancers, vendors
Big Time Festival