Caution: Check with rangers or lifeguards that conditions are safe for your planned activities.
Surfing Royal Palms Beach
Experienced surfers are wary of the rocks at Royal Palms Beach as they take to the waves. Somewhat sheltered, the cove has both point and reef breaks, going right and left. Many surfers say the best time at Royal Palms is in the summer with swells coming in from the southwest.
TC's, located west of Royal Palms, is a popular right-handed reef break that draws the best surfers in the area. While it can be dominated by locals on busy weekends, at other times discrete visiting surfers can find room on the waves. Winter is the best time for TC's.
Local Surf, Windsurfing, and Paddleboard Shops
Captain Kirk's
525 North Harbor Boulevard, San Pedro, CA
Captain Kirk's
Stand-up paddleboards, windsurfing, kiteboarding
Sales, lessons, and rentals
San Pedro Surf & Sport
2234 South Pacific Avenue, San Pedro, CA
San Pedro Surf & Sport
Surfboards (custom made and stock), apparel
Xstreamline
1861 N. Gaffey Street, San Pedro, CA
Xstreamline
Sales for Windsurfing, kayaking, stand-up paddling
Summer rentals at Cabrillo Beach or by arrangement from their store.
SUP and kayak lessons at Cabrillo Beach
Diving at Royal Palms
Divers like the convenience at Royal Palms Beach since they can park at beach level to unload their gear. Because of the rocks, entry is easiest near high tide just west of the end of the parking lot. Divers often encounter a range of sea life, including giant crabs, bat stars, leopard sharks, giant kelpfish, and cabezon.
Near the lifeguard tower divers can inspect the scattered remains of the 274-foot ferry Melrose, which sank there in 1932. The double-ended ferry was owned by Southern Pacific. After years of operating in San Francisco Bay it was converted into a fishing barge and moved to the San Pedro coast.
At the White Point end of the parking lot entry is similar to Royal Palms, with high tide making it easier to negotiate the rocks. Thermal vents, however, create a very different ocean habitat than over at Royal Palms. About 150 feet from shore a sandy bottom without any plant growth marks the location of the vents. In general, marine life shuns the sulfur producing vents. Farther out, divers find a rocky area and palm kelp forests with plenty of sea life such as California halibut, octopus, bat rays, lobsters, and opaleye.
Under the right conditions divers can visit the ruins of the once popular White Point Hot Springs Hotel, which was constructed in 1917 at the waters edge east of the lifeguard stand. Active thermal vents provided hot water to their saltwater pools. Parts of the walls are visible today along with the remains of a small train that once ran along the coast next to the hotel.
Local Dive Shops
Pacific Wilderness
1719 South Pacific Avenue, San Pedro, CA
Pacific Wilderness
Sales, classes, rentals, repairs, dive club
White Point Nature Preserve
A number of great hiking trails wind through the 102 acres of the White Point Nature Preserve, almost directly across Paseo del Mar from White Point Bluff Park. Once a fenced in and neglected tract of land, the efforts of volunteers in cooperation with the city of Los Angeles and the Palos Verdes Peninsula Land Conservancy have turned the area into a thriving preserve with more than 90,000 plants.
The Grasslands Loop Trail is an easy 0.8 mile walk which begins and ends at the parking lot. Pass through native brush grass which supports native birds such as the western meadowlark.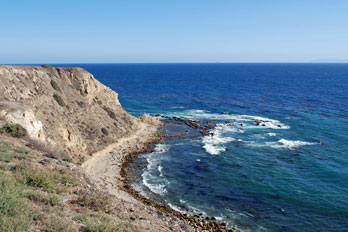 The 0.8-mile Vista Trail is rated as a moderate walk which takes you to the upper part of the Preserve. Some of the historic trees along the trail are thought to have been part of the original Sepulveda homestead. Watch for wildflowers, succulents, and coastal sage. Some old World War II gun emplacements are visible along the route.
The White Point Nature Education Center is located in buildings that were once used as part of the Nike missile site. Multi-media exhibits in the center take visitors through a timeline of exhibits and displays that tell the story of White Point's cultural and natural history. Outside is a native plant demonstration garden. The Nature Education Center is open to the public from 10 AM to 4 PM on Wednesday, Saturday, and Sunday.
The preserve is open every day from dawn to dusk with parking available in a lot off Paseo del Mar. Many of the trails are wheelchair friendly. Guided nature walks are offered here by the Conservancy throughout the year: White Point Nature Walks.
Kayaking along the Coast
A popular kayaking route is from Royal Palms Beach down the coast to Cabrillo Beach. The 2.7 mile journey is easily complete in two hours under good conditions Along the way kayakers pass the Point Fermin Lighthouse, tide pools, and dense kelp beds. The best time of year is usually summer or fall.
Paddling the other direction, kayakers enjoy a 4.5-mile trip northwest along the coast to Abalone Cove. Plan about 3 hours for the paddle in good conditions. Along the way kayakers visit sea caves, isolated beaches, and fascinating tide pools.
Kayak Rentals and Lessons
Xstreamline
1861 N. Gaffey Street, San Pedro, CA
Xstreamline
Summer kayak rentals at Cabrillo Beach or by arrangement from their store.
SUP and kayak lessons at Cabrillo Beach
Fishing at Royal Palms Beach
The coast along Royal Palms Beach and White Point is open to fishing. Slippery rocks can make for challenging conditions in many places. Anglers have had luck landing rock fish, senorita, opaleye, and even an occasional halibut.
Nearby Activities & Events
White Point Home Tour
September TBA, 2018, 1 PM - 4:30 PM
An annual self-guided tour of unique and historic San Pedro homes.
Tour followed by reception, entertainment, and silent auction
A fund raiser hosted by the Palos Verdes Peninsula Land Conservancy
Fort MacArthur
Guns at Fort MacArthur once guarded the entrance to Los Angeles Harbor
3601 S. Gaffey St.
San Pedro, CA
Museum hours 12 PM to 5 PM, Tuesdays, Thursdays, weekends and holidays.
Fort MacArthur Museum
Bogdanovich Park
1920 Cumbrie Dr., San Pedro
20-acre park with panoramic views
Picnic area, lighted playground, jogging and hiking trails
Restrooms and community building
Bogdanovich Park and Recreation Center
Korean Bell of Friendship
Angels Gate Park
3601 S. Gaffey St.
San Pedro, CA
Bell donated by the Republic of Korea in 1976 to celebrate the US bicentennial, honor Korean War veterans, and consolidate friendship between the two countries.
2013 restoriation completed and now open for viewing.
Korean Bell of Friendship
Marine Mammal Care Center
3601 S. Gaffey St. (at Fort MacArthur)
San Pedro, CA
Care for sick and injured marine mammals.
Open to the public every day, free, 10 AM - 4 PM
Educational information and gift shop
Marine Mammal Care Center
Books and Puzzles of Local Interest
Ocean Safety
California State Parks and Recreation cautions that "large surf, cold water temperatures, backwash, sudden drop-offs, pounding shorebreak, and dangerous rip currents can turn what seem like safe activities such as playing near the surf line, wading, or climbing on rock outcroppings, deadly." Learn more about ocean safety at
CA State Parks: Ocean Safety
Ocean Safety
California State Parks and Recreation cautions that "large surf, cold water temperatures, backwash, sudden drop-offs, pounding shorebreak, and dangerous rip currents can turn what seem like safe activities such as playing near the surf line, wading, or climbing on rock outcroppings, deadly." Learn more about ocean safety at
CA State Parks: Ocean Safety