Caution: Before setting out, always check with rangers that conditions are safe for your planned activitites.
San Clemente Beach Surfing
Four miles of beach in San Clemente provide a string of good surfing spots.
Surfers at North Beach find a sandy bottom and moderate waves. Boogie boarders like the area. At 204 the beach break is fairly consistent. Offshore reefs produce a variety of waves from swells coming from different directions.
It can get crowded around San Clemente Pier where the beach break produces some good waves, breaking left and right. Surfers often find excellent conditions north of the pier. During the summer the south side is closed to surfing.
T Street is the most popular spot along the San Clemente coast, but during the summer when the beach is crowded there are restrictions on the hours for surfing. No surfing is permitted from 10 AM to 6 PM during summer weekends, and 11 AM to 6 PM on weekdays (June 15 to September 15). An outside reef here kicks up some good waves along the with beach break.
At Riviera surfers find decent surfing without the crowds. Along the state park coast shallow sandbars can produce some nicely shaped waves. South of the state park a spot known as Toads attracts experienced surfers.
Surfing Lessons and Camps
JPs Surf Camp
JPs Surf Camp offers instruction for anyone 6 years old through adults. Small group instruction in 3-hour classes focuses on the individual. Surfboards and wetsuits (if needed) are provided. Instructors are CPR and first aid certified. Classes meet at North Beach and 204 Beach.
JPs Surf Camp
San Clemente Surf School
San Clemente Surf School teaches surfing skills to everyone from beginners to advanced surfers. They have 2-hour private lessons, surf camps at spring break and during the summer, and a surf team. Surfboards and wetsuits are provided. Instructors are CPR and first aid certified. Classes meet at Stewart Surfboards, 2102 S. El Camino.
San Clemente Surf School
Surfboard Rentals
Stewart Surfboards
Rentals of a wide range of surfboards. Surfboard sales.
2102 South El Camino Real, San Clemente, CA
1 (800) 265-8882
Stewart Surfboard Rentals
San Clemente Surf School
Rental delivery service of wetsuits and surfboards.
San Clemente Surf School
Surf and Skate Supply
Rental delivery service of surfboards and stand-up paddleboards.
Surf and Skate Supply
The San Clemente Beach Trail
The 4½-mile San Clemente Beach Trail extended from North Beach to Calafia Beach. Sometimes boardwalk, sometimes crushed granite, the multi-use trail parallels the railroad tracks close to the beach. Hikers, joggers, and cyclists can pick up the trail almost anywhere along its course. With restrooms and refreshments available at several key points, the path makes a great way to enjoy the coast without tramping through sand.
San Clemente State Beach Activities
San Clemente State Beach offers a variety of activities for visitors. Their Visitor Center, located next to the day-use parking area, showcases local birds, animals, and marine life, along with a history of the park.
Other programs at the park include Junior Rangers (ages 7-12), Ranger Buddies (ages 4-6), campfire programs, guided hikes, and nature walks.
Hike the Trestles Trail to San Mateo Point
A 3-mile round trip hike to San Mateo Point makes an interesting beach adventure. Start at the Calafia parking area and head south toward Trestles Beach. Along the way watch for shorebirds. You are certain to see plenty of surfers and body surfers too. At San Mateo Point a creek empties into the ocean. Birds such as herons and egrets are often seen among the rushes here. Ambitious hikers can continue south toward San Onofre State Beach.
San Clemente Ocean Festival
July 21 - 22, 2018
Every summer the San Clemente Ocean Festival draws large crowds to San Clemente's main beach. Known as The Greatest Show on Surf, the festival attracts top athletes, local residents, and visitors from afar to participate in the 2-day event near the San Clemente Pier.
Festival Highlights
Stand-up Paddleboard Surfing Championships
Children's fishing clinic and derby
California Waterman and Waterwoman Championships (ocean paddling, surf race, rescue relay, etc.)
Free Beach Concert
Groms Rule Surf Contest (age 14 and under)
Sand Sculpture Team Competition
Woody Car Exhibit
Children's activities from carnival games to a mermaid parade
Free parking is available at San Clemente High School and shuttle service delivers visitors to the beach. The San Clemente Ocean Festival is a volunteer organization that promotes ocean safety, the environment and the community through its popular family event.
San Clemente Ocean Festival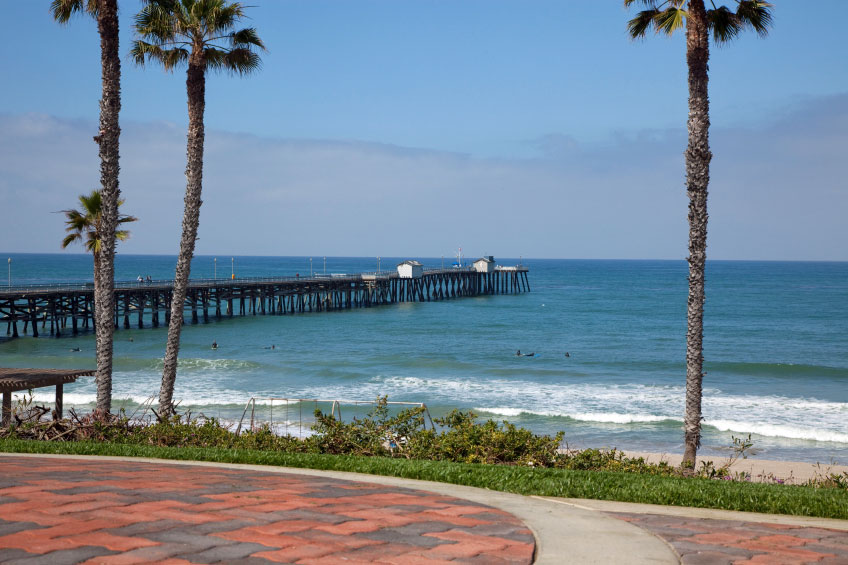 San Clemente Pier
The 1,296-foot San Clemente Pier was built in 1928, but over the years storms damaged portions of it. The pier was rebuilt, always stronger than before. The pier is open from 4 AM until midnight. It has lights, fish-cleaning stations, and benches.. Also on the pier is a small combination fishing tackle, souvenir and snack shop: the San Clemente Pier Shack & Grill. Restrooms are located about half-way out on the pier. A lifeguard station is near the foot of the pier.
Fishing on the Pier
Anglers do well on the pier, landing a wide variety of fish. An artificial reef constructed near the end of the pier improved fish habitat. Among the fish seen here are barred surfperch, guitarfish, corbina, yellowfin croaker, halibut, jacksmelt, and bonito. Out at the end of the pier sharks are hooked along with occasional rays.
San Clemente Junior Lifeguards
The San Clemente Junior Lifeguards program is offered to young people ages 9 to 17. Participants enjoy a variety of beach and ocean oriented recreational and educational activities. Among the activities are ocean safety, first aid, rescue techniques, surfing and physical fitness.
Classes meet on Monday, Wednesdays and Fridays at the Marine Safety Headquarters, just north of the pier. Morning sessions run from 9:00 AM to noon, afternoon sessions from 1 PM to 4:00 PM. Prospective participants must pass a swim test held at the San Clemente Aquatics Center in April.
2018 Junior Lifeguard Sessions
Session I - June 11 to June 29, 2018
Session II - July 2 - July 20, 2018 (no class on July 4)
Session III - July 23 - August 10, 2018
San Clemente Junior Lifeguards
Nearby
Events and Activities
Casa Romantica Cultural Center and Gardens
415 Avenida Granada
San Clemente, CA
A living demonstration of California history, culture, and ecology.
Year-round programs and concerts
Casa Romantica
Surfing Heritage Foundation
110 Calle Iglesia
San Clemente, CA
Dedicated to preserving, presenting, and promoting surfing's heritage
Museum hours 11 AM to 4 PM, Monday through Saturday
Surfing Heritage Foundation
San Clemente
Fiesta Music Festival
August 12, 2018
Avenida Del Mar
Food and game booths, 3 stages with live music, contests, arts & crafts, classic car and motorcycle show, clowns, jugglers, and more.
9 AM to 7 PM
Fiesta Music Festival
San Clemente SeaFest
October 7, 2018
San Clemente Pier
Chowder Cook-off, Fisherman's Lobster, Arts & Crafts, Surf contest, entertainment, Coast Guard Search and Rescue Demo.
San Clemente SeaFest
Dana Point Festival of the Whales
March 3-4 and 10-11, 2018
Dana Point, CA
Two weekends of festivities much too numerous to list. A free shuttle carries you to event locations around Dana Point Harbor.
Dana Point Festival of the Whales
Whitey Harrison Classic Outrigger Race
August TBA, 2018
6 AM to 6 PM
Outrigger race from Doheny to Laguna and back
Dana Outrigger Canoe Club