San Clemente RV Campground
San Clemente State Beach's RV and trailer campground provides full hook-ups of water, electricity (50 and 30 amp), and sewer. All of the sites are pull-through. According to Reserve America, which handles camping reservations, the majority of sites will accommodate RVs and trailers up to 42 feet, but sites 4 and 5 are limited to 36 feet and sites 57-70 are limited to 32 feet.
Sites 1 -3 and 26 - 30 do not appear on Reserve America's map as being available for reservations. It is likely that they are used by Campground Hosts.
Generators, TVs, and radios may be operated between 10 AM and 8 PM. Dogs must be kept on leash and confined to a tent or vehicle at night. The showers take quarters.
The short Nature Trail and Butterfly Trail lead off from the RV campground near sites 66-67 and loop back to the road just east of the campground.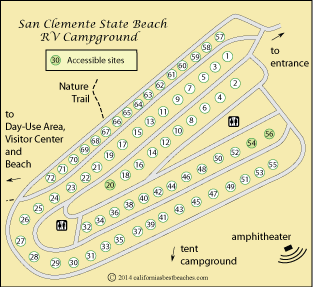 San Clemente Tent Campground
The campsites in San Clemente State Beach's tent campground are also sometimes called Family Sites since they are not limited to tents. Small RVs often camp here, but there are no hook-ups as there are in the RV campground.
According to previous campers, sites 74 through 90 have the best views of the ocean since they are near the edge of the bluffs. Among those, sites 82, 83 and 85 have the best views. A fence separates the campground from the bluffs.
Camping fees cover one vehicle and one towed vehicle. Extra vehicles are allowed for a fee. Each campsite is for a maximum of 8 people. As in the RV campground, dogs must be kept on a leash and confined to a vehicle or tent at night. A number of previous campers noted skunks wandering around at night, so carry a flashlight when headed to the restroom.
While sites 73 - 99 can be reserved year-round, sites 100 - 160 only take reservations from April through September and over major holiday periods in the off-season. Otherwise, sites 100 - 160 are closed from October through March.
Note: The State Beach website map shows site 158 as handicapped accessible, but Reserve America lists it as site 156.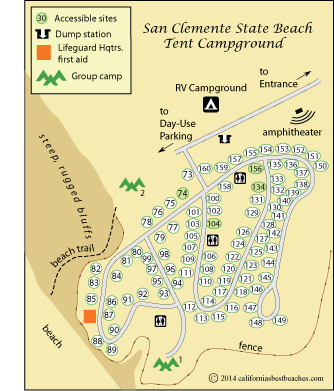 Nearby State Beach Camping
Crystal Cove State Park Campground
Location
8471 N. Coast Hwy., south of Corona Del Mar and north of Laguna Beach
(949) 494-3539
Moro Campground Facilities
58 family campsites total
28 of them designated for RV or trailer up to 38' with water and electric hook-ups
30 designated low impact1
Restrooms, showers, piped water, picnic tables
Dump station

1Low Impact = Soft-sided trailers, van conversions, or tents
Camping Fees and Reservations
Discounted Rates: November 1, 2013, through April 30, 2014 - $35 per night for standard sites, $55 for sites with hook-ups
Regular Rates: (Beginning May 1, 2014) $50 for standard site, $75 for site with hook-ups
Online Reservations at ReserveCalifornia:
Crystal Cove State Park Campground Reservations
or call (800) 444-PARK (7275) between 8 AM and 6 PM
San Onofre State Beach
830 Cristianitos Road
San Clemente, CA
(949) 492-4872
Facilities: Two campgrounds with a total of 309 Tent and RV campsites with picnic tables and fire pits, electric and water hook-ups, restrooms, hot showers, dump station
Fees: Regular sites $35, Hook-up sites $60
Online Reservations at ReserveCalifornia:
San Onofre State Beach Campground Reservations
or call (800) 444-PARK (7275) between 8 AM and 6 PM
Bolsa Chica State Beach
Pacific Coast Highway, Huntington Beach, CA
(714) 846-3460
Facilities: RV or trailers only, oceanside sites, water and electric hook-ups, restrooms, dump station, concession stands nearby
Fees: Regular sites $50, Hook-up sites $65
Online Reservations at ReserveCalifornia:
Bolsa Chica State Beach Campground Reservations
or call (800) 444-PARK (7275) between 8 AM and 6 PM
Nearby Parks with Campgrounds
Ronald W. Caspers Wilderness Park
33401 Orega Highway, San Juan Capistrano, CA
(949) 923-2210 or (949) 923-2207
Facilities: Family Campground, RV electrical hook-ups, dump station, BBQs, restrooms, showers, trails, nature center, interpretive programs, equestrian camp
Fees: $20 per night plus $6 per night electrical fee for those using hook-ups
Reservations: Orange County Parks - Casper Wilderness
O'Neill Regional Park
30892 Trabuco Canyon Road, Trabuco Canyon, CA
(949)923-2260 or (949)923-2256
Facilities: 79 Family Campsites for tents or RVs, group campgrounds, equestrian camping, restrooms, showers, sanitary station, nature center, playground
Fees: $20 per night
Reservations: Orange County Parks - O'Neill Region Park Camping
Greater Area RV Campgrounds
Newport Dunes Waterfront Resort & Marina
1131 Back Bay Drive, Newport Beach, CA
949) 729-3863
Newport Dunes Waterfront Resort
RV Sites: 382 RV sites, tent sites
Amenities: Back Bay Bistro, banquet facilities, market place, pool and spa, watersports and beach rentals, playground, fitness center, laundry, restrooms, marina, boat launch
Rates: $$$$
Oceanside RV Park
1510 South Coast Highway, Oceanside, CA
(760) 722-4404 Oceanside RV Park
RV Sites: Full hook-ups, 30 amp, cable TV, tent sites
Amenities: Propane, laundry, bathrooms with showers, meeting room, spa, pool, walk to the beach
Rates: $$
Paradise by the Sea RV Resort
1537 South Coast Highway, Oceanside, CA
(760) 439-1376 Paradise by the Sea RV Resort
RV Sites: 91 sites with Cable TV, WiFi, full hook-ups, 30 amp or 50 amp
Amenities: Pool, hot tub, restrooms, laundry, small grocery/RV store, recreation room, beach rentals, walk to beach
Rates: $$
Sunset Vista RV Park
Pacific Coast Hwy. at 1st Street, Huntington Beach, CA
(714) 536-5286 Sunset Vista RV Park Reservations
Camping Season: October 1 - May 31
RV Sites: Oceanside sites with water and electric hook-ups (30 and 50 amp)
Amenities: Restrooms, outside showers, central disposal station.
Rates: $$
Huntington by the Sea RV Park
21871 Newland Street, Huntington Beach, CA
At the end of Imperial Highway
(714) 536-8316
Huntington by the Sea RV Park
RV Sites: Full hook-ups (no tents), cable TV
Amenities: Laundry, club house, swimming pool, rec room, games, internet
Rates: $$ - $$$