Surfing San Elijo,
Cardiff, and Solana Beaches
Surfing at San Elijo State Beach can be good when conditions are right, often in winter, but also in summer. An east-northeast wind coupled with swells from the west-southwest produces some nice beach and reef breaks. A mixed sand and rock bottom creates some hazards. Pipes at the north end of the campground is the main surfing spot.
Cardiff
Cardiff also has a mixture of rocks and sand. At low tide the reef can be a hazard. The best surfing tends to be at a medium tide. Most surfers prefer the winter months here. Nearby to the north, Suck Outs' shallow water over the reef and often powerful waves make it a spot for extra caution.
Seaside
Seaside is located at the southern end of Cardiff State Beach. It is known for an exhilarating reef break best suited for intermediate surfers and above. Surfers find a number of peaks, offering a variety of rides. George's is found along the highway where there is free parking. A sandy bottom makes it a favorite with many. Tabletops is a reef break about 100 yards south of Seaside.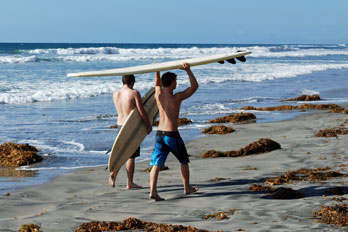 Fletcher Cove
Fletcher Cove (also known as Pillbox) in Solana is popular with everyone from beginning surfers to experts. Most often surfers find a sandy bottom with few rocks, but changing conditions can warrant caution. Waves are good through the summer and winter, breaking right and left. Wind from the south can sometimes cause the waves to turn mushy.
Surf Lessons, Camps, and Clubs
Eli Howard Surf School
Surfing lessons and camps for everyone from beginners to advanced. Weekend Escapes, Teen and Adult Overnight Surf Camps, Daily Lessons, Day Surf Camps and more. Located at San Elijo State Beach under a permit with the California State Parks.
Eli Howard Surf School
San Elijo Surf Team
The San Elijo Surf Team for middle school students is part of the San Elijo Surf Club. Among their goals are developing surfing fundamentals while learning ocean safety and surfing etiquette. The team practices on Wednesdays and Fridays after school and Sunday mornings at various locations. They participate in various competitions throughout the year.
San Elijo Surf Team
Leucadia Surf School
Two-hour surfing lessons at Moonlight Beach - softboards and wetsuits provided. Private, semi-private, or small group lessons available. Summer Surf Camp for all ages.
Leucadia Surf School
Surfboard and Paddleboard Sales and Rentals
Mitch's Surf Shop
Rentals and sales of boards and wetsuits, also sales of clothing, fins, gear and more.
363 North Highway 101, Solana Beach, CA
Mitch's Surf Shop
Iron Cross Surfboards
Rentals of surfboards, wetsuits, stand-up paddleboards, boogie boards, beach chairs and umbrellas. Sales of surfboards, apparel, and accessories.
2101 San Elijo Avenue, Cardiff by the Sea, CA
Iron Cross Surfboards
Concept Surf Shop
Surfboards, wetsuits, boogie boards, bikes, and beach chair rentals.
215 West D Street, Encinitas, CA
Concept Surf Shop
Progression Surf
Rentals of surfboards (hard and soft), stand-up paddleboards, bodyboards, wetsuits, fins
828 North Coast Highway 101, Leucadia, ca
Progression Surf
Hansen's Surfboards
Demo surfboards, soft surfboards, bodyboards, and wetsuits
1105 S. Coast Hwy. 101, Encinitas, CA
Hansen's Rentals
Paddle Planet
Stand-up paddleboard, kayak, surfboard, and bodyboard rentals.
996 N. Coast Highway 101, Encinitas, CA
Paddle Planet
Fiesta del Sol at
Fletcher Cove Beach
May 20, 2018
The Fiesta del Sol in Solana Beach is a free 2-day music and crafts festival hosted by the Chamber of Commerce along with the Belly Up and the City of Solana Beach. Visitors will enjoy local talent, an exciting Children's Area with rides and games, a climbing wall, food vendors and art.
Fiesta del Sol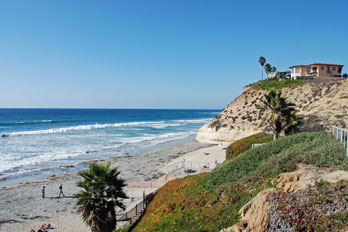 Fletcher Cove Beach
Cardiff Surf Classic
Block Party
November TBA, 2018
A celebration of Cardiff surf culture and sustainability. Live music, art, t-shirt printing, food trucks, beer lounge, movie night and more.
Cardiff Surf Classic & Block Party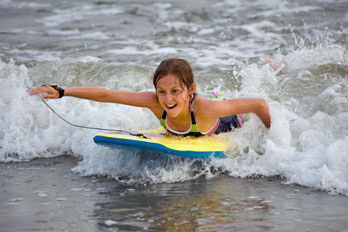 Solana Beach Summer Day Camps
Solana Beach offers Kids Summer Day Camp for ages 5 to 11. They usually meet at the Fletcher Cove Community Center, Monday through Friday from 8:30 AM to 2:00 PM. Activities include beach games, swimming at the Boys and Girls Club, Wednesday field trips, arts and crafts, and library visits. A variety of camps are offered, such as Treasure Hunters, Survivor, and Splish Spashtacular.
Solana Beach Summer Day Camps
Events at Fletcher Cove Park
Beach Blanket Movie Night, August 26, 2017
6:00 PM at Fletcher Cove Park
Concerts at the Cove
Thursdays, mid-June through mid-August, 6:00 PM
Beach Blanket Movie Night
Solana Beach
Junior Lifeguards and Groms Programs
The Solana Beach Junior Lifeguard Program develops ocean and beach safety, lifesaving skills, and physical fitness. Participants enjoy beach games, surfing, swimming, body boarding, body surfing, snorkeling and competitions. Included in the program are a Parents' Day, team photos, and a banquet.
Solana Beach Junior Lifeguards program is open to individuals ages 7 to 16. Participants are divided into two groups by age, Junior Lifeguards ages 9 - 16 and Groms ages 7 and 8. Groms is an introductory version of the Junior Lifeguard Program. Groms has a 1:4 staff to student ratio and participation in water activities is optional. No swim test is required for Groms.
First-time participants in the Junior Lifeguards Program (ages 9-16) must complete a swim test, offered at dates in May at San Dieguito Boys and Girls Club. The Junior Lifeguard Program has two 4-week-long sessions and one 2-week session for 2017. Participants can sign up for either mornings or afternoons for each session. Groms are morning or afternoon for any of five 2-week long sessions.
Solana Beach Junior Lifeguards
Nearby Bicycle Rentals
Revolution Bike Shop
235 S. Highway 101, Solana Beach, CA
Beach cruisers and road bike rentals
Revolution Bike Shop
Ride Cyclery
449 South Coast Highway 101, Encinitas, CA
Road bikes, women's road bikes, mountain bikes, comfort bikes, and accessories.
Ride Cyclery
Pedego Solana Beach
238 N. Cedros Ave., Solana Beach, CA
Pedego electric bikes, sales and rentals
Pedego Solana Beach
Nearby
Events and Activities
Dog Days of Summer
August 12, 2018
Dog contests, custom pet products, kids' zone
Hosted in Cardiff-by-the-Sea by Cardiff 101 Main Street.
10 AM - 5 PM
Dog Days of Summer
San Elijo Lagoon Ecological Reserve
Between Solana Beach and Encinitas
Coastal wetlands with 1000 acres of habitat for plants and animals
7 miles of trails, guided nature walks on weekends
Nature Center at 2710 Manchester Ave., Cardiff
San Elijo Lagoon Conservancy
Belly Up
143 S, Cedros Ave.
Solana Beach, Ca
Live music and events every night
Bar food and drinks
Belly Up
Magical Adventure
Balloon Rides
153 S. Sierra Ave. #505
Solana Beach, CA
Magical Adventures Balloon Rides
San Dieguito County Park
1628 Lomas Santa Fe Dr.
Del Mar, CA
Open daily 8 AM to dusk
125 acres - playgrounds, exercise stations, basketball, lawn areas, picnics, restrooms, and the Miracle Field, a fully accessible baseball field.
San Dieguito County Park
San Diego Botanic Garden
230 Quail Gardens Dr.
Encinitas, CA
Open daily 9 AM to 5 PM, admission fee
Plants from around the world - Mexico, Central America, New Zealand, South Africa, Tropical Rain Forests, and many more.
San Diego Botanic Garden