San Elijo State Beach Camping
Reservations at San Elijo State Beach campground fill quickly, partly because it is one of the southern-most state beach campground in California. The bluff-top location offers wonderful views of the ocean coupled with the sounds of the surf. Access to the beach from most campsites is via long stairways.
Among the popular amenities at the campground are token-operated hot showers, a camp store, a fast food restaurant (Bull Taco), campfire programs in the summer, and a good number of sites with hook-ups.
Among the drawbacks of camping at San Elijo are the horn-blowing trains that roll by on the nearby tracks at night. Previous campers suggest avoiding sites (such as #163) that are close to the rinse-off showers for people returning from the beach.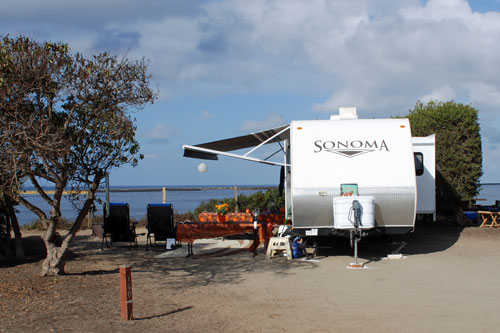 San Elijio Beach Campground
Silver Strand State Beach Camping
Location
5000 Highway 75, Coronado, CA
(619) 435-5184
Campground Facilities
Self-contained RVs or trailers only. No tent camping
Water and electrical hook-ups.
Restrooms with outdoor showers
Dump Station
Accessibility
Designated campsites
Parking, restrooms, showers
Picnic area
Portion of Crown Cove Trail
Beach wheelchair and beach mats available. Check at entry station.
Reservations and Fees
$65 for Premium Sites - beach front
$50 for Standard Sites -inland
Online Reservations at ReserveCalifornia:
Silver Strand State Beach Campground Reservations
or call (800) 444-PARK (7275) between 8 AM and 6 PM
Regulations (partial list)
Do not deposit waste, water or sewage directly upon or into the surface of the ground, pavement, sand, or water.
No dogs allowed on beach or bayside area of the park. They must be on leash and attended in campground.
Beach fires must be in designated concrete fire rings only.
Alcohol and glass containers are not permitted outside campsites
South Carlsbad State Beach Camping
Location
7201 Carlsbad Boulevard, Carlsbad, CA
(760) 438-3143
Admission
Day-Use Parking: $10 - $15
Campground Facilities
122 bluff-top campsites for tents, and RVs and trailers 35' or less
Restrooms with token-operated showers
Picnic tables, fire pits
No hook-ups (although some sites will soon have hook-ups)
Campfire circle, laundry facilities
Dump Station
Store (April - October), WiFi near park office
Accessibility
Designated campsites
Parking, restrooms, showers
Campfire circle
Reservations and Fees
$50 for Premium Sites
$35 for Standard Sites
Online Reservations at ReserveCalifornia:
South Carlsbad State Beach Campground Reservations
or call (800) 444-PARK (7275) between 8 AM and 6 PM
Regulations (partial list)
No dogs allowed on beach, on leash and attended in campground
Do not feed wildlife.
No fires are allowed on the beach.
Alcohol and glass containers are not permitted outside campsites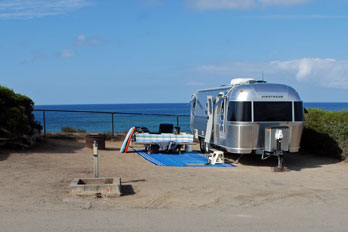 South Carlsbad Beach Campground
San Onofre State Beach Camping
Location
Interstate 5. 3 miles south of
San Clemente, CA
(949) 492-3156
Admission
Day-Use Parking: $15
Campgrounds
Two campgrounds - San Mateo Campground (inland) off Christianitos Road and
San Onofre Bluffs Campground south of main parking area along old Pacific Coast Highway
San Mateo Campground Facilities
157 tent or RV sites with electric and water hook-ups
Restrooms with coin-operated, hot showers
Picnic tables, fire pits
Amphitheater
1½-mile Nature Trail to Trestles Beach
Dump Station
San Onofre Bluffs Campground Facilities
3½-mile long campground on bluffs overlooking ocean
157 sites, some designated for tents only, most for RVs
Group campsite
No hook-ups
Restrooms, hot showers
Picnic tables, fire pits
Trails down to beach
Dump Stations
Reservations and Fees
San Mateo Campground
Sites 1-100 open to reservations year-round
Sites 101-157 can be reserved April 1 to September 30 and over major holidays (otherwise these sites are closed)
Bluffs Campground open for reservations May 16 to September 30 (otherwise closed)
Fees:
San Mateo and Bluffs Campgrounds:
$35 Peak Season*
$25 Non-peak season

Group sites:
$200 - $225

*Peak season is April - October

Online Reservations at ReserveCalifornia:
San Onofre State Beach Campground Reservations
or call (800) 444-PARK (7275) between 8 AM and 6 PM
Greater Area RV Campgrounds
Surf & Turf RV Park
15555 Jimmy Durante Boulevard, Del Mar, CA
(760) 431-9347
Surf & Turf RV Park
RV Sites: RVs and trailers up to 40', electric and water hook-ups
Amenities: Pets welcome, blocks from the beach
Rates: $$
Olive Avenue RV Resort
713 Olive Avenue, Vista, CA
(760) 295-9243 Olive Avenue RV Resort
RV Sites: Full Hook-ups, WiFi, free cable TV,
Amenities: Clubhouse, Recreation room, heated pool and spa, restrooms, showers, laundry
Rates: $$
Melrose RV Trailer Park
510 N. Melrose Drive, Vista, CA
(760) 724-4441 Melrose RV Trailer Park
RV Sites:
Amenities: Pool, laundry
Rates: $$
Santa Fe Park RV Resort
5707 Santa Fe Street, San Diego, CA
(858) 272-4051 Santa Fe Park RV Resort
RV Sites: Full hook-ups, concrete pads, 50amp in select sites, WiFi, satellite TV, picnic table, BBQ
Amenities: Clubhouse, heated pool and Jacuzzi, recreation room, fitness center, mini-theater with big screen TV, restrooms, showers, laundry
Rates: $$
Mission Bay RV Resort
2727 De Anza Road, San Diego, CA
(858) 270-4300 Mission Bay RV Resort
RV Sites: Full hook-ups, 50 amp, paved pads, cable TV, WiFi
Amenities: Bathhouses, laundry, snack shack, seasonal activities, located on Mission Bay, boat launch
Rates: $$