Caution: Before setting out, always check with rangers that conditions are safe for your planned activitites.
Hang Gliding
Fort Funston is one of the best and most popular coastal hang gliding destinations in Northern California. Consistent winds and a great lift have kept experienced hang glider pilots coming back again and again to soar above the Pacific's coastal bluffs.
Many experienced flyers rate March and October as the best months. There is a wheelchair accessible viewing deck near the launch area. Parking is available in the lot off Skyline Boulevard.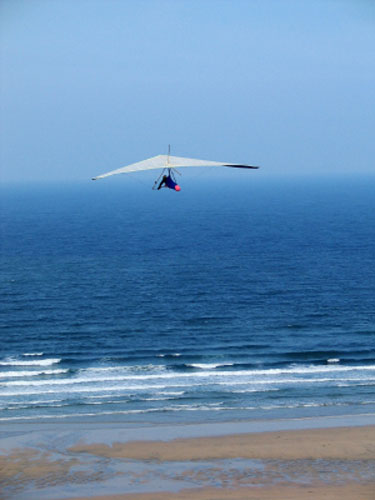 To Be Able to Fly at Fort Funston
Hang gliding at Fort Funston is managed by the Fellow Feathers Hang Gliding Club. In order to be able to fly at Fort Funston you must complete several steps:
Be a current member of USHPA with a rating of H3 (intermediate) or higher.
Sign and agree to follow club rules.
Sign a Fellow Feathers waiver.
Complete an application form and pay membership dues (either voting membership or a no-voting membership donation.
After completing the above steps, you will be issued a sticker to display on your helmet.
Hang Gliding Flights and Lessons
Hang gliding shops in San Francisco that offer instruction and/or tandem flights:
Fort Funston
The 200-foot tall bluffs at Fort Funston are great for hang gliding and also for a number of other outdoor activities. A network of trails provides great places for hiking and horseback riding (see below). For those who decide to hike down to Burton Beach, be prepared for a steep descent and an arduous return hike. The waves are dangerous and rip currents create a serious hazard.
For those who stay up on the bluffs, there are paved loop trails which are wheelchair accessible. The dune field at Fort Funston is the largest on the peninsula.
Fort Funston Nursery
The Fort Funston Nursery has been growing native plants since 1980. Many of the plants go to places such as Lands End, Mori Point, and Sweeney Ridge. About 25,000 plants are grown in the nursery every year. Volunteers are always welcome.
Hiking the Beach
From Fort Funston you can access Burton Beach and then from there head south along Thornton Beach 2½ miles to Mussel Rock. This hike can only be made at low tide and should only be attempted by those experienced at reading tide table. At high tide waves smother the beach and crash against the base of the cliffs.
Mussel Rock marks the place where the San Andreas Fault diverges from the mainland and angles off into the ocean. A small beach is located at Mussel Rock and a trail leads up to a parking lot located off Westline Drive. Hang gliders can often be seen in the area.
Mar Vista Stables
Mar Vista Stables offers 1, 1½, and 2 hour guided horseback tours along the Pacific Ocean near Thornton and Burton beaches.
2152 Skyline Boulevard, Daly City, CA.
(650) 991-4224
Hours: Monday - Friday 9:00 AM to 5:00 PM
Saturday and Sunday 9:00 AM to 6:00 PM
Mar Vista Stables
Fishing
Anglers will find a variety of fish at Burton and Ocean beaches, including halibut, striped bass, perch, and cobia. Many locals check for sand crabs along the beach and know that perch will be in the area. Rising tide is a good time to go after them. The southern end of Ocean Beach has some structures that create places where fish are often hiding.
Dungeness Crab
Dungeness crab season draws a lot of activity at Baker Beach and its neighbors since they are outside San Francisco Bay. The season opened November 2, 2013, and continues through July 30, 2014. The limit for crabs is 10 and the minimum size is 5¾ inches. Many crab fishermen use snares, small bait cages attached by line to a fishing pole. Loops attached to the snares tighten around a crab's leg. As long as the angler keeps the line taut as they reel it in they are likely to land their prey.
Nearby Activities and Events
California Palace of the
Legion of Honor
4000 years of art on display
Great views of the Golden Gate and the city
Located in Lincoln Park at 34th Ave. and Clement St.
Legion of Honor
Golden Gate Park
Located east of Ocean Beach at John F. Kennedy Drive
Visit grazing Buffalo, De Young Museum, Strawberry Hill,
California Academy of Sciences,
Carousel, Conservatory of Flowers
Golden Gate Park
San Francisco Zoo
Located next to Ocean Beach at Sloat Blvd.
Open every day
San Francisco Zoo
Fort Point
Located at the south anchorage of the Golden Gate Bridge on Marine Drive.
Built during the Civil War to defend the harbor.
Cannon loading demonstrations, wonderful views of the bay and the bridge
Fort Point
The Presidio
Former military post converted to national park, located immediately south of the Golden Gate Bridge.
Historic buildings, hiking and biking trails.
Lodging, restaurants, golf playgrounds, Crissy Field.
The Presidio