San Mateo Campground
San Onofre State Beach's San Mateo Campground offers 157 campsites for tents and RVs or trailers. RV or trailer only sites are #1 - #67. Other sites are for tents, trailers, or RVs. Trailer sizes for all sites range from 24 feet to 40 feet.
The 1½-mile Nature/Beach Trail leads to Trestles Beach, an area popular with surfers. To visit San Onofre's main Surf Beach, campers must drive to the main parking lot north of the nuclear power station. (The power station is now closed.)
Camp frees cover one vehicle and 8 persons per site. As many as two additional vehicles may be at your campsite if they fit on the pavement. Trailers and RVs are considered vehicles. There is a fee for additional vehicles. Generators may be operated between 10 AM and 8 PM. Dogs must be kept on leash and confined to a tent or vehicle at night. The showers take quarters.
Campfires are only allowed in the established fire rings. Alcohol is permitted in the campground. The campground fills quickly, so make your reservations early.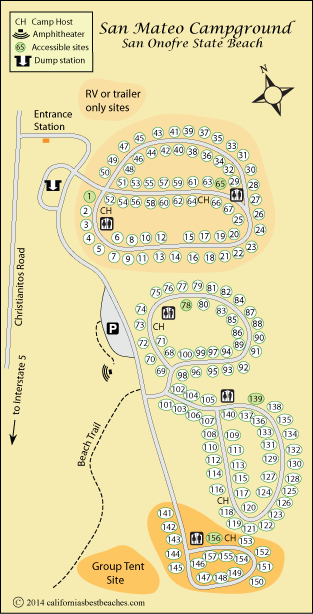 San Onofre Bluffs Campground
San Onofre's Bluffs Campground is found along Old Pacific Coast Highway at the southern end of the state beach. The bluff-top campsites are adjacent to the road and overlooking the ocean. The campground is open from May 16 to September 30. A number of trails lead down to the beach.
Unlike San Mateo Campground, Bluff Campground offers no hook-ups. Campsites are designated for either RVs or trailers or for tents. Tent sites are #46 - #93, while RV or trailer sites are #1 - #45 and #94 - #175. A group campsite is located between sites #66 and #67. Restrooms and dump stations are situated at regular intervals along the 3&frac12-mile long campground.
The Bluffs include a day-use area at its northern end.
Nearby State Beach Camping
San Clemente Beach Campgrounds
225 Avenida Calafia
San Clemente, CA
(949) 492-3156
Campground Facilities
Two campgrounds - one for RVs, one for tents
72 RV sites with full hook-ups
88 Tent sites (aka Family Sites) with shade ramadas over table
2 Group campsites for up to 50 people
Picnic tables, fire pits with grills
Restrooms, showers
Nature trails
Visitor Center
Lifeguard headquarters, first aid station
Amphitheater
Dump station
Fees and Reservations
Fees:
RV campsites with hookups:
$60 Peak Season*
$45 Non-peak season

Standard sites:
$35 Peak Season*
$25 Non-peak season

Group campsites: $200-$280

*Peak season is April - October

Online Reservations at ReserveCalifornia:
San Clemente State Beach Campground Reservations
or call (800) 444-PARK (7275) between 8 AM and 6 PM
Crystal Cove State Park Campground
Location
8471 N. Coast Hwy., south of Corona Del Mar and north of Laguna Beach
(949) 494-3539
Moro Campground Facilities
58 family campsites total
28 of them designated for RV or trailer up to 38' with water and electric hook-ups
30 designated low impact1
Restrooms, showers, piped water, picnic tables
Dump station

1Low Impact = Soft-sided trailers, van conversions, or tents
Camping Fees and Reservations
Discounted Rates: November 1, 2013, through April 30, 2014 - $35 per night for standard sites, $55 for sites with hook-ups
Regular Rates: (Beginning May 1, 2014) $50 for standard site, $75 for site with hook-ups
Online Reservations at ReserveCalifornia:
Crystal Cove State Park Campground Reservations
or call (800) 444-PARK (7275) between 8 AM and 6 PM
Greater Area RV Campgrounds
Newport Dunes Waterfront Resort & Marina
1131 Back Bay Drive, Newport Beach, CA
949) 729-3863
Newport Dunes Waterfront Resort
RV Sites: 382 RV sites, tent sites
Amenities: Back Bay Bistro, banquet facilities, market place, pool and spa, watersports and beach rentals, playground, fitness center, laundry, restrooms, marina, boat launch
Rates: $$$$
Oceanside RV Park
1510 South Coast Highway, Oceanside, CA
(760) 722-4404 Oceanside RV Park
RV Sites: Full hook-ups, 30 amp, cable TV, tent sites
Amenities: Propane, laundry, bathrooms with showers, meeting room, spa, pool, walk to the beach
Rates: $$
Paradise by the Sea RV Resort
1537 South Coast Highway, Oceanside, CA
(760) 439-1376 Paradise by the Sea RV Resort
RV Sites: 91 sites with Cable TV, WiFi, full hook-ups, 30 amp or 50 amp
Amenities: Pool, hot tub, restrooms, laundry, small grocery/RV store, recreation room, beach rentals, walk to beach
Rates: $$