Gualala Point Regional Park Camping
Location
42401 Highway 1
Gualala, CA
(707) 785-2377
Operated by Sonoma County Parks
Park Hours and Fees
Summer: 6 AM to sunset
Winter: 8 AM to sunset
Day-use fee: $7
Campground Facilities
19 campsites for RVs or tents
6 Walk-in and Hiker/Bicyclist tent only sites
Situated along the Gualala River among redwoods
Restrooms, coin-operated shower
Electric outlets in restrooms
No RV hook-ups
Extra vehicle parking
Campsite Amenities
Picnic table, food locker
Fire ring
Cleared space for tent
Accessibility
Parking and restrooms
Campsites
Fees and Reservations
Fee: $32 per night for standard and walk-in sites. Sonoma County residents and those with permanent disabilities may be eligible for discounted rates.
Camping fee includes one vehicle and one tow per site. Additional vehicles, $7 if space allows.
Hiker/Bicyclist Sites: $5 per person (first come, first served)
Dogs: $2 per night
Reservations: Sonoma County Parks Reservations
Regulations (partial list)
Dogs must be on leash no longer than 6'.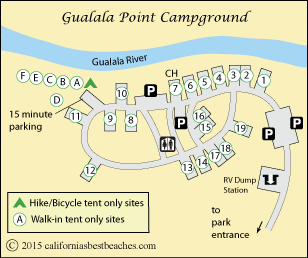 Gualala Point Campground
Gualala Point Campground may be closed in the winter due to flooding. It is best to call ahead to check on the campground's status. (707) 785-2377 Set among the redwoods, the campground is bathed in shade.
The campground includes a single, coin-operated shower ($1.50 for 5 minutes). The campground host is seasonal. A 1.3-mile trail from the campground leads to the beach. Many campers at Gualala Point Campground have noted pesky mosquitoes.
Sites 1, 16, and D are saved as first come, first served sites and may not be reserved. RVs longer than 24 feet are not recommended. Check-in time is 2:00 PM and checkout is noon. A maximum of 8 people may occupy one campsite. There is a $7 fee to make a reservation.
Gualala River Redwood Park
46001 Gualala Road, Gualala, CA
Gualala River Redwood Park
Park Amenities: Among the redwoods along the Gualala River, private beach on river, store, fish and abalone cleaning station, group picnic area, outdoor games, playground, restrooms, showers, laundry
Campsites: 92 sites for tents or RVs, picnic table, fire ring, 30 amp, water spigot
Rates: $$
Reservations: (707) 884-3533
Ocean Cove Camping
Located just south of Salt Point State Park, Ocean Cove offers a 20-acre camping facility with over 100 sites. They are open from April 1 through November 30. Some sites are situated on the bluff overlooking the Pacific Ocean while others are more secluded among the trees. All sites have picnic tables and fire pits. Nearby are chemical toilets, piped water, and hot showers. Group sites are available.
Salt Point State Park Campgrounds
Location
Highway 1, about 8 miles north of Fort Ross
(707) 847-3221
Open sunrise to sunset
$8 for day use
Campground and Campsite Facilities
Campsites have fire ring, picnic table and food locker.
Restrooms, but no showers
Trailers up to 31 feet, RVs up to 27 feet
Woodside Campground
Located on the east side of Highway 1
79 campsites in two loops
Lower loop is 0.8 miles from Gerstle Cove
Upper loop is 1 mile from Gerstle Cove
Gerstle Cove Campground
Situated atop the coastal bluffs on the ocean side of Highway 1
30 campsites
0.3 miles from Gerstle Cove
Overflow Camping
Overflow camping is located near Gerstle Cove Campground. It is for self-contained vehicles only. No restrooms or water are available.
Walk-in Campsites
The walk-in campsites at Salt Point State Park are closed.
Group Campsites and Hiker/Biker Campsites
The group camp is on the ocean side of Highway 1 and accommodates up to 40 people and 10 cars.
Ten sites for hikers or bicyclers are located behind the ranger office near Woodside Campground.
Fees and Reservations
Standard Sites: $35 per night
Group Site: $200 per night
Online Reservations at ReserveCalifornia:
Salt Point State Park Campground Reservations
or call (800) 444-PARK (7275) between 8 AM and 6 PM
Fort Ross State Historic Park
Reef Campground
Location
Highway 1, twelve miles north of Jenner
(707) 847-3286
Park Hours and Fees
Park grounds open sunrise to sunset
Day-use fee: $8
Campground Facilities
21 small, primitive campsites
First-come, first served (no reservations)
Maximum 8 people per site
Maximum vehicle length 18 feet
Picnic table, fire ring. water faucets
Restrooms
Camping Fees
$25 per night
Regulations (partial list)
Dogs must be on leash, dogs only allowed in main parking area, service road, and campground
Dogs must be inside a tent or vehicle at night.
Dogs may not be left unattended.
All natural features are protected.
No fires or glass on the beach.
Alcohol is only allowed in campsites.
No waste water disposal at campground (includes dish water). All such water must be collected and disposed of at a sanitation station.
Anchor Bay Campground
Anchor Bay, south of Point Arena
Anchor Bay Campground
RV Park Amenities: Restrooms, hot showers (coin operated), dump station, fish cleaning house, dive gear wash area, recreation area, small store
Campsites: 30 overnight sites, 9 in the woods, 21 at or on the beach, picnic tables, fire pit, most with water hook-ups, WiFi, electric hook-up sites available,
Rates: $$
Reservations: (707) 884-4222 (between 9 AM and 5 PM)
Stillwater Cove Regional Park
22455 Highway 1, Jenner, CA
Stillwater Cove Regional Park is located mid-way between Fort Ross and Salt Point. The park features beaches, fishing, kayaking, and picnicking. It is operated by Sonoma County.
Camping
Stillwater Cove Park has 23 individual campsites and a hiker/bicycle site. The campground provides potable water, restrooms with coin-operated showers, flush toilets, and electrical outlets. There is also a dump station. There are no RV hook-ups.
Rates: $32 per night. Sonoma County residents may be eligible for a discount.
Stillwater Cove Regional Park Camping Reservations