Seacliff State Beach Camping
Camping at Seacliff State Beach is limited to RVs or trailers which must have fully operating, permanently installed, self-contained plumbing. However, there are a number of hook-up sites with water, electricity and sewer. The camping area is composed of a long row of paved RV parking slots facing the beach. Most are wide enough to allow a small outdoor area adjacent to the RV.
The campground is divided into four sections: Lots A,B, and C and a hook-up area. Campers should provide their own picnic table and raised fire ring. Many people roll out a patch of artificial turf and set up camp chairs beside their RV.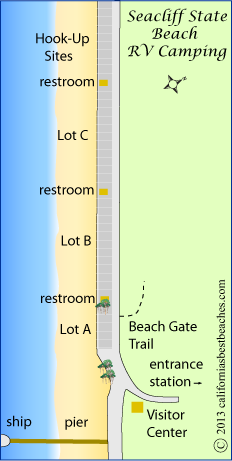 Other Nearby Camping Choices
Seacliff Center RV Park
234 State Park Drive, Aptos, CA
Reservations required: (831) 688-3813 Seacliff Center RV Park
32 campsites that accommodate RVs up to 34 feet. Full hook-ups with 30-50 amp service. Within easy walking distance of Seacliff State Beach. $40 per night, $200 per week
New Brighton State Beach
Just a little over a mile up the coast from Seacliff State Beach is New Brighton State Beach with a 93-acre campground. Campsites are located on the bluff overlooking the beach.
Manresa State Beach
About 5 miles down the coast from Seacliff State Beach is Manresa State Beach.
California's Best Beaches
Every effort is made to provide accurate and up to date information, but we cannot be responsible for errors or for changes that may have occurred since publication. Always confirm information with the service provider and check for any recent changes that may have been made. Also, check with lifeguards that conditions at the beach are safe for your planned activities.
The map displayed above is for illustrative purposes only. California's Best Beaches website makes no warranties regarding the accuracy, completeness, reliability or suitability of any of its maps. The information provided on this website is done so without warranty of any kind, either expressed or implied, including but not limited to, the implied warranties of merchantability and fitness for a particular purpose.