Caution: Check with rangers or lifeguards that conditions are safe for your planned activities.
Silver Strand State Beach Surfing
Silver Strand State Beach surf draws a good number of intermediate surfers out to enjoy the beach break. Swells from the south and west generate some of the best waves. Silver Strand is known for its wind. The best surfing is generally through the summer and into fall.
Kite Surfing at Silver Strand
Silver Strand State Beach is known to have the best winds for kite surfing in the San Diego area. Kite surfers launch from the southern end of the beach, south of the southernmost parking lot and away from the majority of sun bathers and swimmers. There, kite surfers have a designated launch and land area that extends 132 yards along the beach.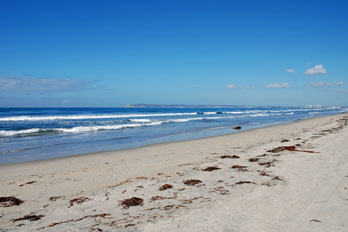 Crown Cove Aquatic Center
Coronado Surfing Academy
The Coronado Surfing Academy offers private, semi-private, and group surfing lessons at Silver Strand Beach. They also have Surf Camps offered through the City of Coronado's recreation department.
Coronado Surfing Academy

Coronado Surfing Academy Half Day Surf Camp is taught by first aid/CPR certified instructors. Week long sessions from 9 AM to noon.
City of Coronado Recreation Services
Surfboard Rentals
Coronado Surfing Academy
Rentals of surfboards with wetsuits
Delivered to Silver Strand State Beach
(619) 293-3883
Coronado Surfing Academy Rentals
2018 Silver Strand Junior Lifeguards
Girls and boys ages 9 through 16 are invited to participate in Silver Strand State Beach's Junior Lifeguards program.
Silver Strand State Beach Junior Lifeguards - 2018
Junior Lifeguards develop of range of ocean related skills and information from experienced beach lifeguards. Participants learn about ocean and beach safety, first aid, CPR, and water rescue techniques while at the same time developing their physical fitness. Activities include body surfing and surfing.
Tryouts
All new participants in Junior Lifeguards must attend a tryout in order to participate. Tryout dates are offered at specified dates in June at Silver Strand State Beach at tower #9, on the bay side of the highway.
2018 Junior Lifeguard Sessions
Junior Lifeguards session run Monday through Friday from 9 AM to 2 PM (except no class on the 4th of July)
Session 1 June 18 - July 13, 2018
Session 2 July 23 - August 17, 2018
Silver Strand State Beach
Programs and Activities
Silver Strand State Beach offers a number of programs and activities throughout the year, including Nature Walks, Kayak Tours, Beach Clean-ups, and Junior Rangers.
Silver Strand Beach Activities
Confirm dates and times with Heather.Sanderson@parks.ca.gov
Nature Walks
Join a state park docent on an hour-long nature walk. Participants will observe local animals and plants in the various habitats within the state beach. Binoculars and hand-lenses are used to assist in your discoveries. The walks begin every Sunday at 1:30 PM at the lifeguard headquarters on the ocean side of the highway. Just look for the tall lifeguard tower.
Kayak Tours
Guided kayak tours of San Diego Bay are offered on summer Saturdays from 9:30 AM to 11:30 AM. The tours are available for anyone ages 5 and older. Those under 10 must ride in a tandem kayak with an adult. Anyone under 18 must have an accompanying adult on the outing. The activity begins at Loews Resort. Reservations must be made no later than 4 PM the day before. Call the marina at Loews Resort at (619) 424-4466. $35 per person.
Explore and Restore Silver Strand State Beach
Join a one-hour walking tour of the beach and then join in to help with beach clean-up. Children should have an accompanying adult. The activity is offered on summer Sundays from 9:30 AM to 11:30 AM. Meet in the lobby of Loews Resort. There is a fee to park at the resort. Please sign up by contacting the concierge at Loews Resort. Call (619)424-4000 and ask for the concierge.
Campfire Programs
Campfire programs are provided at the fire ring next to the lifeguard headquarters on select evenings during the summer. Check the Silver Strand Beach Activities for the dates. Programs run from 7 PM to 8 PM and cover topics such as the California Grunion and the Western Snowy Plover. Programs also include singing, games, and storytelling.
Junior Rangers
Children ages 7 to 12 are invited to participate in the California State Parks Junior Rangers program. Activities include walks, games, presentations, investigations, art, and more. Children earn awards such as pins, patches, and posters as they move through the activities. Junior Rangers is offered on Saturdays from 3:30 PM to 4:30 PM. Meet at the lifeguard headquarters (the tall tower) on the ocean side of the highway.
Crown Cove Aquatic Center
The Crown Cove Aquatic Center is a collaboration between state agencies and Southwestern College, which operates the center. The Aquatic Center offers a range of educational and recreational aquatic activities to area communities. Their primary goal is to promote safe boating education and instruction. They offer instruction in stand-up paddleboarding, canoeing, kayaking, sailing, and surfing.
Southwestern College credit-courses are offered to students in 9th grade and higher. Day camps are available year-round for ages 7 to 17. Fee-based classes are offered in many aquatic sports. They also have private lessons, group team building, and equipment rentals.
Southwestern College - Crown Cove Aquatic Center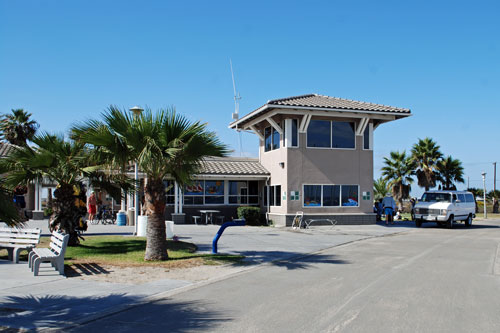 Crown Cove Aquatic Center
Nearby
Events and Activities
Silver Strand Half Marathon
November 11, 2018
Coronado to Imperial Beach
Half marathon/10 miles and 5K
Silver Strand Half Marathon
Coronado Summer Concert Series
Late May - early September, 2018
Spreckles Park, Sundays, 6 PM
Coronado Summer Concert Series
Superfrog Triathlon
September TBA, 2018
Imperial Beach, 7 AM
Superfrog Triathlon
Coronado Ferry Landing
1201 First Street
Ferries across the bay to San Diego's Broadway Pier and Convention Center
Shops, art galleries, restaurants
Coronado Ferry landing
Flagship Cruises and Events
990 North Harbor Drive,
San Diego, CA
Dinner cruises, private charters, patriot jet boat rides, harbor tours, whale watching, water taxi
Flagship Cruises and Events
Hollands Bicycles
977 Orange Ave., Coronado
Bike rentals: cruisers, hybrids, tandems, surries
Hollands Bicycles
San Diego Bay
Shops, restaurants, hotels, parks, marinas, attractions
All along 34 miles of waterfront
Paths for walking, cycling, jogging
San Diego Bay
Coronado Museum of History & Art
1100 Orange Avenue, Coronado, CA
Weekdays 9 AM to 5 PM, weekends 10 AM to 5 PM
The Enchanted Island Gallery and The Hotel del Coronado & Tent City Gallery
Special exhibits
Coronado Museum of History & Art
Coronado Skate Park
2000 Mullinex in Tidelands Park
16,000 square feet of ramps, bowls, grinds and jumps.
Skateboards and in-line skates only, safety gear required
Coronado Skate Park