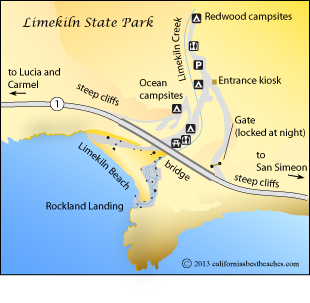 Limekiln State Park
Limekiln Beach is part of 711-acre Limekiln State Park on the southern Big Sur coast. The park is named after four towering limekilns which stand along Limekiln Creek. 100-foot high Limekiln Falls is a favorite attraction in the park.
The small beach is virtually under the shadow of a Highway 1 bridge. Steep cliffs rise on either side of the narrow valley created by Limekiln Creek. A steep beach, rugged surf, and strong rip currents make it too dangerous for wading or swimming. Visitors enjoy picnicking on the sand and photographing the sunset here.
The opportunity to camp close to the sound of rolling surf makes Limekiln State Park a worthy attraction for beach lovers. The campground makes a good base for visiting nearby beaches:
Limekiln Campgrounds
Limekiln State Park has 29 campsites. Some are located in the redwoods along Limekiln Creek. Those sites are for tent campers only. Other sites for RVs or tents are situated near the beach. Up to 8 people may occupy each site. Because of the small campsites, RVs are limed to 24 feet and trailers to 15 feet. Each site has a picnic table and fire ring. Restrooms have flush toilets. Hot showers are available, 25 cents for 3 minutes.
Reservations
Online Reservations at ReserveCalifornia:
Limekiln State Park Campground Reservations
or call (800) 444-PARK (7275) between 8 AM and 6 PM. Reservations are not site specific. You will be assigned a site when you arrive. Camping fees are $35, plus any reservation service fee ($8).
What Previous Visitors are Saying
Friendly staff and clean restrooms.
Watch out for raccoons stealing your food.
Campsites are small and close together.
Ocean Safety
California State Parks and Recreation cautions that "large surf, cold water temperatures, backwash, sudden drop-offs, pounding shorebreak, and dangerous rip currents can turn what seem like safe activities such as playing near the surf line, wading, or climbing on rock outcroppings, deadly." Learn more about ocean safety at
CA State Parks: Ocean Safety
California's Best Beaches
Every effort is made to provide accurate and up to date information, but we cannot be responsible for errors or for changes that may have occurred since publication. Always confirm information with the service provider and check for any recent changes that may have been made. Also, check with lifeguards that conditions at the beach are safe for your planned activities.
The map displayed above is for illustrative purposes only. California's Best Beaches website makes no warranties regarding the accuracy, completeness, reliability or suitability of any of its maps. The information provided on this website is done so without warranty of any kind, either expressed or implied, including but not limited to, the implied warranties of merchantability and fitness for a particular purpose.