Caution: Check with rangers or lifeguards that conditions are safe for your planned activities.
Enjoying Stinson Beach Facilities
Stinson Beach includes a grassy 51-acre park adjacent to beach where visitors can find more than 100 picnic tables with convenient BBQ grills. Restrooms and outdoor, cold showers are nearby. At the snack shop you can rent kayaks and boogie boards. Across from the snack shack is a small playground area.
Stinson Beach Surfing
Surfers at Stinson Beach enjoy consistent, left and right beach breaks. Waves are especially good with swells arriving from the southwest. Late spring and late summer usually bring the best waves. Often the waves collapse as quickly as they form. Stinson Beach attracts beginners and intermediates, but more experienced surfers usually look elsewhere.
Stinson Beach Surf Camps
Stinson Beach Surf Camp for Kids runs from mid-June to mid-September. Participants are between 6 and 17 years old. The camp works with both beginners and more experienced surfers, adjusting their instruction to meet the needs of their students. All of their staff is CPR and First Aid trained and there is always a Certified Ocean Lifeguard on duty during camp sessions.
During camp participants enjoy morning and afternoon sessions of surfing along with warm-up exercises, a lunch break, and beach games. Week-long sessions run from 9:00 AM to 3:30 PM, Monday through Friday.
Stinson Beach Surf Camp for Kids
Windsurfing and Kitesurfing
Windsurfers at Stinson Beach often have to contend with an onshore wind and waves that break close to shore. Windsurfers are supposed to launch from the north end of the beach. Kitesurfers watch for the most favorable winds, most often arriving during the winter after storms. Lifeguards at Stinson Beach have requested that kitesurfers avoid the main beach during crowded weekends and holidays and launch to the north at Upton Beach.
Surf Shops
Live Water Surf Shop,
3448 Shoreline Highway (Highway 1), Stinson Beach, CA
Surfboards and skateboards for sale, along with clothing, gear, and accessories.
Stinson Beach Surf + Kayak,
3605 Highway 1, Stinson Beach, CA
Rentals of surfboards, stand-up paddle boards, boogie boards, canoes, kayaks, wetsuits, bicycles, and more.
2 Mile Surf Shop,
22 Brighton Ave, Bolinas, CA
Rentals of surfboards, stand-up paddle boards, boogie boards, wetsuits, skim boards, and more
Surf Lesson rental packages with Bolinas Surf Lessons. Bolinas Surf Lessons also offers surf summer camps from mid-June through mid-August for ages 6 and older.
Sports on the Sand
Soccer
Stinson Beach is a popular location for soccer tournaments. During tournament times the southern end of the beach is taken over by up to a dozen small soccer fields marked out in the sand.
Pro-Am Beach Soccer's Annual Stinson Beach Challenge
In past years the Stinson Beach Challenge was held in April. Yhe tournament include Micro Soccer (teams of 4), U9 Division (teams of 6), and other divisions with teams of 5. Divisions for men, women, and co-ed. However in 2016, the event was moved to Ocean Beach in San Francisco. Check their website to see if it returns to Stinton Beach in 2018.
Pro-Am Beach Soccer - Stinson Beach Challenge
Volleyball
Volleyball courts are available at Stinson Beach. Either bring your own net and ball or pick them up from the lifeguards.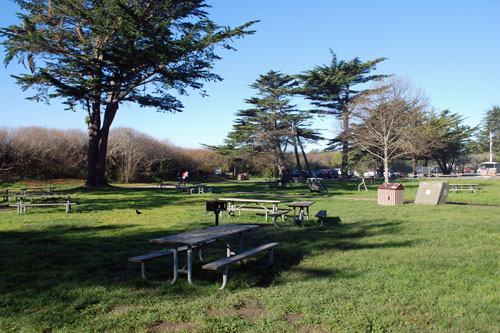 Stinson Beach Picnic Areas
Fishing at Stinson Beach
Fishing from the beach is permitted at Stinson Beach as long as it is not too crowded. Surf anglers cast over the close-in shore break and are rewarded with an abundance of perch along with occasional sole, flounder, and halibut. Among the most popular baits here are sand crabs, blood worms, pile worms, and Berkley Gulp Sandworms
.
Dipsea Race
The 7.4-mile Dipsea Race from Mill Valley to Stinson Beach is held annually on the second Sunday in June. The race course is known for its winding trails, steep uphill sections and its scenic beauty. The popular race is limited to 1,500 runners each year.
2018 Race
June 10, 2018, 8:30 AM
The Dipsea Race
Nearby Activities and Events
Stinson Beach Marathon,
Half Marathon, and 7-Mile
October TBA, 2018
Starts at 9:00 AM
Course begins by following Dipsea route,
Stinson Beach Marathon
Muir Woods National Monument
1 Muir Woods Road, Mill Valley, CA
Off Highway 1
6 miles of trails through redwood forest
7 admission for those 16 and older, children free
Muir Woods
Olema Valley
North of Stinson Beach on Highway 1, stretching from Bolinas Lagoon to Tomales Bay
Rolling grasslands and forest, San Andreas Fault rift
Olema Valley
Bolinas Lagoon
1,100-acre tidal estuary
Great birding area
Bolinas Lagoon
Audubon Canyon Ranch & Martin Griffin Preserve
Non-profit environmental conservation and education organization
Preserve is open from spring through mid-December to those who are curious about the natural world.
Guided or self-guided tours.
Audubon Canyon Ranch