Sunset State Beach Camping
At one time camping was allowed along the lower sand dunes next to the beach where picnic tables are found today. The campgrounds were moved up onto the bluff to protect the fragile beach environment and to provide many more sites for the public.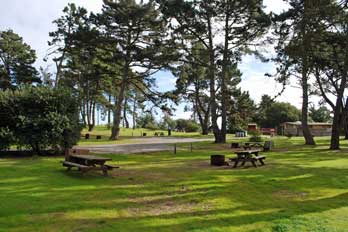 Advice from Previous Campers
Overnight Dew: Overnight condensations settles on everything in your camp. Bring rags to wipe down chairs and table or cover at night.
Bring a kite.
Favorite Campsites: 25 - 37, 73 and 75
Showers: Bring quarters for showers.
California's Best Beaches
Every effort is made to provide accurate and up to date information, but we cannot be responsible for errors or for changes that may have occurred since publication. Always confirm information with the service provider and check for any recent changes that may have been made. Also, check with lifeguards that conditions at the beach are safe for your planned activities.
The map displayed above is for illustrative purposes only. California's Best Beaches website makes no warranties regarding the accuracy, completeness, reliability or suitability of any of its maps. The information provided on this website is done so without warranty of any kind, either expressed or implied, including but not limited to, the implied warranties of merchantability and fitness for a particular purpose.