Caution: Check with rangers or lifeguards that conditions are safe for your planned activities.
Caution: Check with rangers or lifeguards that conditions are safe for your planned activities.
Twin Lakes State Beach
Junior Lifeguards
Every summer the State of California Department of Parks and Recreation offers its Junior Lifeguards program at Seacliff State Beach. Junior Lifeguards' teaches children how to deal with various water safety situations. The program consists of day camps (usually lasting three to five weeks) that provide instruction in first aid, CPR, ocean safety, rescue techniques, surfing and bodyboarding. The Santa Cruz area programs are held Monday through Friday from 10:00 AM to 3:00 PM.
The Santa Cruz State Junior Lifeguard Program is offered at Twin Lakes, Rio Del Mar, and Manresa State beaches for children ages 6-15. The program for 6-8 year-old children will only be offered at Rio Del Mar Beach, along with programs for 9 to 15 year-old children. The Twin Lakes Junior Lifeguard program meets on the Black Beach side of Twin Lakes Beach. Children new to the programs must attend the April or May swim test tryouts.
Santa Cruz State Junior Lifeguards
(831) 212-7223 or (831) 476-4992
Twin Lakes State Beach 2018 Junior Lifeguard Schedule (ages 9-15)
Session I - June 18 - July 13, 2018
Session II - July 23 - Aug. 17, 2018
Cost: $440 per session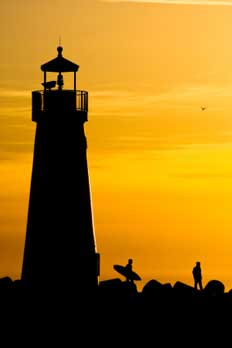 Surfing
On the east jetty of the Santa Cruz harbor is Murph Bar, known for its hollow beach break. This two-way sandbar peak is the result of the dredging that goes on to keep the harbor mouth clear. The best time for Murph Bar is with the swell coming in anywhere from the northwest to the south. Another spot known as the Harbor is, not surprisingly, near the entrance to the harbor.
Boogie boarders have a great time at Twin Lakes Beach as do skim boarders and body surfers.

Monterey Bay Area Water Temperatures
Santa Cruz County Water Quality Reports
Twin Lakes Beach Activities
Schwan Lake
Reach the hiking trails around the north part of Schwan Lake by driving to the Simpkins Family Swim Center, 979 17th Avenue or via trails leading off the south ends of El Dorado Avenue or Live Oak Avenue. Those trails cross the railroad tracks to reach Schwan Lake.
Trails lead through the open land, willows, and oak woodland around the north side of Schwan Lake. The area is particularly good for birding. Look for ducks on the lake, cormorants roosting in the eucalyptus trees, and in the pines for golden-crowned kinglets and pygmy nuthatches.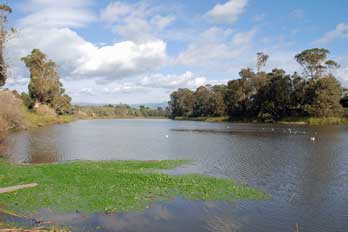 Volleyball
Four regulation-size volleyball courts are located at Harbor Beach on the east side of the harbor entrance, south of the main harbor parking lot. The courts are open to the public for use.
Shoreline Beach Club provides a quality junior beach volleyball programs for girls 11 - 18. They have beginner, intermediate and advanced sessions at Harbor Beach.
Club Shoreline Volleyball
Nearby Activities and Events
Santa Cruz Museum of Natural History
1305 East Cliff Drive
Santa Cruz. CA
Exhibits on the Ohlone Indians, Santa Cruz area geology, wildlife habitats, marine life in Monterey Bay and much more. Many events and changing exhibits.
Summer hours 10:00 AM - 5:00 PM, closed Sundays and Mondays
Admission: $4 adults, $2 seniors, 18 and younger free.
Santa Cruz Museum of Natural History
Santa Cruz Whale Watching
Stagnaro Charter Boats
(800) 979-3370
3-4 hour whale, dolphin, and sea life excursions.
Santa Cruz Whale Watching
Simpkins Family
Swim Center
979 17th Ave., Santa Cruz
(831) 454-7946
Operated by Santa Cruz County Parks.
Four pools: 50-meter lap pool, warm water pool, Splash-Down pool at the bottom of 2-story slide, and Splash Pool (6 inches deep with splash features great for tots)
Adults $6, 12 and under or 60 and over $4
Simpkins Family Swim Center
Pleasure Point Street Faire
June TBA, 2018
11:00 AM - 5:00 PM
Food, vendors, local artists, music and skate competition.
Located on Portola Drive between 38th and 41st avenues.
Pleasure Point Street Fair