Caution: Check with rangers or lifeguards that conditions are safe for your planned activities.
Van Damme Beach Diving
Van Damme Beach is a popular diving location for a variety of reasons. Parking is adjacent to the beach and the ocean only a few yards away. The relatively sheltered cove allows easy access to the water. Close offshore are several reefs worthy of exploration, while nearby along the coast are caves and inlets. Abalone fishing is one of the main attractions of the area. Divers often catch their limit in a short time.
The area is considered especially good for beginning and intermediate divers. The cove is only about 20 to 35 feet deep with a sandy bottom covering most of it. Experienced divers like to explore the north wall, finding plenty of sea life and interesting terrain. At high tide a great 100-foot long sea cave known as Cave of the Trolls is worth visiting.
Divers usually see plenty of abalone, crabs, anemones, sea stars, jellyfish, and sea cucumbers. The kelp beds are good places for finding sea creatures. The pair of offshore rocks known as Key Hole and Top Hat mark the spot where the ocean floor drops off quickly. Spearfishing is usually best out there.
Abalone Season: Generally from April - June and August - November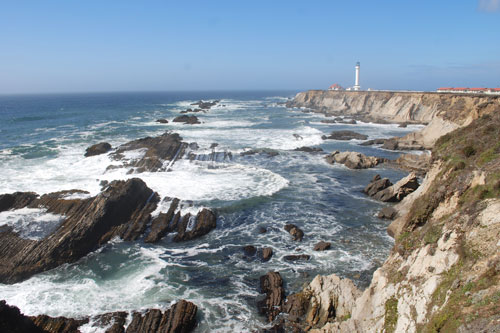 Local Dive Shops
Sub-Surface Progression Dive Shop
18600 N. Highway 1, Fort Bragg, CA
(707) 964-3793 Sub-Surface Progression Dive Shop
Sales and rentals of SCUBA diving gear, abalone diving equipment, kayaks, and surfboards and boogie boards.
Van Damme State Park Hiking Trails
Hikers have a number of good trails they can explore in Van Damme State Parks 1831 acres. Usually at the top of everyone's list is the Fern Canyon Trail leading up the Little River valley. The complete hike is 7 miles out and back. Hikers enjoy a lush redwood forest, a variety of ferns, and even a small waterfall. In winter some bridges may be removed, so check with the ranger before setting out. Winter hikers are often rewarded with sightings of salmon spawning in the river.
The Pygmy forest Self-Guided Nature Boardwalk is accessed off Airport Road, which leaves Highway 1 just south of the Van Damme State Park entrance and the golf course. The loop trail is only about 300 yards in length, but it connects to the Old Logging Road Trail for longer hikes.
A short hike from near the entrance to the park on the Bog Trail leads to a meadow of skunk cabbage which blooms in the spring with beautiful yellow flowers.
Birds along the Trails
Birds often sighted along the trails in the park include Gray Jay, Swainson's thrushes, warblers, swallows, Allen's hummingbird, red crossbills, Pacific-slope flycatchers, and wrens. Occasionally hikers catch sight of northern spotted owls, kingfishers,
Kayaking at Van Damme Beach
The waters along the coast near Van Damme Beach are favorite areas for kayakers to explore. An easy launch from the beach in the protected waters of the cove gets kayakers off to an good start. From there they can turn either north or south and find relatively calm water.
In the summer Kayak Mendocino is set up on Van Damme Beach, offering guided kayak tours. Among the favorites is their sea cave tour along the sheltered north coast out of the cove. Participants paddle sit-on-top kayaks. Kayak Mendocino also has an Albion River Nature Tour, stand-up paddleboard tours at Van Damme, and kayak surfing lessons.
Cave Tours: 9:00 AM, 11:30 AM, and 2:00 PM
Reservations: (707) 937-0700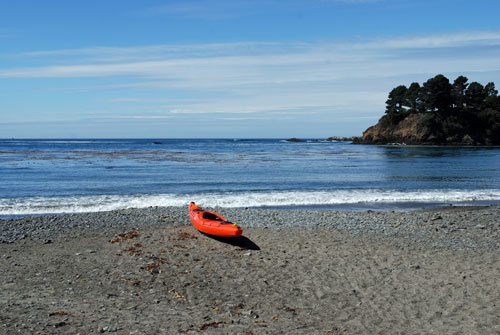 Van Damme State Park Visitor Center
The Visitor Center, located in a historic 1930s building, is a great mixture of gift shop and local history. Exhibits about sea life, the lumber industry, diving, and other activities in the area are on display there. The Visitor Center's Living with the Sea exhibit includes a simulated surge channel where you can learn about sea life in the inter-tidal zone. The Visitor Center is open from late May until November 1
Nearby Activities and Events
Nearby Activities and Events
World Champion Abalone Cook-off
October 7, 2017
South Noyo Harbor, Fort Bragg
Dance to live music, savor wines, sample abalone and clam chowder, silent auction
Cooks compete by preparing their favorite abalone recipes
Abalone Cook-off
Mendocino Whale Festivals
First 3 weekends in March
3 weekends, 3 locations:
Mendocino, March 3-4, 2018
Little River (Van Damme SP), March 10-12, 2018
Fort Bragg, March 17-18, 2018
All Aboard Adventures
Whale Watching Tours
Noyo Harbor, Fort Bragg
2-hour trips aboard the 30-passenger Sea Hawk
December 26 through April 30
All Aboard Adventures
Historic Walking Tours
Saturdays and Sundays, 11:00 AM
Kelley House, Mendocino
Docent-led 2-hour stroll through historic Mendocino, $10
Walking Tours
Mendocino Music Festival
July 7-21, 2018
Director and Conductor Allan Pollack guides the Mendocino Music Festival Orchestra
Mendocino Music Festival
Temple of Kwan Tai
45160 Albion St., Mendocino
Taoist temple dedicated to the Chinese god of war
Tours offered by appointment
Temple of Kwan Tai
Unbeaten Path Tours
Guided walking tours of unique places along the Mendocino coast
Stornetta Lands Tour, Architectural Tour, Photographer's Tour, Seascape Tour, and many more.
(707) 888-6121
Unbeaten Path Tours