Caution: Check with rangers or lifeguards that conditions are safe for your planned activities.
Surfing at Venice Beach
The Venice Breakwater draws surfers from the area, always expecting something different in the break. Located north of the lifeguard headquarters, a rock breakwater parallels the beach just offshore, creating a sandbar that usually generates a consistent, gentle break.
The breakwater is considered good spot for beginner and intermediate surfers. Occasionally with the right swells the waves can be hollow and powerful. Rip-currents and rocks are hazards. A specific surfing area is marked with red flags to avoid conflicts with swimmers. Boogie boarding and skim boarding are popular along the beach.
Kiteboarding
Kiteboarding is allowed at Venice Beach south of Ketch Street, which is beyond the Venice Fishing Pier and well down toward the end of the beach.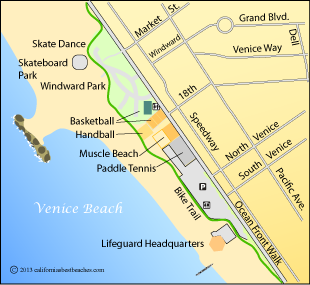 Ocean Front Walk
The spectacle that defines Venice Beach can usually be found along Ocean Front Walk at the foot of Venice Boulevard and north to Windward Park. The pedestrian walkway extends along the edge of the beach from end to end. For those who would rather stroll than watch the side-show performers, the 2-mile long path provides a great view of Venice Beach. Once beyond the congestion around the Windward Park and the sports areas, walkers enjoy a relaxing amble along the promenade.
Venice Beach Performers
Street performers of all kinds migrate to Venice Beach where they know their acts will attract an eager audience. Expect anything from dancers to snake charmers, chainsaw jugglers to amazing balancing acts. It is considered good etiquette to offer a small donation ($1) for any performance you watch for a period of time or photograph.
Beside the talented performers you will likely encounter a number of oddities. Many are harmless eccentrics, others are best avoided by moving past them with purpose. The number one advice to tourists is to keep close watch of your possessions.
Muscle Beach
Muscle Beach is found two blocks north of Venice Boulevard along Ocean Front Walk. A giant concrete barbell atop the Muscle Beach Gym marks the spot. There are bleachers arranged for spectators to watch body builders and gymnasts work out. The area includes weight lifting equipment along with acrobatic bars, rope climbing, and other gymnastic equipment.
The gym is operated by the City of Los Angeles Recreation and Parks. A day pass is $10, a week costs $50, and a yearly membership is $170.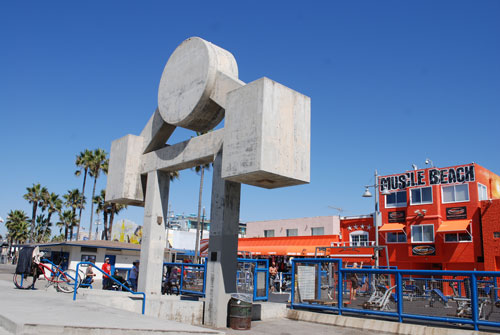 2018 Muscle Beach Competitions
The Muscle Beach International Classic
May 28 2018
Mr. & Mrs. Muscle Beach
July 4, 2018
Both events held at Venice Beach Recreation Center, 1800 Ocean Front Walk. Free admission.
Venice Muscle Beach
Venice Beach Basketball
Venice Beach's basketball courts, found between Muscle Beach and Windward Plaza, are famous for the high quality of play. Pick-up games can be intense. Tournaments and leagues at Venice Beach attract top players from across the country. Professional basketball players are known to show up to watch or play.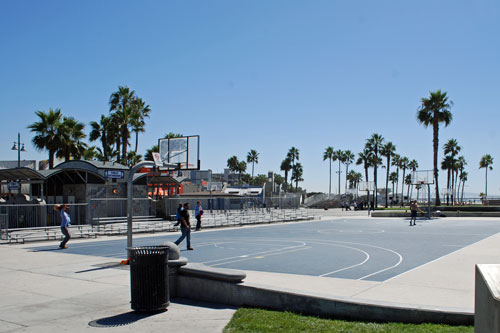 The main attraction court is located in Windward Plaza and draws huge crowds when big games are on the venue. The annual Venice Basketball League in partnership with SPL, a pro-am league, tips off at 12:30 PM on Sundays beginning in early June.
Kids Venice Ball is a youth basketball camp for ages 6-13, sponsored by KVBL.
Venice Ball
Venice Beach Paddle Tennis
The 11 paddle tennis courts at 1800 Ocean Front Walk are open to the public. The courts are smaller than standard tennis courts and paddles are used instead of rackets. Paddles and balls can be picked up for $5 from the nearby Recreation and Parks Office. Except for special events, the courts are first come, first served.
Paddle Tennis at Venice Beach
Venice Beach Handball
4 outdoor handball courts are next to the basketball courts. Like the other facilities, they are open to the public on a first come, first served basis. The Big West Shoot-out 3-Wall Big Ball Singles tournament will be held at Venice Beach on April 2017, the Summer Slam (big ball) Doubles, is scheduled for June 2017, and the Pacific Coast Big Ball Challenge arrives in August, 2017.
Venice Beach Skateboard Park
The 16,000-square-foot Venice Beach Skateboard Park is located on the sand next to Windward Park. Smooth concrete pools, and street sections with boxes, ledges, rails and stairs attract everyone from novices to professionals. It is open to the public from 9:00 AM to sunset. There is no entry fee. Safety gear must be worn by skaters. Scooters, BMX, and bikes are not permitted.
Venice Beach Skate Dance Plaza
The Venice Beach Skate Dancers perform to music on roller skates at Skate Dance Plaza (Windward Park). The Venice Beach Skate Dancers have been leaders in skate dancing for more than 30 years. Sunday afternoons are usually the best time to catch their performances. Skaters are welcome to join in the fun.
Venice Beach Skate Dancers
Venice Beach Drum Circle
The Venice Beach Drum Circle evolved on its own, created by people with a common interest in drums and rhythms and from a desire to express themselves in an unstructured musical forum. They usually gather on the weekends on the beach at the foot of Brooks Avenue. Come experience the joy of their rythmns.
Surfing Lessons and Camps
Venice Beach Surf School
Surfing lessons, stand-up paddleboard lessons, surf camp, paddleboard camp, adult camps
Venice Beach Surf School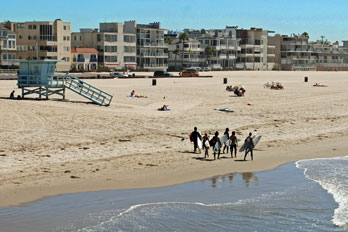 Venice Beach Surf Camp
Kids' summer day camp - activities include skim boarding, nature walks, surfing, boogie boarding, paddleboarding, and swimming. For ages 5 -15
Private and group surf lessons available
Venice Beach Surf Camp
Aqua Surf School, Inc.
Private and group lessons scheduled anytime from 7:00 AM to 6:00 PM, every day, year-round. Lessons for anyone age 4 through adult, from beginners to advanced levels. Surfboards and wetsuits provided. 1, 1½, and 2 hour lessons. Week-long surf camps for ages 6 - 17 at Venice Beach from 9:00 AM to 3:00 PM all summer long.
Aqua Surf School, Inc.
Venice Fishing Pier
The Venice Fishing Pier extends 1,310 feet into Santa Monica Bay, with plenty of room along its length for anglers. The pier is open from 6:00 AM to midnight. Sections of the pier have 28 inch high railings for use by people in wheelchairs, while the rest of the railings are at a standard 41-inch height. A sandy bottom is found along the first half of the pier while out toward the end an artificial rock reef was deposited. At its tip is a circular area, providing more room for fishermen.
Anglers land a wide range of fish from the Venice Pier: guitarfish, croaker, corbina, surfperch, halibut, mackerel, jacksmelt, stingrays, bonito, kelp bass, sharks, and barracuda. Among the most popular baits are bloodworms, mussels, sand crabs, anchovy, and squid.
Facilities on the pier include fish cleaning stations, lights, and benches. Restrooms are found on shore near the parking lot.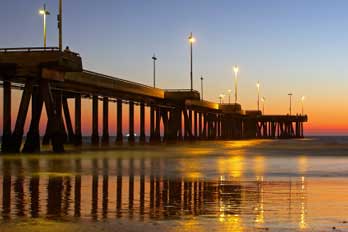 Venice Oceanarium
The Venice Oceanarium describes itself as a museum without walls. They host events on Venice Pier and on the beach with the mission of offering to the public a better understanding of the ocean and marine life. On most Sundays you will find an exhibit set up on the pier from about 11:30 AM to 2:30 PM.
Every year they host a reading of Moby Dick on the beach. When the grunion are running, the Oceanarium hosts a Grunion Party, inviting everyone to the beach to see the run of hundreds of silvery fish. They also have school programs and boat trips.
Venice Oceanarium