Caution: Check with rangers or lifeguards that conditions are safe for your planned activities.
Emma Wood State Beach Activities
Surfing at Emma Wood
Emma Wood State Beach draws surfers year-round with the summer months becoming crowded. The right beach break at the northern end of the park is known as J-Bowls. At the south end of the park a left break is called Mushpots. The best waves generally come with swells rolling in from the west, southwest, and northwest.
There is also a reef break known as Ventura Overhead that experienced surfers wait for. It only happens a few times a year. When it does show up, it's the best wave anywhere along this part of the coast.
Kitesurfing
The long beach and steady wind at Emma Wood State Beach attracts a number of kite surfers. Experienced kitesurfers take care to launch themselves and land in a manner that will not interfere with other beach-goers. Emma Wood is not considered a good place for beginners to learn kitesurfing.
Local Surf Shops
Ventura Surf Shop
88 East Thompson Blvd., Ventura, CA
Sales and rentals
(805) 643-1062 Ventura Surf Shop

Seaward Surf & Sport
1082 South Seaward Avenue, Ventura, CA
Rentals, sales, lessons
(805) 648-4742 Seaward Surf & Sport
Ventura Makos Surf Camp
Surf camps, private lessons, after school program.
(805) 312-0713 Ventura Makos Surf Camp
Mary Osborne Surf Camp
Kids summer surf camps for all ages
Mary Osborne Surf Camp
Surf Fishing at Emma Wood
The coast along Emma Wood State Beach is a popular surf fishing spot. Anglers pull in corbina, perch, halibut, cabezon and bass. Many going after perch or corbina favor a Carolina rig with a chunk of bloodworm or grub for bait. Anchovie swimbaits are a good choice for halibut.
Some fishermen report good luck casting from the shore north of the park entrance. Another spot worth trying is at the mouth of the Ventura River when it is flowing into the ocean.
Eric's Tackle Shop
2127 East Thompson Blvd., Ventura, CA
(805) 648-5665 Eric's Tackle shop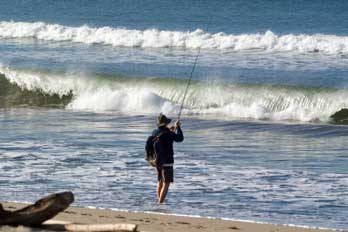 WWII Coastal Artillery Guns
At the mouth of the Ventura River, now swept by waves, are two circular gun emplacements constructed during World War II as part of California's coastal defense. Fears of an attack on the West coast were heightened when in 1942 a Japanese submarine surfaced and fired its deck guns on oil wells and storage tanks 12 miles north of Santa Barbara.
The twin concrete circles, known as Panama mounts, are 38 feet in diameter. Before beach erosion put them in the surf zone, they stood well back from the water. Mounted atop the foundations were two 155 mm cannons, which fired 95-pound shells up to 14 miles.
The 2nd Platoon of the 56th Coast Artillery Regiment set up a camp nearby and remained on duty at Battery Two through January 1944 when it became clear that the California coast was no longer in danger. At that time the cannons were removed.
Hiking Trails
Ocean's Edge Trail
The Ocean's Edge Trail begins at the Ventura River Group Camp and runs along the edge of the beach for about ¾ of a mile to the mouth of the Ventura River. After leaving the parking area, the trail passes through a tunnel under the railroad track. From there take a left and follow the coast to the estuary by the river. A dozen signs along the route provide information about the plants and animals of the area. Watch for egrets, California brown pelicans, ducks, and gulls.
Emma Wood River Trail
Beginning again at the Ventura River Group Camp, the River Trail makes a ¾-mile loop through the forested area east of the campground.
Ventura Tide Chart
Friends of Ventura River
Friends of Ventura River is a coalition of community members and groups dedicated to the restoration of the Ventura and the establishment of a Ventura River Parkway. Among the resources they provide are a Ventura River Parkway Brochure and a detailed map of the parkway, its features and trails, from the river mouth at Emma Wood State Beach upstream to Matilija Dam.
Friends of the Ventura River
Dolphin Watch
Emma Wood State Beach is known as one of the best places along this section of coast to watch for pods of dolphins. Among these species most like spotted off the coast are Pacific white-sided dolphins, Pacific bottle-nose dolphins, and much larger Risso's dolphins. It is usually the Pacific white-sided dolphins that put on displays of leaps and flips.