Emma Wood State Beach
Location
Off US Highway 101
Ventura, CA
(805) 968-1033
Admission
Day use per vehicle: $10
Park Hours: Dawn to dusk
Main Attractions
Swimming, surfing
Surf fishing
Nature trails
Facilities and Features
Parking, restrooms
RV camping, group camping
Bike path
WWII coastal artillery site
Accessibility
Special Regulations
Dogs on leash in campground
No dogs on beach or trails
Hazards Include
Rogue waves
Railroad tracks
Park closures due to high tides, most often in winter
Caution: Check with rangers or lifeguards that conditions are safe for your planned activities.
Nearby Beaches
Faria Beach Park, 6 miles north
Hobson Beach Park, 8½ miles north
Surfer Beach, 1 miles southeast
San Buenventura State Beach, 2 miles southeast
Mandalay Beach, 8 miles south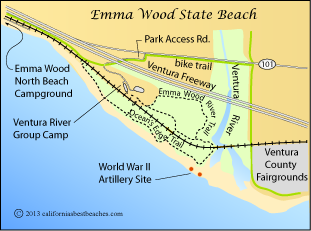 Emma Wood State Beach
Emma Wood State Beach is most popular as a surfing, swimming, and surf fishing destination. Interesting tide pools and nearby wetlands along the mouth of the Ventura River attract nature-minded visitors.
The southern end of the park is accessed via Park Access Road off Highway 101, while the northern end with RV camping spots is reached via State Beach Access Road off Highway 1 (Pacific Coast Highway), several miles north of Ventura. The camping area along north part of the beach is protected by a seawall, but relentless storms have taken their toll.
The best sections of sandy beach at Emma Wood State Beach are found at the far northern end of the park near the entrance station. High tides can inundate the beach (usually in winter), but generally in the summer there is enough sand for a pleasant day of swimming and sandcastle building. A lifeguard tower is located at the north end and lifeguards are on duty during the peak season.
Another good stretch of sand is found at the southern end of the park around the mouth of the Ventura River. It is possible to walk the length of the beach between the two ends of the park, but at one short section hikers may have to turn inland to avoid the waves. Caution should be taken when crossing the railroad tracks, of course.
Cycling Along the Coast
The Ventura Coastal Bike Path provides a cycling route from San Buenaventura State Beach, past Emma Wood State Beach and north to Hobson Beach Park.
The bike/walking path makes a convenient way to travel from campsites at Emma Wood into Ventura. From campsites at the north end of Emma Wood to downtown Ventura is only a 3 mile ride. The full length of the bike route from Ventura to Hobson Beach is 11 miles. Farther up the coast from Emma Wood State Beach the bike trail becomes a bike lane on the shoulder of the Pacific Coast Highway.