Nearby
Activities and Events
Surf City Marathon
February 4, 2018
Marathon and Half Marathon along Pacific Coast Highway past Huntington Beach and Bolsa Chica Beach
Full marathon starts at 6:30 AM, half marathon at 7:45 AM
Estimated entries: 20,000
Surf City Marathon
Bolsa Chica Conservancy Public Service Days
Last Saturday of each month, 9 AM to 12 PM
Join in and help restore the wetlands. Actvities include trash removal, invasive plant removal, planting of native plants.
Bolsa Chica Conservancy Public Service Days
Huntington Beach Concours
June 3-4, 2017
Huntington Beach Central Park
Domestic, British, European, and Asian automobiles, vintage to modern
Huntington Beach Concours
International Surfing Museum
411 Olive Ave.
Huntington Beach, CVA
Open daily, hours vary but always open by noon
International Surfing Museum
Surfin' Sundays Concert Series
Free shows featuring surfing bands at International Surfing Museum or Pier Plaza, Huntington Beach
Runs late April through September
Surfin' Sundays Concert Series
Surf City Nights
Tuesdays, year-round
5 PM to 9 PM
Huntington Beach
Street Fair and Farmers' Market
Food, merchants, live entertainment
Surf City Nights
Books of
Interest for Huntington Beach
Bolsa Chica Beach Activities
Surfing
Surfing at Bolsa Chica Beach is best from summer through the fall, with the biggest waves rolling ashore in the winter. The beach breaks both left and right. The nicely formed waves coupled with a broad sandy beach at Bolsa Chica make it popular with beginners. Experienced surfers gather at the Bolsa Chica Out-flow, where the water from the marsh flows into the ocean. Bolsa Chica can be crowded during the summer.
Caution: Check with rangers or lifeguards that conditions are safe for your planned activities.
Surf Lessons and Camps
Corky Carroll's Surf School
Located at Bolsa Chica State Beach, Corky Carroll's Surf School offers several surf lesson packages that range from private lessons to weekly group lessons. They also have a Beach Adventure for children ages 4 to 12. The Beach Adventure helps children become familiar with the ocean through games and activities.
Corky Carroll's Surf School
Salty Grom Surf Camp
Salty Grom Surf Camps meet at Bolsa Chica State Beach, just north of the main entrance. 5-day surf camps run all summer from 8:30 AM to 1:30 PM. They maintain a 4:1 teacher-student ratio. Their sprunts program is designed especially for ages 5-7 and have a 3:1 instructor - child ratio. Private lessons are also available.
Salty Grom Surf Camp
Huntington Harbor Kayak and Stand-Up Paddleboard Rentals
OEX Sunset Beach
Kayak and Stand-Up Paddleboard rentals, most for use inside Huntington Harbor, only a short distance north of Bolsa Chica State Beach. OEX Sunset Beach has single and double kayaks, single and double Hobie pedal kayaks, and stand-up paddleboards (SUPs). Kayaks rent for 2-hour periods while the SUPs rent by the hour.
They also have kayak and SUP sales and lessons. They are open daily, 9 AM to 6 PM.
16910 Pacific Coast Highway, Sunset Beach, CA
OEX Sunset Beach
Surf City Boat Rentals
Located immediately north of Bolsa Chica State Beach, Surf City Boat Rentals offers Duffy electric boat rentals along with Hobie Mirage paddle or peddle kayaks. Boats are intended for use inside Huntington Harbor.
4911 Warner Avenue #216, Huntington Beach, CA
Surf City Boat Rentals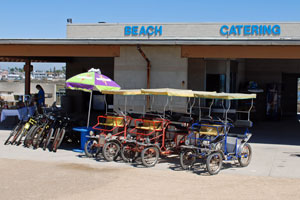 Babes Beach Cafe Rentals
Besides selling refreshments, Babes offers rentals to beach visitors, including a variety of bicycles, umbrellas and chairs, surfboards, boogie boards, and various toys and games. Four Babes locations are found along Bolsa Chica State Beach.
Babes
Huntington Beach Trail
The Huntington Beach Trail is a paved, multi-use pathway that extends 7½ miles from the north end of Bolsa Chica State Beach south to Huntington State Beach. Cyclists on the trail must observe the 5 MPH speed limit. Many walkers enjoy taking the one-way jaunt along the trail and then returning via the OCTD Bus #1 which runs regularly along the Pacific Coast Highway.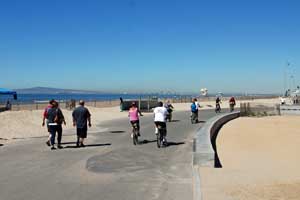 Picnic Areas
Bolsa Chica State Beach has covered and open picnic areas along the length of the beach. Unless reserved, the picnic areas are first-come, first served. A full basketball court near picnic area 18C is also first-come, first-served and may not be reserved. Most picnic areas have BBQs. The 200 fire pits on the sand are all first-come, first-served and available from 6 AM to 10 PM.
Bolsa Chica State Beach has 5 picnic areas which may be reserved ahead of time for small groups. Most have 5 or 6 picnic tables and a covered area to protect picnickers from the sun. There are also BBQs at most sites. Rental fees range from $50 to $200 per site.
Bolsa Chica State Beach Event and Picnic Reservation Information
Bolsa Chica Ecological Reserve
The Bolsa Chica Ecological Reserve is located directly across the Pacific Coast Highway from Bolsa Chica Beach. The Reserve, which extends from Seapoint Avenue north to Warner Avenue, is a protected coastal wetland that is home to a variety of animals and plants.
Two small parking lots provide access to the Reserve. The north lot is located at the Pacific Coast Highway and Warner Avenue, the southern lot is directly across from the main entrance to Bolsa Chica Beach. At the Bolsa Chica Interpretive Center, located at the north parking lot, visitors will find information about the wetlands, exhibits, and maps. The center is open daily from 9 AM to 4 PM.
Various trails lead through the Reserve, providing opportunities for bird watching, wildlife viewing, hiking, and photography.
Educational Trips to
Bolsa Chica State Beach
California State Beaches offer two educational programs for student groups in grades K-12. The Marine Debris and Recycling Program and the Aquatic Safety and State Park Careers Program are available if arranged ahead of time. They also offer a Lifeguard Headquarters Tour. School groups participating in these programs can park for free, but they do ask a $1 per student donation.
California Parks and Recreation Education & Tours
Fishing at Bolsa Chica Beach
Surf Fishing is popular at Bolsa Chica Beach. Anglers cast their lines out for cabezon, croaker, corbina, sand sharks, and perch. In the summer people turn out for the annual grunion run which occurs at new and full moons. The fish must be taken bare-handed, which makes for unusual but entertaining sport.
Ocean Safety
California State Parks and Recreation cautions that "large surf, cold water temperatures, backwash, sudden drop-offs, pounding shorebreak, and dangerous rip currents can turn what seem like safe activities such as playing near the surf line, wading, or climbing on rock outcroppings, deadly." Learn more about ocean safety at CA State Parks: Ocean Safety