San Buenaventura State Beach
Location
San Pedro Street exit off Highway 101
Ventura, CA
(805) 968-1033
Admission
Main Lot day use per vehicle: $10, non-peak season $5
Pier Lot: $10 year-round
Park Hours: Dawn to dusk
Pier open 24 hours a day
Main Attractions
Swimming, surfing
Picnicking
Ventura Pier
Facilities and Features
Parking, restrooms
Snack bar
Picnic area
Beach equipment rental
Promenade and bike trails
Volleyball nets
WiFi within 150'-200' of lifeguard tower
Accessibility
Call (805) 648-3321 for information on reserving a beach wheelchair.
Hazards
Rip currents, especially near the rock jetties
Eroded sand south of the pier, exposed cobbles
Special Regulations
Dogs on leash in park but not on beach.
Nearby Beaches
Faria Beach Park, 8 miles north
Hobson Beach Park, 10½ miles north
Surfer Beach, ½ mile north
Mandalay Beach, 6 miles south
Books of
Local Interest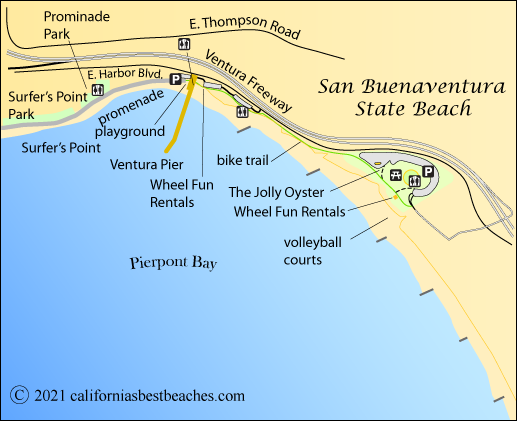 San Buenaventura
State Beach
San Buenaventura State Beach boasts 2 miles of sandy beach right in the heart of Ventura. Recent winter storms eroded some of the sand south of the Ventura Pier, but plenty of beach remains to provide enjoyment for visitors.
San Buenaventura State Beach is the site of numerous events and activities during the year. The Ventura Promenade, which runs along the western end of the beach, is a popular stroll. Sight-seers, fishermen, and picnickers enjoy the 1,700-foot long Ventura Pier year-round. A playground located on the sand next to the pier has swings, slides, and climbing structures that can keep children busy for hours while parents relax on nearby benches.
Promenade Park
Located just east of Surfers' Point and adjacent to the Ventura Promenade, Promenade Park makes a good stopping place for those enjoying a coastal stroll or ride. The park has restrooms, showers, and plenty of shade provided by palm trees.
San Buenaventura Beach Picnic Area
A large picnic area at the beach is set back from the shore in a shallow valley, protecting it somewhat from the wind. There are picnic tables, BBQs, restrooms, and a bike rental shop.
For fresh oysters and clams, look for the Jolly Oyster located in the picnic area. The Kitchen and/or the trailer are open for business every day except Tuesdays.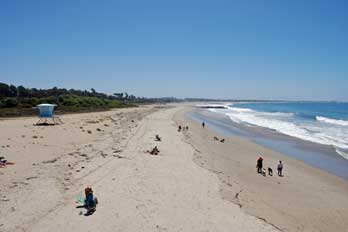 City of Ventura Parking
The City of Ventura offers all-day and 4-hour free parking at most of its downtown parking facilities.
Ventura Parking
Surfers' Point Park
As its name suggests, Surfers' Point is a favorite local surfing spot. Spectators can gather on the beach or back in the shade of the park and watch surfers exhibit their skills on the waves.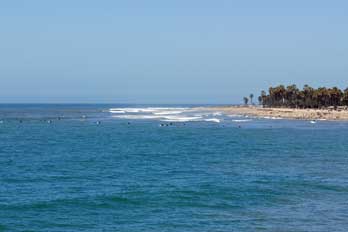 Recent changes to Surfers' Point Park, completed in 2011, have made great improvements to this popular gathering place for surfers and onlookers, cyclists and walkers. Following the Coastal Commission's guidelines of managed retreat, the City of Ventura approved a Restoration Project that included relocating parking lots and realigning the bike path.
The site of the removed parking lot was restored with dunes and cobble. Tons of menacing rebar and rip-rap were removed and replaced with river cobble. Changes to Shoreline Drive have improved parking and traffic flow with the inclusion of a turnaround. Paid parking is located at the end of Shoreline Drive in the fairgrounds. There are now 25 surf check parking spaces along the road where surfers can park briefly to check conditions.
Ocean Safety
California State Parks and Recreation cautions that "large surf, cold water temperatures, backwash, sudden drop-offs, pounding shorebreak, and dangerous rip currents can turn what seem like safe activities such as playing near the surf line, wading, or climbing on rock outcroppings, deadly." Learn more about ocean safety at CA State Parks: Ocean Safety
Search This Site