Windsurfing and Kitesurfing at Cabrillo Beach
Consistent winds and the opportunity to windsurf in the relatively calm water behind the breakwater or the more boisterous seas on the ocean side make Cabrillo Beach a leading area for windsurfing. Winds are usually up to around 20 MPH by the afternoon, especially during the peak months from mid-spring through fall.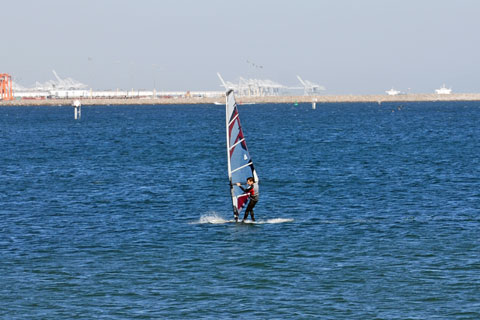 Those launching on the inside of the breakwater usually set up along the strand of beach that parallels the parking lot nearest to the fishing pier. Beginners like to get out in late morning when the winds are mild. More advanced windsurfers head out from the ocean side of the beach. Look for a flagged launch area near the lifeguard headquarters. Known locally as Hurricane Gulch, the ocean out from Cabrillo Beach attracts some of the top windsurfers in the area. Winds can be changeable close to shore, but once well out on the ocean windsurfers experience a strong, steady blow that sends them bouncing across the waves.
Caution: Check with rangers or lifeguards that conditions are safe for your planned activities.
Kitesurfing
Because of strong winds, crowds, and the danger of rocks, Cabrillo Beach is considered best for advanced kitesurfers. Kitesurfers (also known as Kiteboarders) are restricted from launching from Cabrillo Beach on weekends and holidays between Memorial Day weekend and Labor Day weekend. On days when it is permitted to launch there, kitesurfers should launch and remain downwind of windsurfers until 300 yards out from the shore.
Windsurfing and Kitesurfing Rentals and Lessons
Captain Kirk's
525 North Harbor Boulevard, San Pedro, CA
Captain Kirk's
Stand-up paddleboards, windsurfing, kiteboarding
Sales, lessons, and rentals
Xstreamline
1861 N. Gaffey Street, San Pedro, CA
Xstreamline
Sales for Windsurfing, kayaking, stand-up paddling
Summer rentals at Cabrillo Beach or by arrangement from their store.
SUP and kayak lessons at Cabrillo Beach
Surfing Cabrillo Beach
The point break near Cabrillo Beach, known as Spunkies, can draw a good number of surfers on weekends, especially with swells rolling in from the southwest to northwest. Rocks are an obvious danger here.
Local Surf Shops
Vanguard Surf and Skate
5205 Pacific Coast Highway, Torrance, CA
Vanguard Surf and Skate
Surfboards, wetsuits, booties, gloves, and other accessories.
San Pedro Surf & Sport
2234 South Pacific Avenue, San Pedro, CA
San Pedro Surf & Sport
Surfboards (custom made and stock), apparel
Diving at Cabrillo Beach
Cabrillo Beach is a good beginner dive location. Parking is convenient for unloading gear and entry is usually easy off the sandy outer beach. Waves are usually mild. The ocean floor slopes away gradually, only reaching about 25 feet well out from shore. The Cabrillo Beach area is well known for its sand dollar bed a short distance off shore. Divers are asked not to disturb the living colonies.
Local Dive Shops
Pacific Wilderness
1719 South Pacific Avenue
San Pedro, CA
Pacific Wilderness
Sales, classes, rentals, repairs, dive club
Cabrillo Beach Bathhouse
The Cabrillo Beach Bathhouse was built in 1932 and used for the Olympic Games. The bathhouse provided services to beach visitors. It was used at a marine museum for many years before renovations in 2002. Today the historic building is used by the Los Angeles Recreation and Parks Department as a base for watersports and family programs. Attached to the bathhouse are restrooms and showers.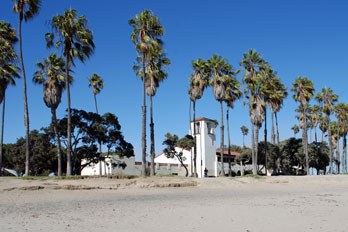 Activities vary during the seasons. Check their current list of activities: Cabrillo Beach Bathhouse
Hours: weekdays 9:00 AM to 6:00 PM, Saturdays 8:00 AM to 4:00 PM. Closed on Sundays and holidays.
(310) 548-7554