Capitola City Beach
Location
Capitola
Santa Cruz County
Admission
Admission free
Hours: Sunrise to sunset
831.475.6522
Main Attractions
Wharf for fishing, boating
Gentle waves, great for children
Close to shops and restaurants
Volleyball
Other Facilities
Restrooms and outdoor showers
Bait shop and boat rentals on wharf
Hazards
Rip currents always possible
Hazardous rocks near jetty
Special Regulations
No pets allowed on beach
No fires on the beach
Glass containers and alcohol prohibited on beach
No portable volleyball nets
Accessibility
Beach shuttle, restrooms, wharf
Nearby Beaches
New Brighton Beach, 1 mile south
Seacliff Beach, 3 miles south
Twin Lakes Beach, 3.5 miles north
Santa Cruz Beach, 5 miles north
Webcam
Beach Books
Capitola Beach
Rather than the long expanses of sand that you find at many other beaches, Capitola's intimate beach is shielded on either end by cliffs. In the winter Soquel Creek empties into the ocean through the middle of the beach, but in the summer the creek becomes an inland lagoon, its diminished flow seeping into the sand rather than crossing it.
Capitola Village merges so smoothly into the beach that one cannot really be separated from the other. Visitors meander back and forth between village and beach, often taking a break for refreshments in a nearby restaurant before returning to the sand. The 855-foot wharf attracts anglers and sightseers. Out in the bay small boats rest peacefully on their moorings.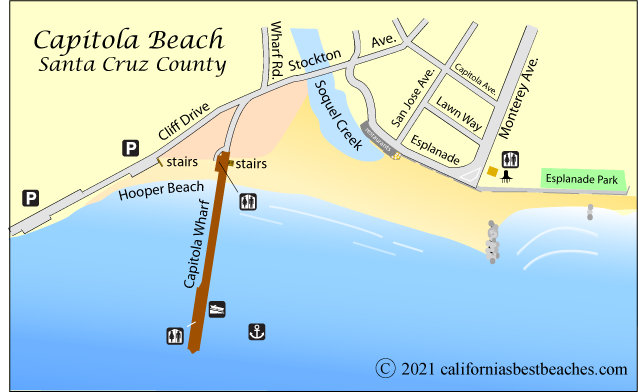 Into the Surf
Tame waves usually make Capitola a great place to play in the surf, to try your skill at stand-up paddle boarding, to skimboard, swim, and kayak. Of course, rip currents are always a danger on any California beach and occasionally a shift in the wind can bring in larger breakers.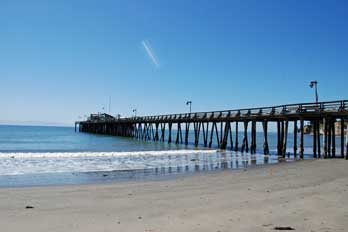 Food and Supplies
The village of Capitola is adjacent to the beach, making it very convenient to stroll into town for anything you might need or want. Restaurants along Riverview Ave. and elsewhere in town cater to beach visitors. Out on the pier the Wharf House Restaurant is a favorite stop for hungry visitors.
Parking in Capitola
Parking can be difficult on busy summer days in Capitola. Knowing where to park can save you a lot of time and aggravation. Bring lots of quarters for street parking or $1 bills or credit/debit card for the Beach and Village parking lots. Parking meters operate from 8:00 AM to 8:00 PM. Residential areas close to Capitola Village are restricted to permit parking only.
Downtown Capitola: Metered, $1.50 per hour, limited to 3 hours maximum. Adding more money to the meter after the 3 hour limit will not extend your stay. This zone includes Stockton, Capitola and Monterey avenues well beyond the immediate downtown area.
Beach and Village Parking Lots 1 and 2: Access is on Capitola Avenue, Bay Avenue and Monterey Avenue. A free summer shuttle runs from the Beach and Village Parking Lot 2 (Lower) down to a stop in the village, 2 blocks from the beach. The shuttle is available Saturdays, Sundays and holidays from 10 AM to 8 PM from Memorial Day weekend through mid-September. Parking is 50 cents per hour up to 12 hours, cash ($1 and $2 bills only) or credit or debit cards. 8 AM to 8 PM.
Cliff Drive: Street-side parking, $1.00 per hour, up to 4 or 12 hours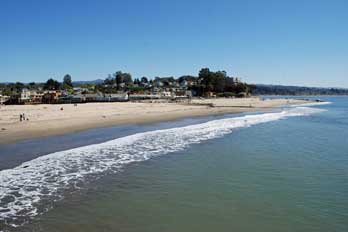 Hooper Beach
The small area of beach west of the wharf is known as Hooper Beach. Limited boat storage is permitted there along the base of the rocks.
Ocean Safety
California State Parks and Recreation cautions that "large surf, cold water temperatures, backwash, sudden drop-offs, pounding shorebreak, and dangerous rip currents can turn what seem like safe activities such as playing near the surf line, wading, or climbing on rock outcroppings, deadly." Learn more about ocean safety at CA State Parks: Ocean Safety
Search This Site