Nearby Beaches
Carlsbad State Beaches
Location
Carlsbad, CA
Carlsbad State Beach is on Carlsbad Blvd. at Tamarack in Carlsbad.
South Carlsbad State Beach is 3 miles to the south on Carlsbad Blvd.
(760) 438-3143
Admission
$10 ($15 on holiday weekends at South Carlsbad)
Hours: Dawn to Sunset
Main Attractions
Swimming, surfing
Picnicking
Camping
Diving, fishing
Facilities and Features
Parking, restrooms, showers
Store
Seawall promenade
Ponto Day-Use area
Lifeguards (seasonal)
RV sanitation station
Campground (no RVs or trailers larger than 35')
Accessibility
Parking, restrooms
Campsites, restrooms, showers
Camp store
Campfire area
Ponto Day-use picnic area, parking, restrooms, showers
Accessible routes to beach, overlooks
Beach wheelchairs (760) 438-3134
Hazards
Rip currents
Rogue waves
Rising tide against cliffs
Regulations (partial list)
No dogs allowed on beach.
Do not feed wildlife.
No fires are allowed on the beach.
Alcohol and glass containers are not permitted on the beach.
Webcams
Surfline's Tamarack Beach Webcam


Seashore on the Sand's Carlsbad Beach Webcam
Books of
Local Interest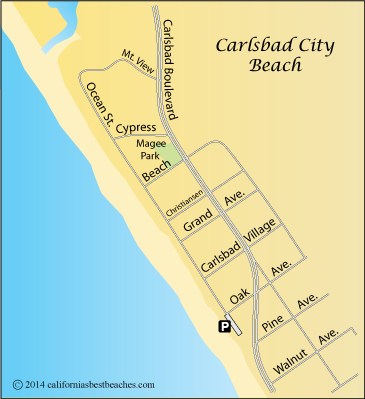 Carlsbad City Beach
Carlsbad City Beach has access paths at the bottoms of Ocean Street, Christianson Way, and Grand Avenue. Lifeguards are on duty during the summer months. The beach is popular for surfing, surf fishing, sun bathing, and swimming. Surfing hours are restricted from May through October.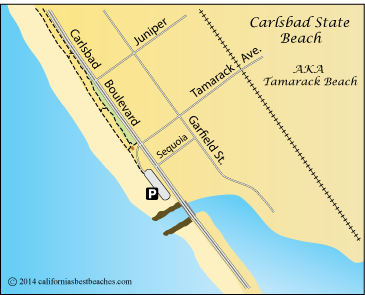 Carlsbad State Beach
Carlsbad State Beach is often called Tamarack Beach. Parking is available in a lot at the foot of Tamarack or along Carlsbad Boulevard. Several trails lead down to the beach. Restrooms and outdoor showers are available. Lifeguards are on duty during the summer. Surfing is popular near the jetties. Other visitors enjoy jogging, cycling, and strolling along the seawall path along with stand-up paddleboarding, sun bathing, boogie-boarding, and swimming.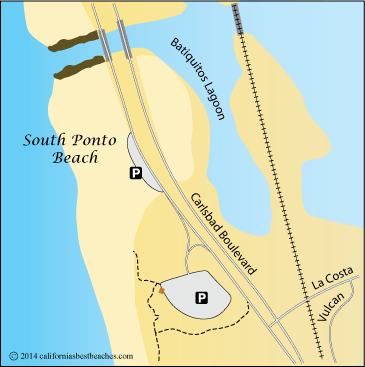 South Ponto Beach
South Ponto Beach is the southern portion of South Carlsbad State Beach. This day-use area offers parking, restrooms, and outdoor showers. Visitors enjoy sunbathing, boogie-boarding, surfing, and volleyball. Poles are provided; bring your own ball and net. Lifeguards are on duty during the summer.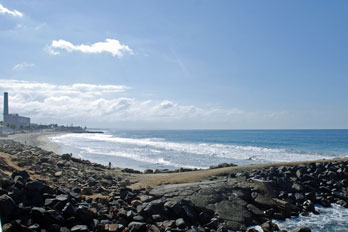 South Ponto Beach
Carlsbad Beaches
South of Oceanside and north of Encinitas, the city of Carlsbad is home to a series of warm, sandy beaches that attract locals and visitors alike. At the northern end, Carlsbad City Beach (including Frazee Beach) spreads from Ocean Street to Elm. Then Carlsbad State Beach (better known as Tamarack Beach) extends from Tamarack to the breakwaters at the mouth of Augua Hedionda Lagoon. Three miles south is South Carlsbad State Beach, popular for camping. The South Ponto Beach day-use area within the state beach is known from its wide, sandy beach.
For several miles, tall bluffs south of Agua Hedionda make access to beaches more difficult than in the north. South, near Batiquitos Lagoon and Ponto Beach, access becomes fairly easy once again.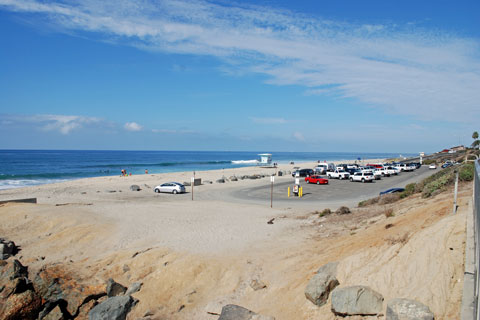 Tamarack Beach
Parking at Carlsbad Beaches
Carlsbad Boulevard hugs the oceanfront from Pine Avenue in Carlsbad all the way to South Carlsbad State Beach. Parking is available in many places along the boulevard. Beach parking lots are located at (1) Oak Avenue and Ocean Street, (2) Tamarack Avenue and Carlsbad Boulevard, (3) Carlsbad Boulevard near Island Way, and (4) Carlsbad Boulevard at La Costa Avenue. The latter three lots are in state parks.
South Carlsbad State Beach
South Carlsbad State Beach extends along the coast from Palomar Airport Road south to La Costa Avenue. Included within the state beach are its popular bluff-top campground, Terramar Beach, and North and South Ponto beaches.
Terramar Beach is at the foot of bluffs at the foot of Cerrezo Drive, north of the campgrounds. Parking is along Carlsbad Boulevard. Numerous foot paths lead along the bluffs and a few descend to the beach. Ponto Beaches are located south of the campgrounds, on either side of the mouth of Batiquitos Lagoon.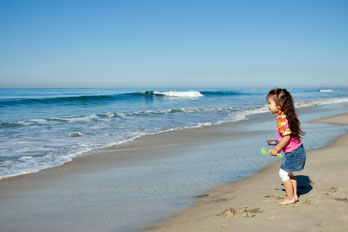 Nearby Restaurants and Shops
Restaurants
Starbucks - 2924 Carlsbad Blvd.
Vinaka Cafe - 300 Carlsbad Village Dr. #211
Vigilucci's Seafood & Steakhouse - 3878 Carlsbad Blvd. (near Tamarack Ave.)
Primo Pizza & Pasta - 7110 Avenida Encinas #103
Robertos Mexican Food - 1900 N Coast Highway 101, Encinitas (near South Ponto Beach)
Beach Supplies
Offshore Surf Shop - 3179 Carlsbad Blvd.
Ralph's - 7140 Avenida Encinas
Costco - 951 Palomar Airport Rd.
Pacific Coast Bait and Tackle - 2110 S. Coast Hwy., Oceanside
Ocean Safety
California State Parks and Recreation cautions that "large surf, cold water temperatures, backwash, sudden drop-offs, pounding shorebreak, and dangerous rip currents can turn what seem like safe activities such as playing near the surf line, wading, or climbing on rock outcroppings, deadly." Learn more about ocean safety at CA State Parks: Ocean Safety