Nearby
Events and Activities
Corona Del Mar Scenic 5K
June 4, 2017
5K, 2-mile fun walk and 1-mile Kids Dolphin Dash
A scenic race/walk in CdM, finishing on bluffs above the beach
Food and entertainment
Corona Del Mar Scenic 5K
Electric Boat Rentals
Cruise and sightseeing in Newport Harbor in a 21-foot boat with seating for up to 12
Newport Harbor Boat Rentals
Located at Davey's Locker at the Balboa Pavilion
Newport Boat Rentals
Duffy Electric Boat Rentals
2001 W. Coast Highway
Duffy Electric Boat Rentals
Sherman Library & Gardens
2647 East Pacific Coast Highway, Corona Del Mar, CA
2.2-acre horticultural retreat, gardens, patios, walkways, seasonal flowers
Sherman Library & Gardens
Books of
Interest for Corona Del Mar
Surfing at Corona Del Mar
The jetty at the mouth of Newport Harbor cuts off most of surf that used to roll onto Corona Del Mar Beach. For the most part the main beach sees only tiny waves that attract a lot of children but are of no interest to surfers. Once in a great while, a huge swell from the south or southeast brings in massive, challenging waves.
The best waves now break off the end of the jetty and roll in toward the beach close to the jetty rocks. The best seasons are from spring through mid-autumn.
Caution: Check with rangers or lifeguards that conditions are safe for your planned activities.
Corona Del Mar Sandcastle Contest
Corona Del Mar's annual sandcastle contest is held on the first Sunday in October. The 2017 competition will be the 56th time sand sculptors have gathered on Corona Del Mar Beach. Sponsored by the Commodores Club of the Newport Beach Chamber of Commerce, the contest draws thousands of spectators and a wide range of competitors from first-timers to professionals.
Teams register beginning at 9 AM and start building at 11 AM. Entry fees range from $30 for families and civic organizations, $40 for businesses, and $60 for the masters category. At 2:30 PM construction ends and the judging begins. Awards are presented to the winners in a wide variety of categories including most unique, most humorous, and best display of theme. Past themes have included Treasures of the Sea, Under the Sea and Haunted Castles.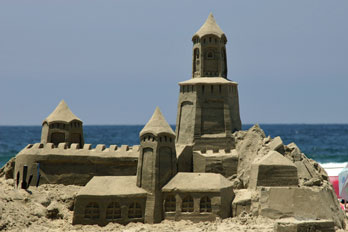 Little Corona Del Mar Beach Tide Pools
The tide pools at Little Corona Del Mar Beach offer a wonderful opportunity to observe marine life in the tidal zone. The area is part of a marine reserve, which means nothing can be disturbed or collected. Low tide is, of course, the time to visit.
Tide Chart for Newport Beach
The Orange County Marine Protected Area Council maintains a docent program which places tide pool docents at important sites during the lowest tides. They offer interpretive, educational, and regulatory information to visitors to the tide pools.
Marine Protected Area Hikes
The Council schedules free guided hikes through the Marine Protected Areas on a monthly basis. They usually meet the Little Corona Lifeguard Tower. Hikes are usually 2 hours. For information, see the current issue of the Newport Navigator, a City of Newport Beach recreational guide.
The Long Beach Marine Institute strives to familiarize local residents with the resources of the Southern California Coast. Among their school programs are tide pool tours at Little Corona Del Mar Beach. Individuals may participate along with groups on any of their pre-registered events. (562) 431-7156. Their website includes a downloadable Guided Tide Pool Tour for those wishing to explore the tide pools on their own.
Long Beach Marine Institute
Corona Del Mar Beach Volleyball
Ten volleyball courts are spaced around Corona Del Mar State Beach. The courts are available on a first-come, first served basis. On courts with blue poles the height of the net can be adjusted. Unlike some beaches where competition for courts can be fierce, Corona Del Mar Beach has the reputation for family games, welcoming players into games, and a relaxed atmosphere. If there is serious competition going on, it is usually found on the pair of courts at the southern end of beach.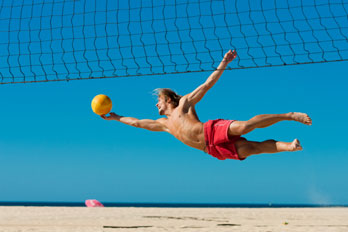 Beach Sports Beach and Volleyball Camps
Beach Sports Camps have been going strong along the California coast for 10 years. their camps meet at the Corona del Mar Lifeguard Tower 5. The program is for boys and girls ages 5 to 13. Instruction ranges from introductory skills to intermediate. Other activities at the camp are boogie boarding, body surfing, surfing, kayaking, stand-up paddleboarding, and swimming. Participants take advantage of nearby Little Corona Beach and Pirate's Cove.
Beach Sports Volleyball Camps
Diving at Corona Del Mar Beach
Divers at Corona Del Mar Beach find plenty of adventure off shore. Areas at the state beach are roped off for swimmers, so diver have to move down to more suitable spots to enter. Divers are likely to spot a good number of octopus, crabs, calico bass, surfperch. Depth range from 15 to 50 feet. It's good place for beginning divers with easy access. Night diving is allowed from late September until mid-March.
Although the area is part of the marine preserve, spearfishing finfish is allowed. Barred sand bass are a favorite target. Halibut are seen occasionally. Reefs, pinnacles, caves, and boulders provide an interesting landscape to explore.
Local Dive Shops
Beach Cities Scuba at Beach Cities Aquatic Center
4537 W. Coast Highway, Newport Beach, CA
Dive instruction, gear, links to Scuba Maniacs dive club, dive boats.
Beach Cities Scuba
Kayaking around Corona Del Mar
Many people enjoy kayaking the protected waters of Newport Harbor. Among the areas that make a great adventure for paddlers are the coves and beaches just inside the harbor mouth on the Corona Del Mar side. Experienced ocean kayakers like to explore the interesting rock formations down the coast from the state beach. Small Arch Rock and Big Arch Rock always draw interest.
Newport Bay Conservancy Kayak Tours - 2-hour guided tours of the Back Bay at Newport Beach. Tours are held on Saturday and Sunday mornings year-round. The tours depart for the Newport Aquatic Center at 10:00 AM. $25 covers kayak and a naturalist guide.
Newport Bay Conservancy Kayak Tours
Southwind Kayak and SUP Rentals - rent single or double kayaks or stand-up paddleboards. Close to Newport Harbor and Upper Newport Bay Ecological Reserve. 949-261-0200
Southwind Kayak and SUP Center
Ocean Safety
California State Parks and Recreation cautions that "large surf, cold water temperatures, backwash, sudden drop-offs, pounding shorebreak, and dangerous rip currents can turn what seem like safe activities such as playing near the surf line, wading, or climbing on rock outcroppings, deadly." Learn more about ocean safety at CA State Parks: Ocean Safety