Nearby
Events and Activities
Coronado Summer Concert Series
Late May - early September, 2017
Spreckels Park, Sundays, 6 PM
Coronado Summer Concert Series
Superfrog Triathlon
September 24 2017
Imperial Beach, 7 AM
Superfrog Triathlon
Coronado Ferry Landing
1201 First Street
Ferries across the bay to San Diego's Broadway Pier and Convention Center
Shops, art galleries, restaurants
Coronado Ferry Landing
Flagship Cruises and Events
990 North Harbor Drive,
San Diego, CA
Dinner cruises, private charters, patriot jet boat rides, harbor tours, whale watching, water taxi
Flagship Cruises and Events
Bikes & Beyond
1201 1st Street
at the Coronado Ferry Landing
Bike rentals: cruisers, hybrids, tandems, surries
Bikes & Beyond
San Diego Bay
Shops, restaurants, hotels, parks, marinas, attractions
All along 34 miles of waterfront
Paths for walking, cycling, jogging
San Diego Bay
Coronado Museum of History & Art
1100 Orange Avenue, Coronado, CA
Weekdays 9 AM to 5 PM, weekends 10 AM to 5 PM
The Enchanted Island Gallery and The Hotel del Coronado & Tent City Gallery
Special exhibits
Coronado Museum of History & Art
Coronado Skate Park
2000 Mullinex in Tidelands Park
16,000 square feet of ramps, bowls, grinds and jumps.
Skateboards and in-line skates only, safety gear required
Coronado Skate Park
Surfing along Coronado Beach
Beach breaking waves go left and right onto Coronado Beach. Usually the best surfing is in the summer with swells coming from the southwest. Crowds are rarely a problem at Coronado Beach. Moderate waves make it a favorite spot for beginning and intermediate surfers.
One of the more popular spots along the beach is near Avenida del Sol. At the north end of the beach Outlet gets exciting when summer swells come up the coast from the south. Outlet faces south, so it picks up swells that pass others by. Dangerous waves and shallow water make it a spot for experts. At the south end of Coronado Beach are some good longboarding locations.
Caution: Check with rangers or lifeguards that conditions are safe for your planned activities.
Designated surfing and swimming areas go into effect in the summer, making the central beach off limits to surfers after 10 AM. A black and yellow checker flag will normally be posted between zones.
Coronado Surfing Association
The Coronado Surfing Association promotes a passion for surfing and the ocean environment through community beach and ocean conservation events as well as the sponsorship of competitive surfing at all levels.
The JR Memorial longboard competition, sponsored by the Coronado Surfing Association, is usually held in November at Shipwrecks Beach. The competition is held in memory of Jimmy Reilly who died in a car accident in 1983.
Coronado Surfing Association's Youth Surfing Programs provide opportunities for youth of all ability levels to enjoy the sport of surfing in a supportive environment. They currently have three scheduled practice sessions:
Middle Schoolers - Wednesdays 3 PM to 5 PM and Sundays 8 AM to 10 AM
High Schoolers - Saturdays 8 AM to 10 AM
Menehune - Sundays 10 AM to noon
Coronado Beach Surf Lessons and Camps
Coronado Surfing Academy
Coronado Surfing Academy offers private, semi-private, and group lessons for surfers of all abilities. Each lesson is about 1½ hours long. Wetsuits and soft surfboards are provided. They also have surf camps which are operated through the City of Coronado's recreation department.
Coronado Surfing Academy
City of Coronado Surf Camps
Surf Awareness
Week-long sessions for ages 6-8 include introductions to body surfing, boogie boarding and soft board surfing.
Blue Wave Surf Camp
Week-long camps for ages 6-18. Instruction for all levels of surfers along with marine biology, oceanography, physical fitness, body surfing, and more.
Gnarly Neal's Surf Camp
Week-long camp for ages 8-16. Surfboard and wetsuit provided.
Coronado Surfing Academy Half Day Surf Camp
Taught by first aid/CPR certified instructors. Week long sessions from 9 AM to noon.
City of Coronado Recreation Services
Surfboard Rentals
Emerald City Surf Shop
Rentals of surfboards, bodyboards, skimboards, fins
1118 Orange Ave, Coronado, CA
Emerald City Surf Shop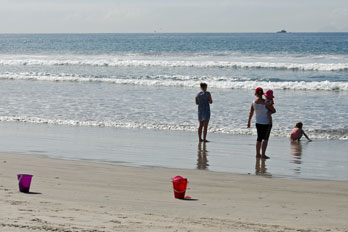 Optimist Club Annual Sports Fiesta
August TBA, 2018
Sunset Park, north end of Coronado Beach
Triathlon: 7 AM, includes a 400-yard ocean swim, 1-mile beach run, and 4-mile bike race.
5K Run: 9 AM, flat course on paved streets on NAS North Island.
1-mile Rough Water Swim: 10 AM, ocean swim over closed triangular course off Coronado's North Beach.
Optimist Club of Coronado Annual Sports Fiesta
Explore Shipwreck Beach
At Coronado Shores Beach, south of the Hotel del Coronado, beach-visitors can see the remnants of the S. S. Monte Carlo, a ship that ran aground here in 1937. The broken skeleton of the ship only emerges at low tide. Visitors should be wary of sharp edges that jut up through the sand. Signs warn of the danger.
The S. S. Monte Carlo was a 300-foot gambling ship. In 1937 it was anchored three miles offshore from Point Loma. During a storm, the ship broke away from its anchors and was swept toward land, beaching itself at Coronado Shores. Fortunately everyone was able to disembark safely, but the concrete ship could not be salvaged. Some are convinced that a treasure in coins is still buried deep within the wreckage.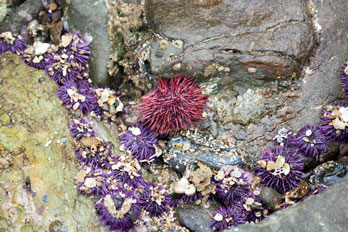 Coronado Beach Tide Pools
Coronado Beach tide pools are home to a wide range of marine creatures from anemones to starfish. The most popular tide pooling location is directly out from the Hotel del Coronado. Low tide, of course, is the time to visit. Experienced tide pool explorers know to walk on the sand without stepping on living creatures and not to disturb them or their habitat.
The City of Coronado has assisted in forming a Coronado Tide Pools Interpretive Program and a Tide Pool Volunteers team. They are often on hand to interact with visitors, answer questions, and point out some of the more interesting creatures.
Among the marine life visitors are likely to see are limpets, crabs, goose-neck barnacles, mussels, anemones, and starfish.
Coronado Junior Lifeguards - 2017
Girls and boys ages 9 through 17 are invited to participate in Coronado's Junior Lifeguards held at Coronado's Central Beach.
Coronado Junior Lifeguards
Junior Lifeguards develop of range of ocean related skills and information from experienced beach lifeguards. Participants learn about ocean and beach safety, first aid, CPR, and water rescue techniques while at the same time developing their physical fitness. Activities include body boarding, stand-up paddleboarding, surfing, snorkeling, and kayaking.
Tryouts
All new participants in Junior Lifeguards must attend a tryout in order to participate. Tryout dates are usually offered April through June at the Coronado Municipal Pool.
2017 Junior Lifeguard Sessions
Junior Lifeguards session run Monday through Friday from 9 AM to 2 PM. Introduction to Jr. Lifeguards is from 9 AM to Noon.
Introduction to Jr. Lifeguards June 19 - June 23, 2017
Session 1 June 26 - July 14, 2017 (no class July 4)
Session 2 July 24 - August 11, 2017
Surf Awareness Classes
Coronado also offers a Surf Awareness class for ages 6-8. Two-week long sessions begin in mid-June and run through early August.
Cycling around Coronado
Cyclists have a variety of scenic routes to follow around Coronado. For an ocean-front experience, head south to Silver Stand Beach and on to Imperial Beach. The Silver Stand Bikeway extends 9 miles from Ferry Landing Marketplace to Imperial Beach. Riders from Coronado Beach can pick up the bikeway across Silver Strand Boulevard near Glorietta Bay Park.
Among the more popular places to cycle is the loop trip around the island, passing the Coronado Bridge, Tidelands Park, the Ferry Landing, and North Island Naval Station.
Wheel Fun Rentals
1500 Orange Avenue, Coronado, CA
Located south of the Adult Pool on the Boardwalk
Bike rentals, including tandems, mountain bikes, cruisers, kids' trailers, and surries
Bike tours, Segway rentals, Segway tours
Wheel Fun Rentals

Coronado Beach Volleyball
Six beach volleyball courts are located at the Central Beach. Two of the courts already have nets provided.