Hang Gliding at Dockweiler Beach
Dockweiler Beach is home to the Dockweiler Beach Hang Glider Flight Training Park, an area designated for beginner and novice hang glider pilots. Hang gliders launch from a 30-foot high bluff on the southern half of the beach at Bluff Parking Lot.
The facility at Dockweiler Beach is operated by WindSports. The usually gentle winds at the site, coupled with a wide, sandy beach for landings, make it a good place for beginners to learn the basics of the sport.
WindSports offers solo flight beach lessons on Wednesdays through Sundays. Flights are usually about 100 yards in length. A 2-hour mini-beach lesson consists of 4 flights, while the full lesson lasts from 3 - 4 hours and consists of 7 flights. Students between 14 and 18 years of age will need a parent in attendance. WindSports offers more advanced flight instruction at other locations.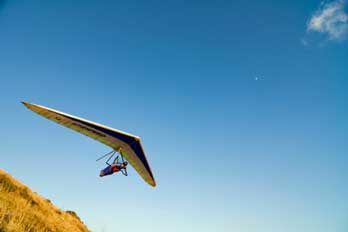 Surfing Dockweiler Beach
The Dockweiler Beach does not rank as one of the leading surfing spots along the LA shoreline. The beach breaking waves tend to be sloppy and unreliable. Beginners often migrate here, knowing it is a place they can practice away from the eyes of more experienced surfers. The paddle out is easy.
Caution: Check with rangers or lifeguards that conditions are safe for your planned activities.
Kitesurfing and Windsurfing
Kitesurfing (kiteboarding) and windsurfing are allowed at Dockweiler Beach as long as the kite and wind surfers maintain a 100 foot margin from swimmers. Since Dockweiler is usually not very crowded, kitsurfers don't have much difficulty finding a clear section of beach where they can set up and launch. Afternoon winds can make for some exciting windsurfing.
Soccer on the Beach
Copa Cabana Beach Soccer sponsors a Beach Camp at Dockweiler Beach for ages 4 to 15. At the camp, youths develop basic skills, learn team strategies, and improve their general conditioning. Three age-group camps are offered: Copa Primo for 4-7 year olds, Copa Nationale for 8-11, and Copa Campeone for 12-15. Sessions run from 9 AM to 2 PM. Weekly camps run Monday through Friday from late June through early August.
Copa Cabana Beach Soccer Camp
Copa Cabana also puts on several beach soccer tournaments for all ages every year at Dockweiler Beach. The tournaments are usually scheduled for February and August.
Birding at Dockweiler Beach
Birders are rewarded with a good number of shorebirds along Dockweiler's coast. Among the birds that have been spotted there are Bonaparte's gulls, scoters, black oystercatchers, western grebes, snowy plovers, willets, least terns, burrowing owls, surfbirds, and sanderlings. Mesh fences have been put up to protect the endangered snowy plovers' nesting area.
Bird Walks with Los Angeles Audubon
Los Angeles Audubon leads walks on Dockweiler Beach from time to time, most often to observe the endangered snowy plovers. Walks include information on general beach ecology.
Los Angeles Audubon