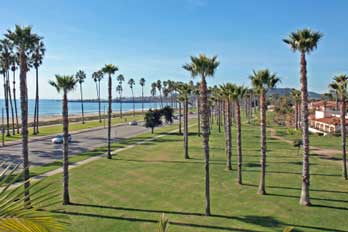 Parking at East and West Beaches
There are no in and out priviledges at any parking lot.
Parking lots are found on either side of the Cabrillo Pavilion Bathhouse - the Cabrillo West Lot, which has 184 slots and Cabrillo East Lot with 82 slots. Vehicles over 20 feet may not park in these lots. They both have handicapped spaces. The lots open at 8:00 AM and close at 10:00 PM.
Fees: $2 per hour and $12 maximum for the day.
Palm Park Parking Lot
Located on the corner of Garden Street and Cabrillo Boulevard, the Palm Parking Lot has 260 slots and 7 ADA stalls. A parking attendant is at the entry-exit kiosk. the parking lot is open from 8:00 AM to 10:00 PM.
Fees: $2 her hour (minimum) and $12 maximum per day for vehicles up to 20 feet. Oversized vehicles pay $4 per hour and a $24 maximum per day.
Stearns Wharf Parking
Stearns Wharf can accommodate 143 vehicles. There are also ADA slots and motorcycle slots. Parking on the wharf is from 8:00 AM to 10:00 PM.
Fees: The first 90 minutes parking on the wharf are free if you pick up a merchant validation (not just a receipt). Those with an ADA placard are allowed the first 2½ hours free with a merchant validation. After that, the rate is $2.50 per hour with a maximum of $20 per day for vehicles under 20 feet.1
There are no in and out privileges at any parking lot.
1Rates subject to change.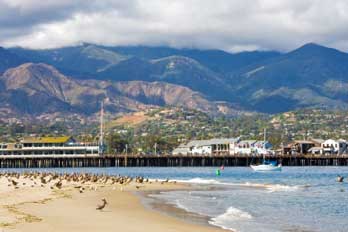 Stearns Wharf
Stearns Wharf was built in 1872. Over the years it has been damaged by earthquakes and fires. The last restoration was completed in 1998. Today it is Santa Barbara's most visited landmark.
The wharf is home to a long list of merchants, including restaurants, art galleries, clothing, bait and tackle, and the Ty Warner Sea Center.
Andree Clark Bird Refuge
Andree Clark Bird Refuge contains 42 acres of saltwater marshland. Visitors will find a cycling and walking path circumnavigating the refuge and several observation points extending into the wetland. Birders enjoy the area, watching for cormorants, herons, ducks, and egrets. Parking is found on the northeast side of the refuge off Los Patos Way.
East and West Beaches
East Beach is a busy destination. Located across the highway from some of the major hotels in Santa Barbara, visitors wander down to the beach for a sample of Santa Barbara's famous beach atmosphere. As a Mecca for beach volleyball, sports enthusiasts often gather at the main courts east of the Cabrillo Pavilion.
A steady flow of cyclists and pedestrians are usually seen on the bike trail. Canopied, multi-passenger pedal cycles provided by many of the local hotels can also be spotted rolling along the pavement. Lifeguards are posted on the beach during peak times. A playground is located at the far eastern end of the beach. As with all Santa Barbara beaches, watch out for the natural blobs of tar in the sand.
Restrooms
Restrooms are found in the Cabrillo Pavilion Bathhouse and the Arts Center. They are also located near the foot of Stearns Wharf next to the Dolphin Fountain. They are also found near the Santa Barbara Visitor Center. On West Beach restrooms are located next to the Sea Landing. Two restrooms are situated on Stearns Wharf.
East and West Beaches
Related Facilities
Immediately inland from the beach are a number of facilities: Chase Palm Park, Skater's Point (a skate park), the Cabrillo Pavilion Bathhouse, and its neighbor, the Cabrillo Pavilion Arts Center.
Chase Palm Park
Chase Palm Park is divided by Cabrillo Boulevard. On the inland side are fountains, creeks, a lagoon, a carousel, and snack bar. A playground is fashioned after a 19th century ocean schooner. A large grassy area is often used for summer concerts.
On the ocean side of the park next to East Beach is the bike and walking path that is always busy with cyclers, skaters, joggers, and walkers. The area includes the Chase Palm Park Center, a Spanish-style building that can be rented for events.
Skater's Point
Skater's Point is a 14,600 square foot skateboard park for in-line skaters and roller skaters of all ages. The park features mixed terrain. including a Grand Slam Pyramid and Taco Bowl. It is open from 8:00 AM until a half hour after sunset.
The Cabrillo Pavilion Bathhouse
The historic Cabrillo Pavilion Bathhouse was erected in 1926 to help revitalize Santa Barbara after a devastating earthquake. It originally had a gym, lockers, laundry facility, souvenir stand, tea room, and a soda fountain.
Today the building is shared by the bathhouse, the Cabrillo Pavilion Arts Center, and the East Beach Grill. The city operates the bathhouse portion as a fitness center with a pay-by-the-day option available. It includes showers, a weight room, lockers, and other amenities.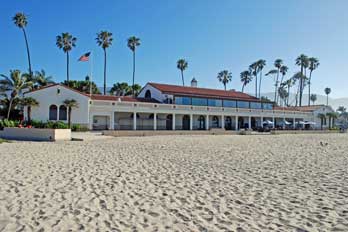 The Cabrillo Pavilion Arts Center
The Cabrillo Pavilion Arts Center can be rented out for wedding receptions, private parties, and of similar functions. Rotating art exhibits are displayed on the Spanish-style building's walls. There are two outdoor patios as well as a conference room.
Butterfly Beach
Butterfly Beach is a favorite with local residents. Located 2 miles east of East Beach in Montecito, Butterfly Beach is a pleasant mile-long stretch of sand. Dogs are allowed to run off-leash here. Gentle waves and a mildly sloping beach make it a popular spot of swimming and playing in the waves.
Reach Butterfly Beach by taking Olive Mill Road off Highway 101 and following it south to Channel Drive, which fronts the beach. Parking is along the roadway. Although there are no surface streets connecting Butterfly Beach directly with East Beach, you can walk or bike along the coastal bike trail.