Nearby Beaches
Prairie Creek
Redwoods
State Park
Location
Newton B. Drury Scenic Parkway off of Highway 101
50 miles north of Eureka
25 miles south of Crescent City
(707) 488-2039
Day-use fees: $8
Park Features
Gold Bluffs Beach
Campgrounds
Visitor Center
Hiking trails
Old-growth redwoods
Herds of wild Roosevelt elk
Campground Facilities
2 campgrounds: Gold Bluffs Beach and Elk Prairie
91 campsites in all
Gold Bluffs Beach Campground is tents-only
Restrooms with showers
Accessibility
Campground sites and restrooms with showers
Parking, many trails
Visitor Center
Campfire Center
Beach wheelchair at the Gold Bluffs Beach Campground kiosk. (707) 601-463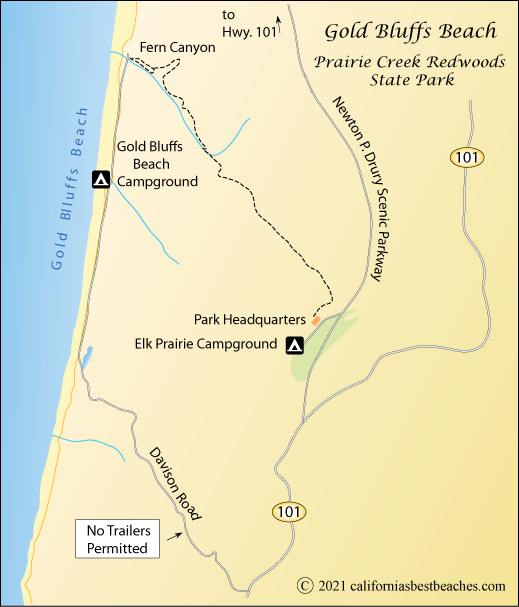 Gold Bluffs Beach
Gold Buffs Beach extends for 10 miles along the Humboldt County coast in Prairie Creek Redwoods State Park. The only access to the beach by car is over unpaved Davison Road, a narrow, winding route that leads 4 miles west from Highway 101 to the beach. The campground is another 2 miles. No trailers of any kind are permitted on Davison Road.
Gold Bluffs Beach was named after an 1850s gold discovery that attracted some interest by miners. Difficulties in extracting the gold from the sand soon quelled the excitement.
Visitors to the beach enjoy miles of sand that seems to extend forever into the fog. Many beach walkers travel for miles without encountering another person. Offshore are dolphins, seals, sea lions, and whales while overhead pass snowy plovers, eagles, falcons, and herons. Sometimes small herds of wild Roosevelt elk can be seen grazing nearby.
The most popular destination along Gold Bluffs Beach is the short hike up Fern Canyon.. Read more about Fern Canyon in ACTIVITIES.
Nearby Beaches
Carruthers Cove Beach
For those who enjoy exploring remote beaches, Carruthers Beach at the northern end of the park is a great destination. The little beach can only be reached on foot, either by hiking 4½ miles north on the California Coastal Trail from Fern Canyon along Gold Bluffs Beach or by making the strenuous 1-mile Carruthers Cove Trail off Coastal Drive north of the park headquarters. Carruthers Cove Beach is strewn with large boulders and driftwood.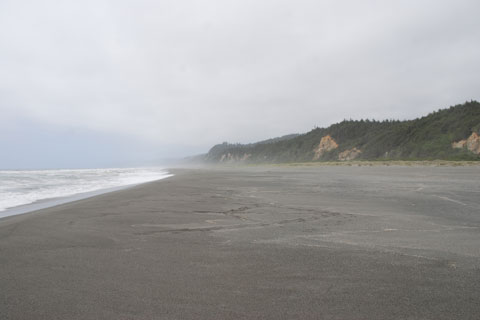 Gold Bluffs Beach
High Bluff Beach
High Bluffs Beach is 3½ miles north of Carruthers Cove Beach and falls within Redwood National Park. The best access to High Bluffs Beach is via Alder Camp Road off Klamath Beach Road. A trail to the beach from High Bluff Overlook Picnic Area begins with an easy forest stroll before descending toward the beach. The final section involves steep steps and some boulder scrambling. At high tide the beach is mostly covered by surf.
The beach is sought out by adventurous surfers as one of the best spots along this section of the coast.
Prairie Creek Redwoods State Park
Prairie Creek Redwoods State Park is perhaps best known for its small herds of Roosevelt elk which can often be seen grazing in the meadow outside the park headquarters and many other places in the park. Other popular features of the park are the hike through famous Fern Canyon and the groves of old-growth redwoods.
Prairie Creek Redwoods State Park is managed cooperatively by the California Department of Parks and Recreation the National Park Service. Included in this cooperative management arrangement are Jedediah Smith Redwoods State Park, Del Norte Coast Redwoods State Park, and Redwood National Park.
Wheelchair Accessible Features
Many of the features in the park are wheelchair accessible, including the Redwood Access Trail , which was specially designed for those with physical limitations. Another key trail is the 2.2-mile Foothill Prairie Creek Trail Accessible Loop which includes passageways through downed old-growth trees.
Ocean Safety
California State Parks and Recreation cautions that "large surf, cold water temperatures, backwash, sudden drop-offs, pounding shorebreak, and dangerous rip currents can turn what seem like safe activities such as playing near the surf line, wading, or climbing on rock outcroppings, deadly." Learn more about ocean safety at CA State Parks: Ocean Safety
Search This Site